Chris Christie Officials Sent Pension Money To Subsidiary of Donor's Foreign Firm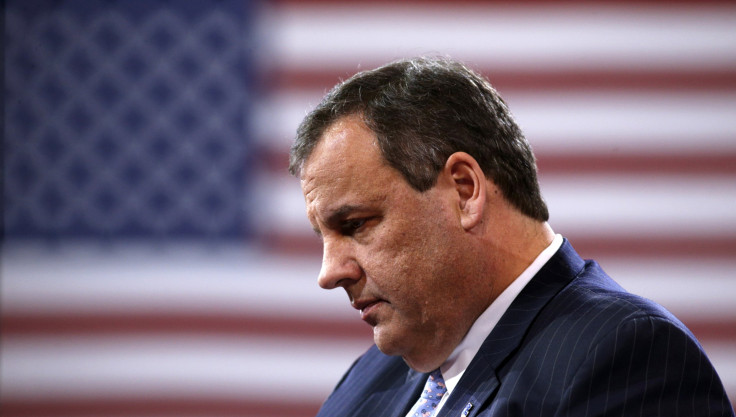 Two years ago, as New Jersey Gov. Chris Christie pursued re-election, his administration found itself mulling investment options for the state's $80 billion pension fund. In one deal in May 2013, officials settled on a subsidiary of U.K.-based foreign financial conglomerate Prudential plc. With little fanfare, state pension overseers quickly endorsed the deal.
Weeks later, a Hong Kong-based executive director and board member of Prudential plc delivered a maximum $3,800 contribution to Christie's gubernatorial campaign, followed by a maximum $32,400 donation to the Republican National Committee, which was about to launch a get-out-the-vote effort for Christie. Two months after that, New Jersey began moving public employees' retirement savings into two funds managed by the Prudential subsidiary as part of the state's new $300 million investment commitment to the company.
State and federal rules are designed to prevent firms that manage public pension money from contributing to the campaigns of public officials who have the authority to influence pension investments. The sequence of transactions in New Jersey, campaign finance experts say, is troubling.
"Pay-to-play laws are intended to stop the potential conflicts of interest and appearance of corruption that arises whenever executives at a financial firm make large political contributions to a governor and his political party around the time the state is picking the firm to handle pension system investments," said Larry Noble, a former general counsel of the Federal Election Commission who now works for the nonpartisan Campaign Legal Center, a research group in Washington, D.C. "These situations undermine the public's confidence in the integrity of government contracting."
Prudential plc said the donations from Barry Stowe, one of the firm's executive directors, were in no way improper.
"Prudential plc is one of the world's leading financial services groups, which employs 23,000 people across four continents and has more than $700 billion in assets under management," Prudential plc spokesperson Jonathan Oliver said in an emailed statement. "Mr. Stowe, who is a U.S. citizen, has donated to Chris Christie and several other candidates in a personal capacity. Until the approach by the International Business Times this week, he was unaware of the New Jersey pension fund's investments with M&G." The company declined to make Stowe available for an interview, and Stowe did not respond to requests for comment.
The British insurer and financial services company (which is not related to Newark's Prudential Financial) joins an extensive list of companies that received New Jersey pension money around the time firm executives made donations to Christie's political apparatus and other Republican groups. Last year, IBTimes reported that the Christie-appointed head of New Jersey's State Investment Council had been on regular conference calls with Christie campaign officials during the 2013 election, including those who oversaw the campaign's fundraising.
State documents from December 2014 show that one of New Jersey's investments in Prudential plc has barely broken even, while another is worth less than the original investment, renewing debate about the wisdom of transferring public retirement savings from lower-risk securities to aggressive bets on hedge fund, private equity and real estate vehicles. The donations from Prudential plc's top executive also underscore questions about the ability of 2016 presidential candidates to navigate pay-to-play rules while raising campaign cash. A top Christie adviser recently said that such rules offer "no loopholes" for candidates to exploit.
But with Christie appearing to move toward a 2016 White House run, this latest case adds an international twist to a seemingly local pension controversy -- at a moment when concerns are already being raised about the influence of foreign interests on America's presidential election.
Though that election is still almost two years away, the presumptive Democratic nominee, Hillary Clinton, has been criticized for allowing her family's foundation to rake in cash from foreign governments while she served as U.S. Secretary of State. Former Florida Gov. Jeb Bush, a leading Republican presidential contender, has faced intensifying scrutiny for launching a business that is almost exclusively composed of foreign investors. Now, critics say Christie must answer for committing to send more than a quarter-billion dollars of retirees' money to a foreign firm whose top executive donated campaign cash to the governor and a group supporting his campaign.
"The problem of foreign money is quite pervasive," Public Citizen's Craig Holman, whose watchdog group pressed for New Jersey's pay-to-play rules, said. "This contribution from the executive of Prudential violates clearly the spirit, if not the letter, of the pay-to-play law."
In May 2013, Christie officials agreed to move New Jersey pension money specifically into Prudential plc's wholly owned subsidiaries, M&G Real Estate Debt Fund II, LP and M&G Real Estate Debt Fund III, LP. According to state documents, those funds (which are registered with the SEC) invest in European real estate debt. Critics have argued that such alternative investments endanger pension funds because they can be susceptible to conflicts of interest.
M&G's most recent SEC filing identifies a number of potential conflicts of interest in its management of investor funds -- for example, the document says "there could be a firm-client conflict" when its own investment officials have a "material interest" or "undertake personal account dealing" in stocks and bonds that M&G buys and sells for its clients. Those filings also say that such a conflict could exist when the firm invests clients' money in other firms "as the result of an inducement," potentially meaning "the price which is obtained is not the best for the client."
Christie's investment council appointees in 2013 praised the state's proposed investment in the firm, and, soon after, New Jersey pension cash began flowing to Prudential plc.
Questions About Timing
Pension investment experts interviewed by IBTimes were disturbed by the chronology of New Jersey's Prudential deal, and the fact that Stowe's donations closely followed the Christie administration awarding pension contracts to Prudential's subsidiaries.
"This is about as blatant as I think I've ever seen in terms of timing," Andrew Silton, who served as the chief investment officer of the $90 billion North Carolina Retirement System, said. "Forgetting whether or not it violates New Jersey's state rules or the SEC's rules, just from the perception of public integrity, it is just such an obvious quid pro quo that the political organizations are working Prudential plc for contributions and simultaneously the New Jersey pension division is processing the paperwork on a major investment."
Oliver, the Prudential plc spokesperson, said the sequence of transactions is not an indication of any impropriety. "To suggest any link between Mr. Stowe's donation and M&G's investment activities would not only be a fabrication but it would also be highly defamatory to Mr. Stowe," he said.
But when they enacted the federal pay-to-play rules in 2011, SEC commissioners explicitly rejected the notion that donors' stated intentions exempt them from the rule. "Intent is often very difficult to prove, and is often hidden in the guise of legitimate conduct," the commissioners wrote in the preamble of the rule.
Scott Kimpel, a former counsel to one of the Republican-appointed SEC commissioners, emphasized to IBTimes that intent is not relevant to the pay-to-play rule's application.
"These are largely blanket bans on contributions: The sequence of events does not matter much, nor does whether you intended to violate the rules or not," Kimpel, who is now an attorney at Hunton & Williams, said. "These are intended to be strict liability-type violations. The fact that you knew or didn't know you violated the rule isn't important. There is a broader public policy concern to prevent corruption of the election process. You don't have to intend to violate the law to be guilty of violating the law."
Prudential's website lists Stowe as one of the company's executive directors in Asia and as a member of the company's board of directors. M&G's website says the Prudential plc subsidiary runs funds in Asia, with investments in Hong Kong. But Prudential's spokesperson said there is no connection between Stowe and M&G.
"Barry Stowe is the chief executive of Prudential's Asian life insurance business, Prudential Corporation Asia, and lives in Hong Kong. He does not have an operational relationship with M&G, Prudential's European asset management business, which is based in London," Oliver said. "These SEC rules do not reach up the corporate chain. That is to say, they do not extend to directors of the parent company of the SEC-registered investment adviser."
The SEC rule says it covers any "executive officer, or other individual with a similar status or function" at a firm managing public pension money. As it pertains to subsidiaries such as M&G, the rule says the SEC retains the right to apply pay-to-play restrictions to an executive who "formally resides at a parent company ... irrespective of that person's location or title." If the SEC determines a firm violated the rule, the firm is required to forego fees it earns off a state's pension investments.
"It's really hard to figure out if someone is covered from the outside," Jason Torchinsky, a lawyer at Holtzman Vogel Josefiak, told IBTimes. "Just because some guy gives a contribution and he happens to work for a company that has some connection to an investment doesn't mean he's necessarily covered by the rules."
But as Kimpel, the former SEC counsel, explained it, "the general intention [of the SEC rule] is meant to cover the entire consolidated enterprise or business."
McKenna Long & Aldridge attorney Stefan Passantino, who served as a counsel to former Republican House Speakers Newt Gingrich and Dennis Hastert, said firms should understand that the SEC's position is that it can "blanket cover an entire organization."
"I wouldn't want to be the one to argue that conduct of a supervisor at a sister or a parent company is insulated simply by virtue of the company's organizational chart," Passantino, who runs a website devoted to covering pay-to-play legal issues, said.
Oliver declined to comment on whether Prudential plc believes Stowe is covered by New Jersey's separate pay-to-play rules. Those rules cover "any person associated with an investment management firm, its parent company, or any other entity that controls the investment management firm, who is a member of the executive or management committee." If New Jersey officials determine the rule was broken, the rule says the state is required to cancel its contract with the firm in question.
Money Moved On The Day Of A Proposed Loophole
Since 2011, Stowe has given nearly $200,000 to federal and state Republican candidates and committees, according to data compiled by PoliticalMoneyline.com. The date of his 2013 donation was especially notable: Stowe's RNC contribution was made not only in proximity to his firm's subsidiary getting the New Jersey pension deal, it also came on the very day the Christie administration submitted a proposal to try to exempt RNC donations from the state's pay-to-play rules.
That initiative proposed to change the rules to say that while the pay-to-play restrictions applied to contributions to "any political party or political committee organized in the State," they would no longer apply to donations to "a federal or national campaign committee."
New Jersey campaign finance records show the RNC was organized in New Jersey in 2013 and before, having its own state treasurer and filing disclosures as mandated under state law. That suggests donations to the group still may have been subject to the both the state's original pay-to-play rule and the rule that was revised by Christie's officials. In any case, the Christie administration's rule change was not ultimately enacted until 2014 -- well after Stowe made his contributions.
In an email to IBTimes, Christie's Treasury Department spokesperson Chris Santarelli said the RNC donations were permissible because "the purpose of the RNC is not to influence elections in the state of New Jersey."
State documents show that in 2009 and 2013, the RNC spent more than $5 million in New Jersey to influence the election for GOP candidates, including Christie. They also show the RNC made a series of contributions totaling $44,000 to the New Jersey State Republican Committee in September and October 2013.
As the Newark Star-Ledger reported in 2013, the RNC operated out of an office "next door to Christie's Bridgewater campaign headquarters," and RNC staff were tasked to "make phone calls and knock on doors to talk up the Christie campaign as well as U.S. Senate hopeful Steve Lonegan and other candidates." In the newspaper's story, Christie's campaign manager, Bill Stepien, said of the RNC: "They work alongside Christie for Governor people."
RNC spokesperson Allison Moore told IBTimes that Stowe's contribution did not help the party's efforts to boost Christie. "Not a dime of the money he contributed to the RNC was spent in New Jersey, and any suggestion to the contrary is based on a reckless disregard for the truth," Moore said.
Holman, at Public Citizen, disputed this argument. "The RNC has a lot of liberty to move money where it wants," he said.
And Silton, the former North Carolina pension investment chief, said, "The election cycle in that particular case is relevant because New Jersey is one of the only states to run its gubernatorial races in the off year, meaning lots of donors know that contributions to the RNC in a year like that often go right into that state."
Santarelli did not answer questions about how much in fees New Jersey has paid to Prudential plc. He also did not discuss whether Stowe making the maximum $3,800 donation directly to Christie was acceptable under the state's pay-to-play rules. The New Jersey legislature recently passed bipartisan legislation to overturn Christie's attempts to weaken New Jersey's pay-to-play rules. That bill now awaits Christie's signature or veto.
© Copyright IBTimes 2023. All rights reserved.
FOLLOW MORE IBT NEWS ON THE BELOW CHANNELS