Christopher Dorner: What We Know About The Fugitive Ex-LAPD Cop Who Sparked Massive Manhunt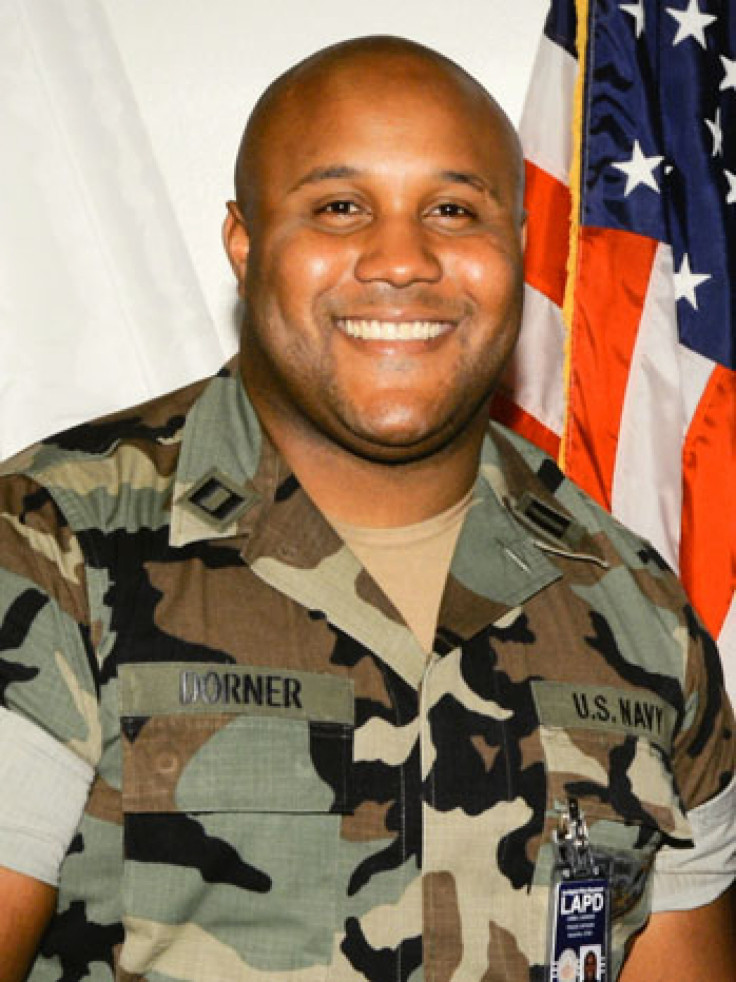 Despite a massive manhunt and a $1 million reward, ex-LAPD cop Christopher Dorner continues to elude authorities in Southern California after being accused of killing three people, including an officer and the daughter of a former LAPD captain.
Who is Christopher Dorner? Whom did he allegedly kill? What were his motives for the shootings? What's in his manifesto? Why are authorities having difficulty finding him? What's the latest on Dorner?
If you have just a cursory knowledge of the case, this article explain how the disgruntled ex-cop made headlines.
Who is Christopher Dorner?
Dorner is a 33-year-old former LAPD officer and U.S. Navy reservist. He was fired from the LAPD in 2009 after a disciplinary board determined he made false statements about his training officer engaging in police brutality. In his manifesto, Dorner contends he was telling the truth, and accused the LAPD of whitewashing the incident.
Whom is he accused of killing?
The first victims were Monica Quan, 28, and her fiancée, Keith Lawrence, 27. Quan and Lawrence were found shot dead inside their car Feb. 3 in Irvine, Calif.
Quan and Lawrence weren't random victims, although they are not directly related to Dorner's gripes with the LAPD.
Quan is the daughter of former LAPD Capt. Randal Quan, who served as Dorner's attorney during his appeal of his firing.
Murdering Quan appeared to be payback for her father's unsuccessful effort to have Dorner reinstated. Dorner allegedly taunted Randal Quan when he purportedly called his former lawyer after Monica Quan's murder.
"You should have done a better job of protecting your daughter," a man claiming to be Dorner told Quan, court documents obtained by ABC News showed.
Four days after the Quan and Lawrence murders, Dorner allegedly struck again on Feb. 7 in Corona, Calif. He fired on two police officers on patrol, killing Riverside Police Officer Michael Crain.
What were his motives for the shootings?
According to his manifesto, Dorner purportedly committed the murders to "clear his name," referring to the move to fire him and the disciplinary board's ruling that he made false statements.
"I know most of you who personally know me are in disbelief to hear from media reports that I am suspected of committing such horrendous murders and have taken drastic and shocking actions in the last couple of days," Dorner wrote in his lengthy manifesto. "You are saying to yourself that this is completely out of character of the man you knew who always wore a smile wherever he was seen. I know I will be vilified by the LAPD and the media. Unfortunately, this is a necessary evil that I do not enjoy but must partake and complete for substantial change to occur within the LAPD and reclaim my name."
What's in his manifesto?
Besides giving a motives for the crimes and railing against the LAPD, Dorner implores journalists to "investigate every location I resided in growing up" to determine if he was a "bully."
"Find any incidents where I was ever accused of being a bully. You won't, because it doesn't exist. It's not in my DNA," he writes.
Dorner also bizarrely references first lady Michelle Obama, various media figures and his affection for "The Hangover" films in his manifesto.
"Off the record, I love your new bangs, Mrs. Obama," he wrote. "A woman whose professional and educational accomplishments are second to none when compared to recent First wives."
The former LAPD cop also mentioned that he expects to die as authorities try to track him down.
"It's kind of sad I won't be around to view and enjoy The Hangover III. What an awesome trilogy. Todd Phillips, don't make anymore Hangovers after the third, takes away the originallity of its foundation," Dorner writes.
He also lamented that he's "gonna miss shark week."
Dorner also cites a laundry list of broadcast journalists he admires.
"Chris Matthews, Joe Scarborough, Par Harvey, Brian Williams, Soledad Obrien, Wolf Blitzer, Meredith Viera, Tavis Smiley, and Anderson Cooper, keep up the great work and follow Cronkite's lead," he wrote. "I hold many of you in he [sic] same regard as Tom Brokaw and the late Peter Jennings. Cooper, stop nagging and berating your guest, they're your [guest]. Mr. Scarborough, we met at McGuire's pub in P-cola [Pensacola, Fla.] in 2002 when I was stationed there. It was an honor conversing with you about politics, family, and life."
Why are authorities having difficulty finding him?
Dorner is considered to be armed and dangerous, and he's using his police and military background to elude the LAPD.
The former cop says in his manifesto that he's familiar with police tactics and claims he can outsmart authorities searching for him.
"I have the strength and benefits of being unpredictable, unconventional, and unforgiving. Do not waste your time with briefs and tabletops," he wrote.
Authorities acknowledged that they know what they're up against, pointing out that Dorner's burnt truck in Big Bear Lake, Calif., may have been a distracting tactic.
What's the latest on Dorner?
As of Monday, authorities are no closer to capturing Dorner since a $1 million reward for information leading to his arrest and conviction was announced Sunday by the city of Los Angeles. The money is unprecedented for the city and marks the first time a six-figure reward has been issued in its history.
"To be honest, he could be anywhere right now," San Bernardino County Sheriff John McMahon told The Express. "Torching his own vehicle could have been a diversion to throw us off track. Anything is possible with this man."
Authorities were bracing for the possibility that Dorner may have crossed over the Mexican border.
The LAPD also indicated that it would review Dorner's firing, according to Los Angeles Police Chief Charlie Beck. The department contended that the decision to revisit the case is not an effort to "appease a murderer" but "to reassure the public that their police department is transparent and fair in all things we do," Beck said.
FOR FREE to continue reading
✔️ Unlock the full content of International Business Times UK for free
offer available for a limited time only
✔️ Easily manage your Newsletters subscriptions and save your favourite articles
✔️ No payment method required
Already have an account?
Log in
© Copyright IBTimes 2023. All rights reserved.