Christopher Swindell Apologizes For NRA Threat: Marshall University Professor Wrote NRA's 'Treason' Is Worthy Of The Firing Squad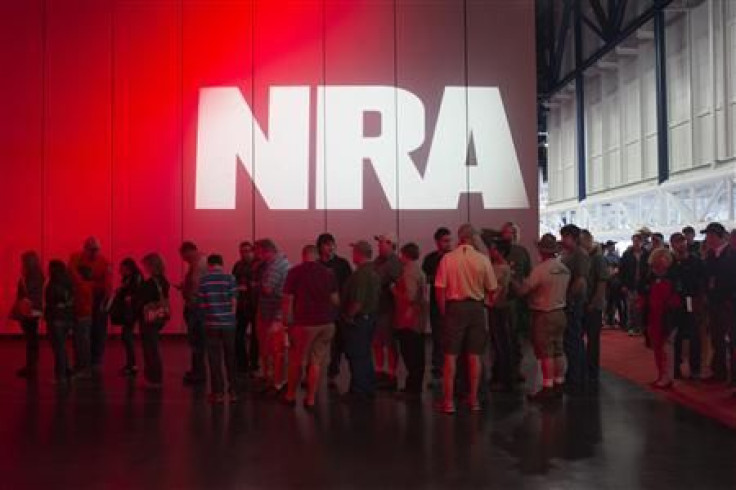 He's called "quick-witted," "understanding" and "the best teacher ever" on Rate My Professors, but conservatives and gun zealots are calling him a "traitor," and some want him fired.
A loaded controversy exploded this week after Christopher Swindell, a journalism professor at Marshall University in Huntington, W.V., posted a contentious op-ed in the Charleston Gazette, in which he declared the country's gun-safety debate "B.S."
In the article, published online on May 30, Swindell explains that he's not a "New York gun-control liberal." He wrote that he supports a person's right to keep a shotgun for protection, use rifles for hunting and even carry a concealed weapon.
But Swindell went on to disparage the "foaming at the mouth" rhetoric of gun zealots who are unwilling to make even the slightest compromise when it comes to background checks and other gun-safety legislation. He placed in the extremist camp the "half-wit" Sarah Palin, as well as NRA President Jim Porter himself.
And then Swindell seemed to suggest it was time to fight fire with fire:
"Here it is. The NRA advocates armed rebellion against the duly elected government of the United States of America. That's treason, and it's worthy of the firing squad. The B.S. needs a serious gut check. We are not a tin pot banana republic where machine gun toting rebel groups storm the palace and depose the dictator."
Swindell went on to describe himself a "peaceable" man, but he said that, in this case, he was willing to answer the call to defend the country. Not surprisingly, Swindell's article has stirred fierce reactions particularly from the right. The article itself has attracted more than 1,400 comments via a Facebook plug-in, where, Swindell, using his own Facebook page, jumped into the fray and tried to clarify his remarks.
Several pro-gun and right-wing blogs have picked up the story, with some accusing Swindell of calling for a war with the NRA. Meanwhile, on the Marshall University Facebook page, some users are saying Swindell should lose his job.
"Fire Swindell and put some serious distance between your establishment and that nut-job!" wrote one user.
The incident is even gaining its share of local ridicule. The Diggerer, a satire news site aimed at West Virginia, announced that Swindell had been appointed as "Official Communist for Marshall University."
A spokesperson for Marshall University did not respond to a request for comment.
In an email to International Business Times, Swindell acknowledged that the language in his article was inappropriate, but he insisted that he was not advocating violence against the NRA.
"I was out of line," he said. "What I meant was people who advocate for that may get it. But I was wrong to say it that way. I'm not defending myself, more apologizing."
However, he didn't seem to mind that his article is causing controversy among its intended targets. "I hate it when people say 'IF' I offended," Swindell write. "I offended. So I am asking the good guys, the little old ladies who would never hurt a fly, for forgiveness."
Swindell said he believes the vast majority of NRA members are the "salt of the earth," but he added that he doesn't trust the organization's leadership or its "fringe" members.
A scroll through Swindell's Facebook page reveals that he'd become angry at many of his conservative friends in recent months. At one point he wrote that he'd begun unfriending them. In October he posted an update asking how he could disable his account.
But Swindell told IBTimes that he is simply afraid that the country is losing its grip on dangerous extremists. "I fear people who amass weapons for a coming Obamageddon could get what they want," Swindell wrote. "And nobody wants another Waco or Ruby Ridge."
Got a news tip? Send me an email. Follow me on Twitter: @christopherzara
FOLLOW MORE IBT NEWS ON THE BELOW CHANNELS