Cisco Systems Shares Soar After Solid Profit Report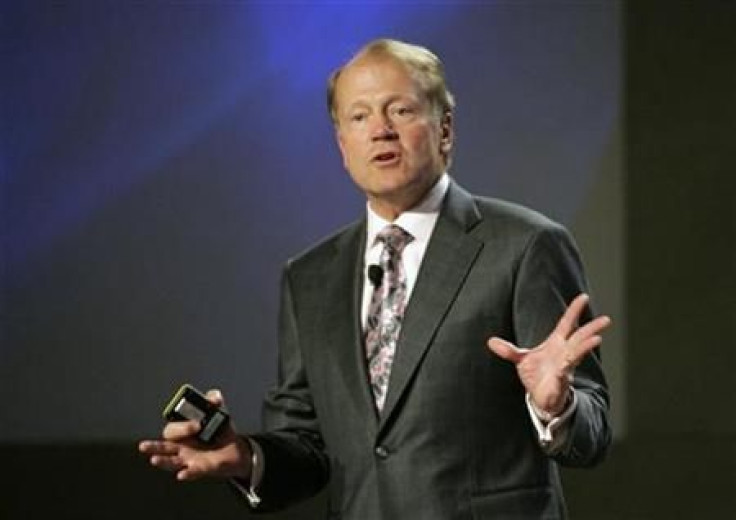 Shares of Cisco Systems, the world's biggest supplier of Internet equipment, soared nearly seven percent Thursday after the company reported first-quarter results that slightly beat expectations.
Cisco shares traded at $18.82, up $1.21, in afternoon trading, after the Internet powerhouse said it was back on track for profitable growth despite continued concerns about the economy.
The Cisco move could be a bellwether for other technology giants scheduled to report earnings soon including Nvidia, Dell and Hewlett-Packard. Nividia is scheduled to report late Thursday.
Cisco said first-quarter net income fell to $1.8 billion, or 33 cents a share, while revenue rose a better-than-expected 4.7 percent to $11.26 billion.
Analysts had expected the San Jose, Calif.-based company to report earnings of 40 cents a share on an adjusted basis. In fact, they came in at 43 cents, ahead of estimates.
We delivered a solid quarter, CEO John Chambers said. In every major market transition, we have historically emerged even stronger, with more market share and intense targeted focus.
Shares of Cisco Systems shares fell 3.8 percent Wednesday to $17.61 as nervous investors awaited the first-quarter earnings announcement. The overall U.S. market fell nearly 4 percent amid the continued European crisis that now surrounds Italy's economy.
Shares of Cisco rivals Juniper Networks and Ciena also rose, although not as much as their big rival. Overall, U.S. stocks rose about 1 percent in early trading.
Cisco shares have gained 37 percent in the past three months, which could be an indicator the No. 1 vendor of Internet networking products has surmounted a rough patch. They tumbled after disappointing fourth-quarter results came out Aug. 10.
Analysts expected results from the maker of hubs and routers for the Internet to be much better this time.
The company confirmed it has made progress and is starting to see benefits from the cloud for the first time.
Cisco still has to pay costs of restructuring in the third quarter, when it fired 6,500 employees and closed a factory in Mexico with another 5,000 workers. They will fall below $100 million this quarter, far below the fourth quarter's $750 million.
To move more into the home and consumer electronics sector, Cisco acquired Scientific-Atlanta in 2006 for $6.9 billion. Now, it's been shutting factories where it made set-top boxes sold to carriers like Verizon Communications for its FiOS TV services.
Second, Cisco's revenue appears to have been relatively immune from what CEO Chambers, 62, had warned would be a slowdown in orders from the public sector, or government agencies. They appear to have been overblown. The company reported new sales to phone companies in the U.S. and Germany.
Jefferies analyst George Notter told clients he was impressed by Cisco's efforts to boost gross margins an indicator it is starting to capture the benefits of its renewed value engineering efforts. He also said public sector sales were surprisingly strong.
IBM, for example, reported its third quarter public sector sales were solid and that European orders were strong, despite fears of getting hammered by the European financial crisis.
Third, as the No. I provider of switches and routers, ahead of smaller vendors like Juniper Networks and Huawei Technologies, Cisco has apparently won major new orders from several top U.S. service providers, said analyst Rohit Chopra with Wedbush Securities.
These customers are giants like AT&T and Verizon Communications, which constantly upgrade networks to move more traffic. They account for about one third of Cisco's revenue.
Cisco may also have benefited from the management shakeup at rival HP, where CEO Leo Apotheker was ousted in favor of former eBay CEO Meg Whitman on Sept. 25. The shakeup may have distracted the sales staff as well as customers.
Also, CEO Chambers is respected for his management skills. The West Virginia native promised investors in August the company would be better managed for profitability ahead.
Cisco's lead independent director, Carol Bartz, 63, lost her job as CEO of Yahoo on Sept. 5. Among her fellow Cisco directors is Yahoo co-founder and former CEO Jerry Yang, 42.
Cisco's market capitalization is now about $101 billion, a far cry from 2000, when it was around $579 billion.
© Copyright IBTimes 2023. All rights reserved.