Climate Change Opinion In America: Voters Divided On Global Warming, New Poll Shows
This election cycle has been the latest in a series of contests that have showed a deeply divided political America. American political districts have been drawn in a way that is increasingly uncompetitive, with mostly safe Republican or safe Democratic seats in the House of Representatives — an indicator that American voters and their districts have relatively clear and stable political leanings toward one side of the aisle or another.
A new Pew Research Center report released Tuesday shows that, when it comes to climate change, voters are just as divided as ever on the importance of the phenomenon, whether it is happening and whether scientists can be trusted with their predictions. Looking at the positions of the two major party nominees (one of which, Donald Trump, has called the phenomenon a hoax while the other, Hillary Clinton, recognizes it as a major threat to our society) perhaps that divide isn't particularly surprising.
Around 60 percent of liberal Democrats are concerned about climate change and say that it will bring more droughts and severe weather events. Just two in 10 Republicans say they think those effects are "very likely" and about half say that the effects warned about by scientists aren't likely at all.
A total of 70 percent of liberal Democrats say they trust climate scientists to give full and accurate information on the causes of climate change compared to just 15 percent of conservative Republicans. At the same time, 54 percent of Democrats say those scientists understand the causes of climate change well while just 30 percent of Republicans say the same.
Republicans are more distrustful of the motives of those scientists. Among Republicans, 57 percent think they're motivated by a desire to advance their careers and 54 percent say that their findings are influenced by their political leanings. For Democrats, those numbers are 16 percent and 11 percent, respectively.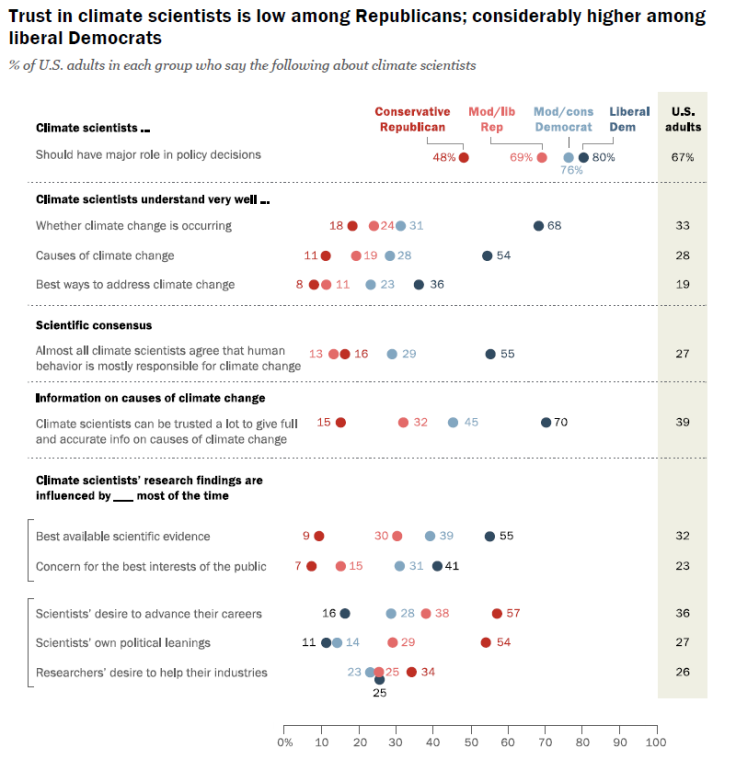 The administration of President Barack Obama has sought to make climate change a major component of his legacy. Obama has implemented unprecedented restrictions on greenhouse gas emissions from coal power plants that supporters say could both improve public health and eventually help to alleviate the risk of infrastructure damage from rising sea levels. He has set in motion tougher fuel efficiency standards. Globally, he has pushed for an international agreement to reduce emissions, which may be ratified Wednesday by the majority of the United Nations and would set into motion efforts to bolster investment in sustainable, low carbon technologies.
When it comes to those rules, Americans remain divided, according to the Pew report. Just 29 percent of conservative Republicans think the power plant rules will make a big difference while 76 percent of liberal Democrats say the same (a 47 percent difference). Meanwhile, 27 percent of those Republicans think the international agreement will do much while 71 percent of those Democrats say they will. Sixty-seven percent of liberal Democrats vs. 27 percent of conservative Republicans think that tougher fuel efficiency standards will make a big difference.
However, there is strong support from both sides for expanding renewable and sustainable energies, the survey showed. A total of 89 percent of Americans support more solar panel farms and 83 percent support more wind turbine farms (compared to 9 percent and 14 percent against, respectively). Other energy sources aren't as popular: 45 percent of Americans support more offshore drilling while 52 percent oppose the same, 42 percent favors more fracking while 53 percent do not and 41 percent support more coal mining while 57 percent do not.
The survey contacted 1,534 adults and has a margin of error of 4 percent.
© Copyright IBTimes 2023. All rights reserved.