Clinton, Carson Each Raise More Than $20 Million In 3 Months For 2016 Presidential Campaign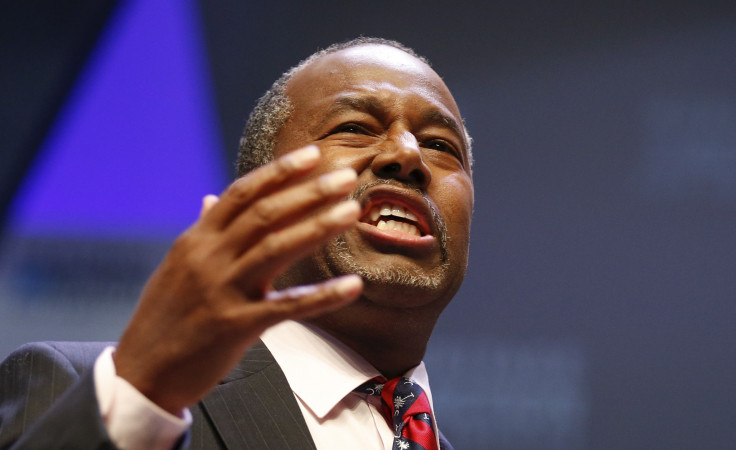 While other presidential campaigns kicked their fundraising efforts into high gear Wednesday, Republican candidate Ben Carson's team celebrated the more than $20 million it raised in the past three months for his presidential race. The former neurosurgeon set the bar for GOP fundraising as 2016 campaigns prepared to file their quarterly fundraising reports to the Federal Election Commission at midnight Wednesday.
Carson's camp confirmed with the Associated Press that the GOP candidate has raised $31 million since he launched his campaign in May. He campaigned in New Hampshire on Wednesday, but back at his Washington headquarters, staff members shared a cake decorated with a frosted "$31,000,000."
"You know, the pundits all said that we would never be able to mount a national campaign for financial reasons, but here we are approaching 600,000 donations," Carson told the Associated Press while campaigning in New Hampshire. "The people have gotten involved, and that's something I think they probably never anticipated."
In the third quarter, Democratic candidate Hillary Clinton reported to political site the Hill that she raised $28 million for her presidential run -- the highest of all the candidates who have revealed their fundraising figures.
2016 Presidential Candidate Fundraising by State | InsideGov
Ahead of the midnight FEC deadline, Vermont Sen. Bernie Sanders also announced high contributions, having raised more than $24 million during the past quarter. Sanders' fundraising tops Obama's in this stage of his 2008 and 2012 campaigns.
The Democratic candidate first announced on Reddit around 11:30 a.m. EDT Wednesday morning that his campaign had reached 1 million online contributions. That evening, Sanders' campaign told the Wall Street Journal that it had received 1.3 million donations from about 650,000 different donors.
"This is too good not to share as we approach tonight's FEC fundraising deadline," Sanders' campaign wrote in an email Wednesday to supporters. "Take a look at how fast the contributions from across the country are pouring into our campaign."
Other candidates have yet to disclose their fundraising figures. The FEC will release the quarterly report findings Oct. 15.
© Copyright IBTimes 2023. All rights reserved.
FOLLOW MORE IBT NEWS ON THE BELOW CHANNELS