Clinton to Syria: Implement Reforms Now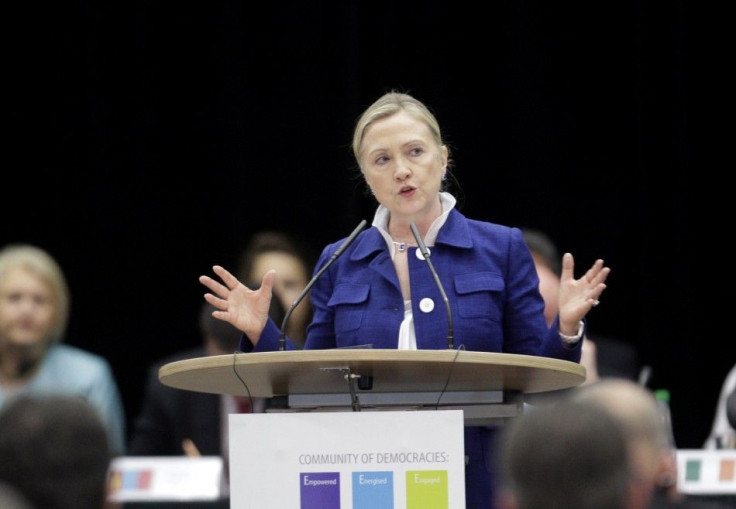 Analysis
U.S. Secretary of State Hillary Clinton says Syria's President Bashar al-Assad is running out of time.
Clinton, in a speech Monday, called on the Syrian president to implement genuine reforms after the reformers registered their biggest day of protests since the Syrian uprising began about four months ago.
Clinton warned Assad that he would have more, organized resistance unless he allowed a genuine transition to democracy, guardian.uk reported Tuesday.
On Monday, Syrian authorities permitted an unprecedented opposition conference to take palce in Damascus, even as political analysts and regional officials continued to debate whether this marked a substantive move toward reform, or more mere superficial gestures by one of the most authoritarian, and human rights-violating, regimes in the world.
Look, I mean, from our perspective, he [Assad] has lost legitimacy, Clinton said, ABCNews Radio reported. He has failed to deliver on the promises he's made. He has sought and accepted aid from the Syrians as to how to oppress his own people. And there's a laundry list of actions that have been certainly concerning and should raise the issue with not only his behavior but those who are supporting him in the international community,
Clinton also demanded that Syria take steps to protect foreign embassies -- which by international treaty represent land and installations that belong to the embassy government -- and suggested strongly that by encouraging mob attacks on embassies Syria is trying to deflect attention away from its internal crackdown. On Monday, crowds loyal to Assad attack the U.S. and French embassies in Damascus.
Earlier Tuesday, France condemned Syria and said the U.N. Security Council's failure to speak against the violent repression of pro-reform protests there was becoming unbearable, jpost.com reported.
Political/Public Policy Analysis: The tone of Clinton's remarks suggest that both the scope and effectiveness of the democratic uprising in Syria are gaining momentum, despite Assad's brutalities. Further, at this stage, it's hard to envision the reform movement settling for anything less than the ouster of the Assad regime.
© Copyright IBTimes 2023. All rights reserved.