Clinton WikiLeaks Update: Did The DNC Help CNN Interview Donald Trump, Ted Cruz?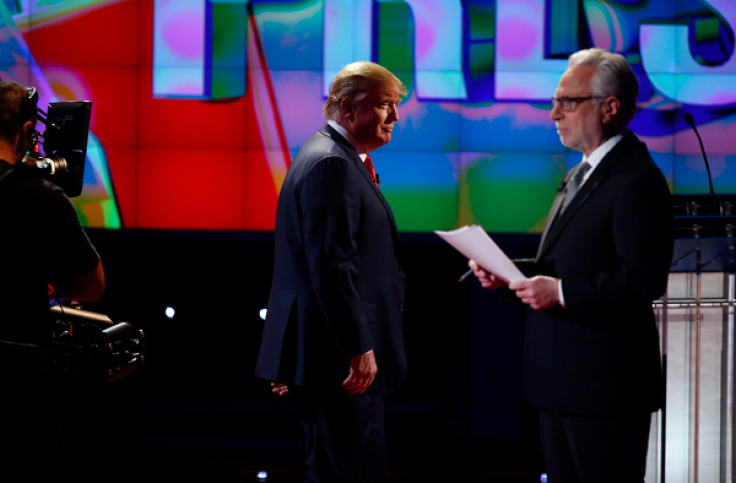 The Democratic National Committee has apparently given CNN a helping hand with questions used in interviews of various Republican candidates earlier this year – or at least that's what the latest round of WikiLeaks emails indicate. Within the most recent batch of 8,263 emails, which were released Sunday, there was some correspondence among DNC staffers regarding questions that could be used in news segments on CNN featuring presidential candidate Donald Trump and his formerly opposing Republican nominee, Ted Cruz.
In one email, which was sent on April 25, DNC research director Lauren Dillion asked staffers and other officials to send over questions that could be used during a Wolf Blitzer interview with Trump. The interview was initially scheduled right before Trump gave a speech about his foreign policy plans, and many of the questions staffers suggested were in regards to statements Trump made about 9/11, the Islamic State group and North Korea. However, the interview was later canceled and rescheduled for May 4. It is unclear whether or not any of the questions Blitzer asked the real estate mogul were from Dillion's email.
Another email, sent on April 28 with the subject headline, "Cruz on CNN," asked for staffers to send over "topical/interesting" questions that the network could use during an interview with Cruz.
This isn't the first time the DNC has been accused of helping the news network source interview questions. Back in August, CNN host Jake Tapper, came under fire after WikiLeaks emails revealed his production team also corresponded with the DNC for questions they could ask during interviews with Republican nominees and officials. "The Lead with Jake Tapper" and "State of the Union" host suggested DNC staffer Pablo Manriquez was just being "collegial" when he emailed other officials about whether or not they wanted to "offer Jake Tapper questions to ask." In his personal blog, Tapper said that he has "never been given questions to ask any politician."
"We work very hard to make 'The Lead' and 'State of the Union' fair and I think we have developed a reputation for good nonpartisan journalism; I think the staffer was just being collegial," he wrote. "Some days we have GOP nonsense/booking issues, some days we have Democratic nonsense/booking issues. That said, it's a good lesson for everyone in journalism and beyond that emails get hacked and things get misconstrued."
© Copyright IBTimes 2023. All rights reserved.