Clintons And Foundation Raked In Cash From Banks That Admitted Wrongdoing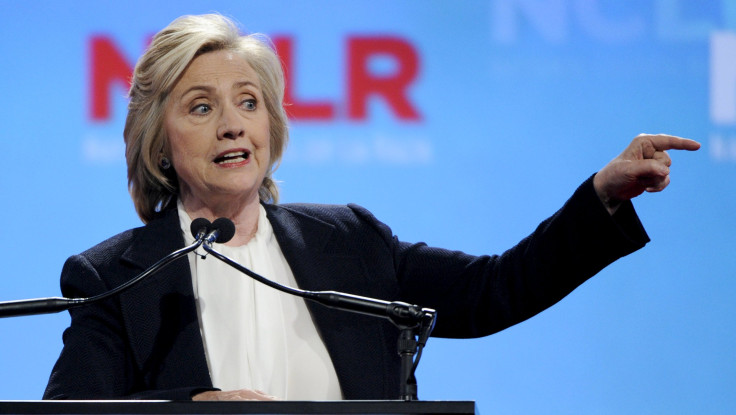 On the campaign trail, Hillary Clinton is selling her version of economic populism, including calls for Wall Street executives who engage in financial wrongdoing to be held accountable more than they have been under President Barack Obama. She has pushed that message hard as she seeks to win support from the Democratic Party's liberal base, with a speech Monday and a follow-up statement from her campaign the next day.
"Yesterday, Hillary said that when Wall Street executives commit criminal wrongdoing, they deserve to face criminal prosecution. Not a slap on the wrist, not a fine paid by their employers -- prosecution," said an email to supporters from Gary Gensler, a former Goldman Sachs executive-turned-government regulator now serving as a top Clinton campaign official.
Raking In Donations
Clinton's outrage, though, did not stop her family's foundation from raking in donations from many of the same banks that secured government fines rather than face full-scale prosecution. The Clinton Foundation has accepted $5 million worth of donations from at least nine financial institutions that avoided such prosecution -- even as they admitted wrongdoing. These include Barclays, HSBC and UBS, all of which entered into agreements with the Justice Department that allowed their employees to avoid criminal charges. The Clintons also personally accepted nearly $4 million in speaking fees from those firms since 2009.
Neither the Hillary Clinton campaign nor Clinton Foundation responded to International Business Times questions about why her family and their foundation accepted money from firms that settled financial fraud cases and avoided the kind of prosecution Clinton now says is needed.
Last week, former Attorney General Eric Holder said the Justice Department's treatment of banks was "appropriately aggressive" and told Financial Times that assessing fines was a better strategy than "trying to make examples of people" by prosecuting individual executives. On Monday, Clinton seemed to disagree. In a speech at the New School in New York City, she pressed for prosecutions and slammed regulators' tolerance of lawlessness from financial firms like HSBC -- a bank that two years ago admitted to helping Mexican drug cartels launder money in its banks, and allowing transactions by customers in countries subject to U.S. sanctions. While HSBC paid a $1.9 billion fine, none of its employees went to jail.
"Stories of misconduct by individuals and institutions in the financial industry are shocking," Clinton said. "HSBC allowing drug cartels to launder money, five major banks pleading guilty to felony charges for conspiring to manipulate currency exchange and interest rates. There can be no justification or tolerance for this kind of criminal behavior."
Money After Wrongdoing
But in 2014, two years after HSBC admitted to major violations of U.S. laws, the firm was the top sponsor at a Clinton Global Initiative (CGI) event, paying at least $500,000 to the Clinton Foundation. Earlier, in 2011, HSBC paid former President Bill Clinton $200,000 for a speech he gave in Florida.
The HSBC relationship -- taking money from a bank after the firm admitted wrongdoing -- was not unique. In 2009, UBS avoided prosecution by the Justice Department when it agreed to pay a $780 million fine and admitted to defrauding the United States by allowing American citizens to hide income from the IRS. The Swiss bank has since entered into two more agreements with the Justice Department -- one for rigging the municipal bond market and the other for manipulating global interest rates. UBS has paid former President Bill Clinton more than $1.5 million for speeches since 2009, and the firm has given more than $550,000 to the family's foundation.
In 2010, the British banking firm Barclays entered into a settlement agreement with the Justice Department, and admitted to violating U.S. sanctions by making transactions for customers in countries such as Libya, Sudan and Myanmar. Weeks later, Barclays was a sponsor at the annual CGI event. Barclays has remained a CGI sponsor in the years since, even after the bank paid more fines under a new agreement with the Justice Department for manipulating worldwide interest rates. Barclays has paid the Clinton family $650,000 for speeches since 2009. The firm has given at least $1.5 million to the Clinton Foundation.
© Copyright IBTimes 2023. All rights reserved.