CNN Republican Debate Analysis Roundup: 'Rubio's Best Debate Performance' Comes At Trump's Expense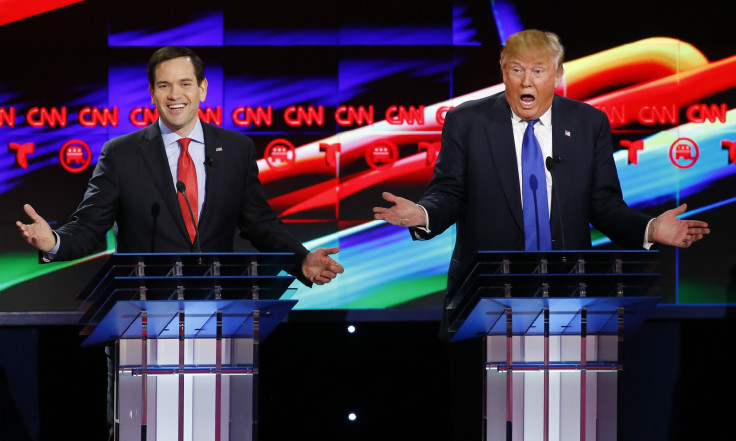 Political analysts were mostly in agreement: Thursday evening's CNN-Telemundo Republican presidential debate in Houston was an ambush on GOP front-runner Donald Trump. With Super Tuesday around the corner, Texas Sen. Ted Cruz and Florida Sen. Marco Rubio ganged up on the billionaire business tycoon, who has so far proved surprisingly unstoppable in the race to the Republican presidential nomination.
Many said it was Rubio's best performance yet as the contender sought to shore up support among the GOP establishment ahead of next week's Super Tuesday primaries and caucuses in 11 states. Although Rubio has found it difficult to pull ahead of Cruz and Trump, he could see a boost now that former Florida Gov. Jeb Bush has dropped his bid, leaving Rubio as the candidate around whom the establishment could coalesce.
"This was not only Rubio's best debate performance; it was the best debate performance by any candidate in any debate so far in the 2016 election," Chris Cillizza wrote in the Washington Post. "Rubio, grasping the fact that if nothing changes in this race, he — and everyone else — will lose to Donald Trump, hit Trump at every turn."
"Cruz watched — and I do mean watched — as Rubio turned the race into a two-man contest between him and Trump," he added. The other two remaining candidates, Ben Carson and Ohio Gov. John Kasich, had relatively little speaking time.
Rubio was praised for handing the contentious Republican front-runner several well-articulated refutes to his electability. He cited Trump's record on immigration, his position on the Israeli-Palestinian conflict and his stance on Obamacare. He even called out the real estate developer for repeating himself during the debate, a charge previously leveled against Rubio himself.
"In a series of acid exchanges, a newly pugnacious Mr. Rubio, long mocked for a robotic and restrained style, interrupted Mr. Trump, quizzed him, impersonated him, shouted over him and left him looking unsettled," Michael Barbaro and Matt Flegenheimer of the New York Times wrote. "It was an unfamiliar reversal of roles for the front-runner, who found himself so frequently the target of assaults from Mr. Rubio and Sen. Ted Cruz that he complained they must have been a ploy for better television ratings. "
Benjy Sarlin of NBC News wrote it marked the first unified push against Trump. "It took eight months and three electoral losses in a row, but the Republican presidential field finally woke up and realized Donald Trump was not going to defeat himself," he wrote. "Thursday's CNN-Telemundo debate was the first time Sens. Marco Rubio and Ted Cruz, who have savaged each other in the last several meetings, put aside their differences and focused 100 percent of their fire on Trump."
But Leah Libresco and Ella Koeze of FiveThirtyEight suggested, just after the debate ended, the assault on Trump may have played into Trump's hands, offering him just what he wanted: more stage time.
"Rubio and Cruz kept attacking Trump, and that meant that Trump just got to keep on talking," they wrote. "He had more opportunities to speak in response to attacks than all the other candidates put together. We'll find out soon whether voters liked what they heard from him." Ben Carson tried to get in on the action by saying, "Would somebody please attack me?"
Their post was illustrated with a graph breaking down Trump's speaking time. In all, he led the debate with the most number of questions, responses and interruptions. So was it Trump or Rubio's night? To know for sure, we might have to wait for Tuesday.
© Copyright IBTimes 2023. All rights reserved.