CNN Republican Town Hall Live Stream: How To Watch Donald Trump, Ted Cruz, John Kasich In Wisconsin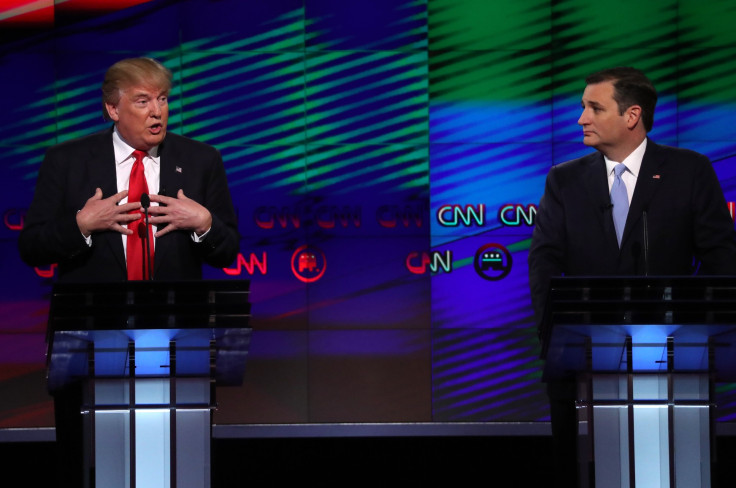 Donald Trump, Texas Sen. Ted Cruz and Ohio Gov. John Kasich will take the stage Tuesday evening for a CNN town hall session moderated by Anderson Cooper. The Milwaukee event comes a week before Wisconsin Republicans head to the polls to vote on who they want to move forward as their party's nominee.
The event starts at 8 p.m. EST and runs until 11 p.m. EST. It can be watched on CNN, CNN International and CNN Español or can be viewed via live stream on CNNgo. It is the seventh presidential town hall with Republican or Democratic candidates this year. The format will be similar to previous CNN town hall events where candidates have appeared separately and taken preselected questions from audience members.
The town hall comes as an already-tense campaign season has gotten even hotter in recent days. Trump has blamed Cruz for an unaffiliated super PAC ad that showed a picture of a undressed Melania Trump, the front-runner's wife. Trump responded by attacking Cruz's wife, Heidi Cruz. The feud has brought into question whether Ted Cruz would back the expected nominee.
Republican Primaries and Caucuses To Date | InsideGov
"I'm not in the habit of supporting people who attack my wife and attack my family," Cruz said. "Donald Trump is not gonna be the nominee. We are gonna beat him for this nomination."
Nationally, Trump maintains a comfortable lead in the Republican race. More than 42 percent of Republicans back him, according to the latest RCP Average poll, while 31.6 percent support Cruz. Kasich — who has found it difficult to break through in a campaign season marked by outlandish rhetoric — polled at just 18 percent.
Democratic front-runner Hillary Clinton and rival Vermont Sen. Bernie Sanders are also campaigning in Wisconsin this week. Wisconsin awards 42 delegates on the Republican side and 86 on the Democratic side. Trump currently has 739 delegates; Cruz has 465; Kasich has 143.
© Copyright IBTimes 2023. All rights reserved.