Donald Trump Panic? Maybe For The GOP, But Don't Cry For The TV Ad Market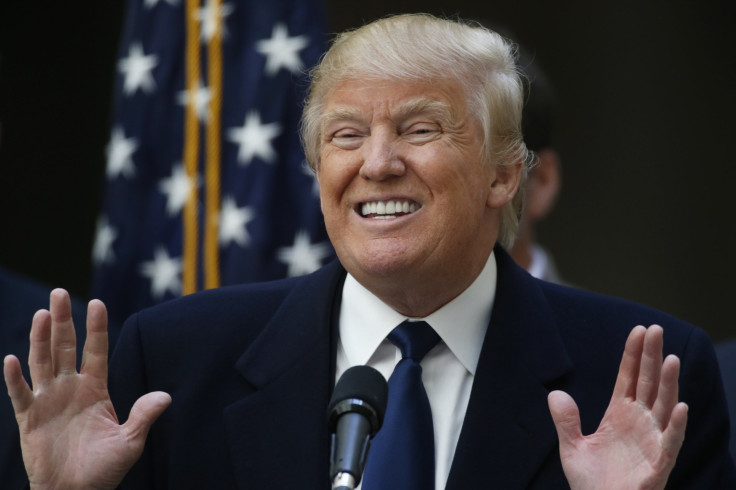 Given that the race to the White House feels like it began an eternity ago, you could be forgiven for thinking we were mere weeks from the end of one of the most contentious scraps in modern political history. The reality is, we're still more than seven months out from the 2016 presidential election, and for a TV industry anticipating seven more months of political ad revenue, that's just fine.
But since Donald Trump's emergence as the GOP's front-runner, whispers of worry have echoed throughout the ad marketplace. As of March 18, Trump and the PACs supporting him had spent only $16.9 million on TV and radio advertising, far less than any candidate other than Ben Carson, according to data from research firm Kantar Media. The race's two biggest spenders, Jeb Bush ($80.2 million) and Marco Rubio ($70.25 million), are both no longer contenders.
Presidential election years typically come with big piles of political ad dollars. Local cable and broadcast TV ads alone brought in $1.2 billion in 2012, which was a big boon in particular for local TV stations that have borne the brunt of cord-cutting and cord-shaving. But with Trump in the race, 2016 is anything but typical.
The good news is, a Trump nomination as the official Republican candidate for the 2016 election won't have the chilling effect on the ad marketplace you might expect, say Kantar's experts.
It's true that Trump hasn't needed to spend much on ads. Estimates from the research firm mediaQuant put the value of Trump's free media exposure at a gobsmacking $1.9 billion. So it's natural for those depending on beaucoup political dollars to be a little nervous. But if Trump goes the distance, the ad market will likely make up for the revenue in other ways.
With the caveat that Trump has not achieved official nominee status, Kantar's SVP of political advertising, Elizabeth Wilner, laid out the possibilities for us:
In one scenario, a Trump nomination inspires the GOP to simply abandon all hope in the presidential race, possibly sapping some money from markets in battleground states. But the number of states that are considered genuine presidential race battlegrounds has been on the wane of late, and instead of just absorbing the money the party would have spent on advertising for a different candidate, the money will simply go elsewhere.
Wilner points out that because the entirety of the House is up for re-election, along with 33 Senate seats, it's possible Republican spenders will, instead, dump their war chests into those races.
Another scenario: States that have long been thought of as Democratic-leaning battlegrounds may be jostled in the Republicans' direction if Trump is the nominee — particularly, Wilner says, those with large concentrations of white males. In order to further sway them, the GOP could shell out big.
And then there's the opposition. Anti-Trump groups not affiliated with a single candidate have spent a whopping $22.4 million on ads, a number that will only grow as we get closer to November.
The main benefactors will largely be those who get hammered with political ads in the primaries. As an example: "New Hampshire is about to get absolutely flooded," Wilner says. That might even spill over into Boston, a close market that often vacuums up political dollars left on the table because there simply isn't any ad inventory left in New Hampshire.
It doesn't even hurt that Trump himself doesn't spend much. FCC regulations related to the "Equal Time" rule mean that candidates themselves pay the lowest price for ads. Meanwhile, PACs are subject to the vagaries of the marketplace, and local stations can (and do) charge bucketloads for the privilege of appearing on their airwaves.
If political spending were to slump a little, that wouldn't be the end of the world. "Political advertising is a very disruptive force in spot TV advertising," says Jon Swallen, Kantar's chief research officer. Networks and stations have a finite amount of ad inventory, so the more they sell to campaigns, the less they have available for regular advertisers like car companies and restaurant chains, who either have to attempt to outbid the campaigns or just suck it up and cool their heels for a few months. Remove the political heavy-hitters, and the regulars will snap back into place.
The real threat to the TV political ad marketplace isn't Trump — it's your iPhone. "There's something of a war going on in political circles, particularly on the Republican side," Wilner says. "Digital wants the lion's share of the ad dollars that are going to broadcast."
They're not wrong to want more money, she adds. "When you look at the share of people online during the day and on smartphones, and the share of money that goes towards them, it's wildly disproportionate." Combine the American public's heavy use of mobile tech with the ability of most digital ad sellers to target exactly the kind of person a campaign wants to reach, and you've got a recipe for share shift.
"I would expect to see an exponential increase cycle over cycle," Wilner says. "And some of that will come at the expense of broadcast."
© Copyright IBTimes 2023. All rights reserved.