CNN's Republican Debate 2015: Donald Trump vs. Carly Fiorina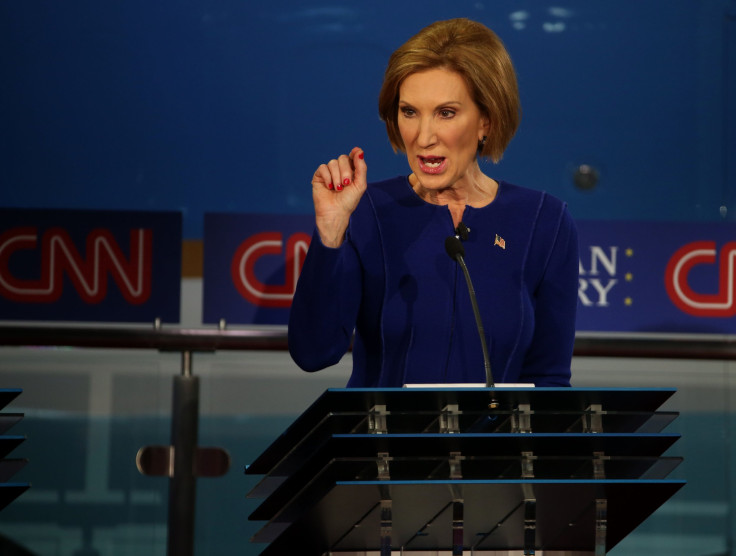 The second Republican debate hosted by CNN on Wednesday was, as Donald Trump might say, "high-energy." In a way, it was moderated by Trump himself, along with his rivals Jeb Bush and Carly Fiorina. Unlike the first round put on by Fox News last month, which pitted the contenders against the moderators asking pointed and brutal questions, CNN's moderators at the Ronald Reagan Presidential Library on Wednesday put the candidates at each other's throats.
Lead moderator Jake Tapper's questions were clearly crafted to keep things lively. He asked questions designed to turn the candidates against each other, forcing them to stay on the offensive and fire zingers back and forth. Tapper asked Jeb Bush about trash talk from Trump, asked Chris Christie to hit back at Ben Carson's recent attacks, and when all else failed, let loose his secret weapon, rightwing radio host Hugh Hewitt.
Most of the candidates were happy to oblige: With Trump leading the pack, they went at each other's throats, interrupting one another and mugging for the cameras. Jeb Bush, who in the first debate floated above most of the bickering, turned to face Trump directly and gave the audience some hand to hand combat.
"More energy tonight, I like that!" Trump quipped to roars from the audience.
"Can I say something about that?" whispered Ben Carson in gentle tones. Over the cries of his competitors, he was ignored.
Some of the candidates, however, appeared to think the whole thing was a bit sensationalist. John Kasich might have irked a few in the CNN control room when he spoke up early on in the debate.
"If I were watching this at home, I'd be inclined to turn it off," complained Gov. John Kasich, demanding that CNN focus on "the issues."
"We are going to get to the issues, sir," Tapper shot back.
Others on the stage appeared sidelined as the more vocal contenders like Trump, Bush, Fiorina and Kasich were busy tearing into each other.
"I haven't gotten much time tonight, so I'm gonna take what I can get here," Huckabee said. Later on, Christie interrupted an extended back-and-forth between Trump and Fiorina flashing their credentials as captains of business. "[Americans] could care less about your careers. They care about theirs," he said. "Let's start talking about that on this stage and stop playing the games."
Still, the second debate was less contentious than the earlier, junior one, in which "outsiders" like former Sen. Rick Santorum and Louisiana Gov. Bobby Jindal attacked the Republican leadership and legislators in Washington D.C. almost more sharply than members of the Democratic party. They characterized DC Republicans as having failed to live up to conservative values and expectations.
One thing that set the CNN debate apart from the Fox event right after the curtain closed: Donald Trump appeared positive, almost humble, in an immediate follow up interview with anchor Chris Cuomo.
"We're getting to know each other," Trump said, "even though it can be quite tough, quite nasty."
"I think we've got a really talented set of people," he added.
CNN can rest easy with the endorsement from Trump, who was not at all pleased with his "unfair" treatment by Megyn Kelly the last time around, sparking a month-long cold war between him and Fox News. The two parties eventually formed a truce, but not after Trump slammed the network to the rest of the media and incurred the wrath of chairman Roger Ailes.
Still, there were fireworks, most notably the moment Carly Fiorina struck back at the Donald for his remarks about her face in a Rolling Stone cover story last week.
""Look at that face! Would anyone vote for that?" he told the magazine. Fiorina got possibly the biggest applause line of the night when she called Trump out in front of the entire theater.
"I think women all over this country heard very clearly what Mr. Trump said," Fiorina said.
Fiorina, who earned a lot of hype for tangling with Trump in the days leading up to the event, still only polled at 3 percent going into the debate.
Trump came into the debate with 32 percent support among Republicans and Republican-leaning independents, according to a new CNN poll. That's three times his support since he entered the race in June. Ben Carson surged in the polls since the last Fox debate, landing in second place at 19 percent. Jeb Bush, slipping recently, was third place with 9 percent. Sen. Ted Cruz, Gov. Scott Walker, and Gov. Mike Huckabee made up the lower tier, all floating around five to seven percent.
CNN pitched its debate as a more aggressive showdown than the first one hosted by Fox News. The channel boasted of a smaller audience and podiums packed together to ensure candidate-on-candidate combat. Calling the "double-header" debate an epic "rematch" in a WWE-style intro, CNN embraced an almost game show atmosphere, with "State of the Union" anchor Jake Tapper putting an extra oomph in his voice.
"You haven't seen anything yet," blared the Hollywood-esque narration.
© Copyright IBTimes 2022. All rights reserved.
FOLLOW MORE IBT NEWS ON THE BELOW CHANNELS