Coaches Dress In 'Cool Runnings' Blackface Costume, Sparks Outrage [PHOTOS]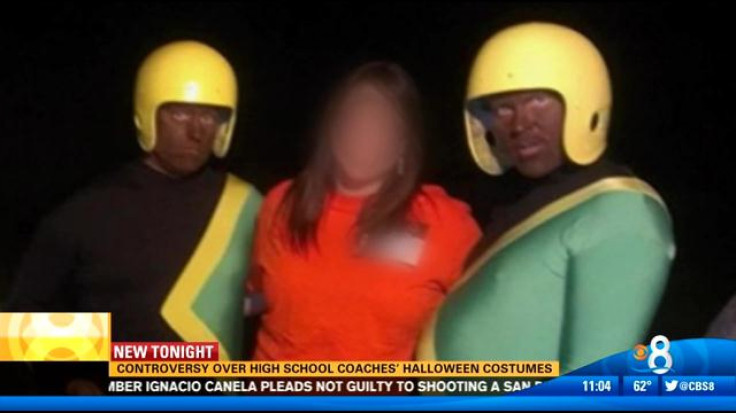 Two San Diego high school football coaches are under fire after dressing in blackface for Halloween.
Brian Basteyns and Harold Seeley, the head and assistant coaches of the Junipero Serra High School football team, posted photos of themselves with black painted faces and leotards to look like the characters from "Cool Runnings," a movie about the Jamaican national bobsled team. They wore the costume to a San Diego State University football game on Saturday and photos were shared on Facebook, News10 reports.
"We hold our staff to high standards in the community, and the investigation would look more closely into what happened and what the circumstances were," John Evans, a San Diego Unified School Board of Education member, said Tuesday.
The photos were removed from Facebook and have drawn mixed reactions.
"There's just certain things you don't do," U.S. history teacher Peggy Spates told 10News. "You don't call people the N-word or any other racial epithet. You don't put black on your face. I don't care what team you're trying to represent."
On Tuesday, the local branch of the NAACP called for the coaches to be fired. "In the 21st Century, where our country is more diverse as ever, African Americans and people of color ask why we have to address these issues repeatedly. You would think that an educator would know this. Educators should be aware that racist insensitivity can have a negative impact on students, today and tomorrow," the organization wrote in a statement.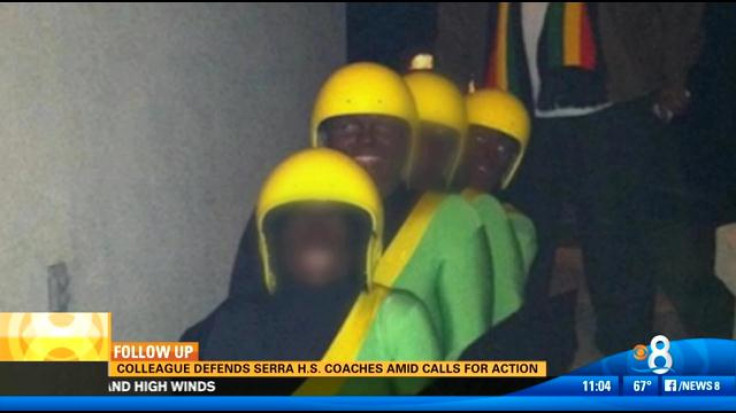 Others don't see the costumes as controversial. "I understand they are held to high expectations, but I think they were just fooling around," Josh Garcia, a freshman, told Fox 5 San Diego. "They weren't making any racial comments. They were just dressing up."
Harold Seeley alluded to the incident on his Facebook page. "I am absolutely mind boggled right now. He who is without sin shall cast the first stone," he wrote.
His friends have posted comments with words of support.
"People suck my friend....never let'm break your spirit, just keep on keepin on and never loose your stride!" one wrote.
"How come nobody pitches a fit when black people dress up like whites? When that happens its (sic) hilarious. It goes both ways people. Either its ok or its not," another posted.
On Tuesday, Basteyns reportedly met with the team to discuss the incident and apologize.
"He's an emotional guy, but I've never seen him break down like that," said team captain Richard Price. "He was really upset that these allegations were happening and he felt as if he really did something wrong and he really wanted to express to us his apologies."
Earlier this week a celebrity faced similar criticism after she dressed in blackface for Halloween.
Actress Julianne Hough painted her face black to dress as "Crazy Eyes" from "Orange Is The New Black" at a Halloween party on October 25. She apologized on Twitter.
"I am a huge fan of the show Orange is the New black, actress Uzo Aduba, and the character she has created. It certainly was never my intention to be disrespectful or demeaning to anyone in any way. I realize my costume hurt and offended people and I truly apologize," she tweeted.
© Copyright IBTimes 2023. All rights reserved.