Cody Lundin Fired Update: 'Dual Survival' Star Speaks Out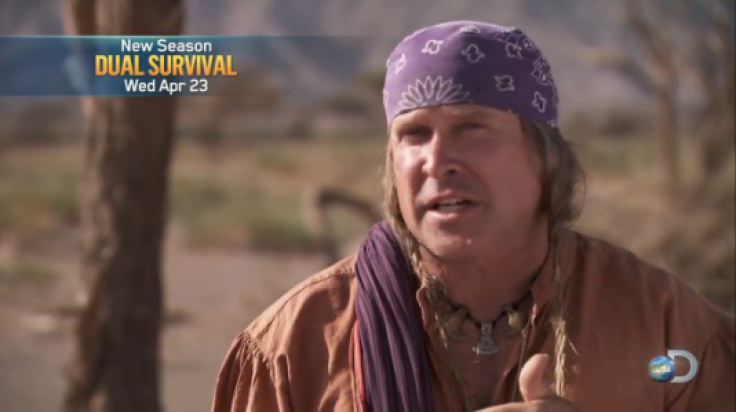 Viewers can still watch Cody Lundin battle the wilderness on Season 4 of "Dual Survival," but the barefooted survivalist didn't make it to season's end after he was apparently fired from the hit Discovery show.
Many were shocked to find out Lundin would no longer be on the show. His aboriginal survival skills (not to mention he practically never wears shoes) are one of the main reasons people love to watch "Dual Survival." Viewers want answers about why the barefooted star will no longer appear on the show, but the truth seems to have been muddled by accusations of Lundin not being able to "hack" some of the wilderness scenarios and, esentially, that firing him was a safety measure: that's at least what Lundin's costar Joe Teti said.
"I was there and know exactly what happened," he wrote on Facebook. "For the record, the safety of the crew and the hosts of any show are the most important issue for any production company or network."
In a statement to the Rocky Mountain Bushcraft blog, Discovery said it was looking for a "change" but didn't cite "safety" as the reason for Lundin's departure. "We had a good run with Cody and wish him well." But Lundin referred to Discovery's response as "inaccurate, uncalled for, unacceptable and untrue."
He might have been a fan-favorite on the show, but it wasn't enough to keep him on "Dual Survival." Though he hasn't directly identified the reason, Lundin took to his Facebook page to give his version of why he was fired back in February.
"Initial press releases implied that I was returning for the entire fourth season of 'Dual Survival.' Not true," he wrote on April 16. "Later releases featured quotes from a new Discovery executive producer implying that I quit the show. Not true. Further releases implied that I couldn't 'hack' the show anymore and that I was unable to handle the survival scenarios. Not only are these implications completely false, they question my professional experience, expertise and integrity in a manner that I will not tolerate."
Eventually, Lundin revealed more about why he was fired. "It's shocking to me that Discovery would treat anyone in this manner," he wrote. "Programming of this nature must be produced and marketed in a responsible manner with the highest level of regard for the safety and health of the hosts, production personnel, and members of the viewing public. I have shared this message with them many times. Failure to observe this standard could have tragic consequences that, with proper precaution, can be avoided. There can be no compromise when dealing with people's lives."
Lundin's last episode of "Dual Survival" will air on Discovery Wednesday at 8/7c.
Follow me on Twitter @mariamzzarella
© Copyright IBTimes 2023. All rights reserved.
FOLLOW MORE IBT NEWS ON THE BELOW CHANNELS