Coldplay Launch Fresh Chart Assault with Fifth Album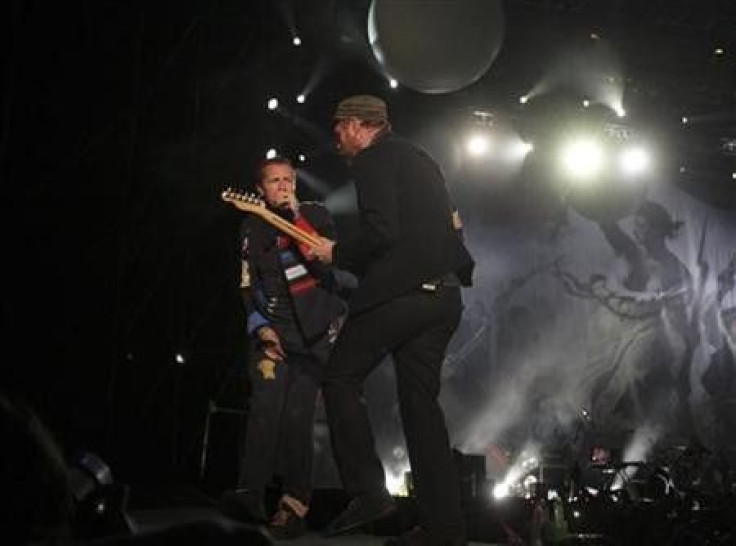 You may not understand the title of Coldplay's new album let alone be able to pronounce it, but Mylo Xyloto is a name music fans may have to get used to as the group launches a fresh assault on the world's charts.
The English quartet's fifth studio album hits shelves in Britain on Monday and the United States on Tuesday, and early critical response is mostly positive for a record aided and enoxified by Brian Eno.
Judging by comments made during a blitz of interviews to publicize the album, Coldplay could do with a little love, something that might seem strange given their success.
Their last record, Viva La Vida or Death and All His Friends, was released in 2008 and went on to become that calendar year's top-selling album at 6.8 million copies.
The one before that, X & Y, claimed the same honor in 2005, shifting 8.3 million copies globally.
They are one of the world's biggest bands, have multiple Grammys and album sales of around 50 million to their name.
Yet that has not shielded the unusually unassuming rock stars from criticism that tends to focus on their clean-cut middle class image and music that naysayers label as bland and Radiohead-lite.
Guitarist Joe Satriani also sued the band, alleging that their chart-topping and award-winning Viva La Vida contained elements of his If I Could Fly. The two sides reportedly settled out of court in late 2009.
We got to a very low place on the last record where we felt not very popular, lead singer Chris Martin told the Sun tabloid.
But it was refreshing as it made us start from scratch. A clean slate. So many people had made up their minds about us already that we had nothing to lose.
YOUNG COMPETITION
That sense of defiance came with a realization that, in order to rule the charts again, Coldplay are not up against stadium bands like, say, U2 but teen sensation Justin Bieber and English singing sensation Adele.
Now we have Justin Bieber and Adele to compete with and they're a lot younger, 34-year-old Martin, who is married to Hollywood actress Gwyneth Paltrow, said in a recent interview.
We have to have the energy to put as much effort into our work as they do. If it's over, it's over and I can live with that. The most important thing always is to proceed as if every album is the last and not expect anything more.
Early reviews of Mylo Xyloto have been generally positive, with critics remarking that, while offering some fresh twists, the sound is essentially the Coldplay of old.
It's a surging, chiming, upbeat epic, almost thunderously enthusiastic, wrote Neil McCormick of the Daily Telegraph in a four-star review.
He went on to call the album irresistible, but voiced reservations, shared by Alexis Petridis of the Guardian in a three-star review, about the lack of depth in lyrics and music.
Questioned about the title, Martin has insisted 'it doesn't have any meaning', said McCormick. His defiant inarticulacy feeds the notion that Coldplay are a pop group in rock clothing.
Rolling Stone magazine's Josh Eells gave the record three-and-a-half stars, commenting: On Mylo Xyloto, the choruses are bigger, the textures grander, the optimism more optimistic. It's a bear-hug record for a bear-market world.
Martin, along with bandmates Jonny Buckland (guitar), Guy Berryman (bass) and Will Champion (drums), have produced a concept album loosely based on a love story set in a dystopian world.
In June, Coldplay released its first single Every Teardrop is a Waterfall followed by Paradise in September.
Among the highlights of the 14-track album are Princess of China, featuring Rihanna on vocals, and Charlie Brown, which Billboard magazine called the record's best song.
Coldplay is signed to EMI Group Ltd.
© Copyright Thomson Reuters 2023. All rights reserved.