Colin Kaepernick To Donate $1 Million Amid National Anthem Controversy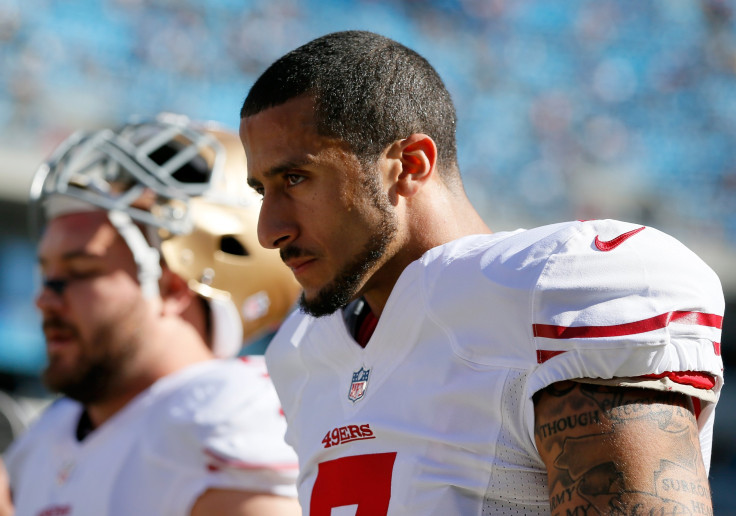 In the midst of the controversy surrounding his decision not to stand during the national anthem as a sign of protest, San Francisco 49ers quarterback Colin Kaepernick announced that he will donate $1 million over the year to community groups affected by racial inequality and police brutality.
Kaepernick has been accused of being unpatriotic after he refused to stand during the national anthem as a mark of protest to hold government institutions more accountable for racism and the injustice associated with it that plagues the country. He has also been accused of being anti-military, ungrateful and "too rich to protest."
"The media painted this as I'm anti-American, anti-men-and-women of the military and that's not the case at all," Kaepernick told reporters after the 49ers defeated the San Diego Chargers Thursday where he chose to kneel instead of standing as a mark of respect to those serving in the military. NFL defense player and Kaepernick's teammate Eric Reid also joined him.
"I realize that men and women of the military go out and sacrifice their lives and put themselves in harm's way for my freedom of speech and my freedoms in this country and my freedom to take a seat or take a knee so I have the utmost respect for them," People magazine reported him saying. "I think what I did was taken out of context and spun a different way."
Outlining the plan further, the quarterback, who is reportedly set to earn $11.9 million in salary this year, said: "I'm currently working with organizations to be involved, and making sure I'm actively in these communities, as well as donating the first million dollars I make this year to different organizations to help these communities and help these people."
In line with this attempt, he 28-year-old and girlfriend Nessa Diab Thursday donated backpacks worth $60,000 to students in Harlem and South Bronx.
"I've been very blessed to be in this position and make the kind of money I do, and I have to help these people. I have to help these communities. It's not right that they're not put in the position to succeed, or given the opportunities to succeed," People quoted him saying.
© Copyright IBTimes 2022. All rights reserved.
FOLLOW MORE IBT NEWS ON THE BELOW CHANNELS