Colin Kaepernick Makes Us Uncomfortable Because He Disrupts An American Fantasy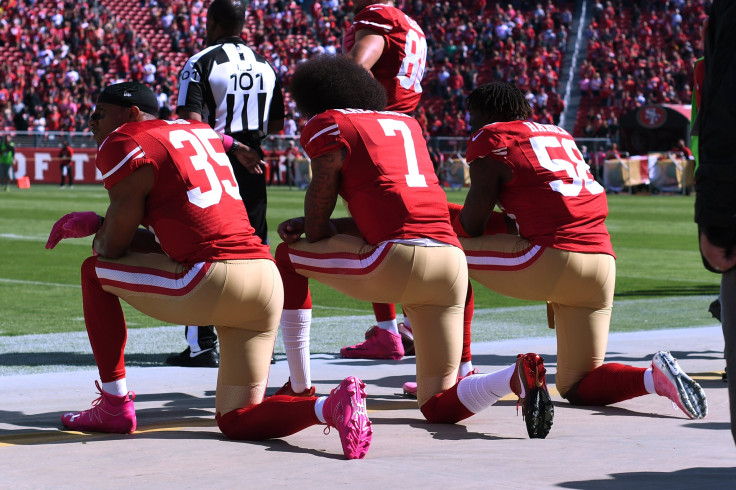 NFL Commissioner Roger Goodell in December doubled down on past comments involving Colin Kaepernick, indicating that he still does not believe that the former Super Bowl quarterback is being blacklisted from the league for protesting the national anthem.
But Kaepernick's act of political protest, as well as the apparent fallout, have revealed a deep-seated truth: The politicization of American sports has long been ignored and plastered over with an apolitical veneer, one which provides the false impression of our domestic sporting culture as racially and politically harmonious.
Such a veneer is uniquely American, as European sports have never maintained such a fiction; instead, the racialization and politicization of sports across this continent are ever-present and unhidden.
Soccer club MTK Budapest was founded in 1888 by a number of aristocrats and other members of the Hungarian capital's upper class, almost all of whom were Jewish. As MTK has evolved it has also maintained its Jewish heritage — one which, throughout Hungarian history, has served as a legitimate demerit for the club. As MTK has endured — even through both Hungary's Nazi and Communist periods — the Hungarian state and public have not ignored MTK's identity, even when such a recognition comes in the form of violent anti-Semitism. Similarly, Vasas was the favorite club of the trade unions that informally were independent, but were, in reality, controlled by the Communist Party, while Ferencvarós is traditionally known as the anti-establishment right-wing team.
"My father declared that he was, not being a fan of the ruling Communist regime, a Ferencváros fan — a sort of (anti-regime) statement," said former Hungarian politician Péter Ákos Bod, adding, "I did not know at that time about the ideological and political implications of clubs, and immediately declared myself a Vasas fan to contradict my father — I was about 10."
"I have remained a Vasas fan ever since."
In contemporary Hungary, putting on the kit of MTK, Vasas or Ferencváros is an acceptance, at least to some level, of the political or ethnic affiliation of these clubs, whether that identity is of Judaism, Communism or the far-right anti-establishment. This awareness of the longstanding and seemingly enshrined nature of sports as deeply political is widely accepted across Europe. Apolitical harmony has never been a presented fiction in European sports; instead, the accurate and presented picture is one of politically problematic disharmony.
Similar rivalries are found all throughout Europe, for example, between Italy's right-wing SS Lazio and left-wing AS Roma and Austria's working-class SK Rapid and bourgeoise FK Austria, among others. These rivalries — and the inherent political or racial identity of a specific club — are deeply divergent from an American understanding of sports. While Europe has leaned into the racialized and political identities of their sports teams and their rivalries, America has spent over 100 years cultivating a collective, unrealistic utopia in which sports and politics remain fully separated.
By many measures — including career completion percentage and total number of touchdowns thrown, along with quarterback rating — Kaepernick is a significantly better quarterback than some notable quarterbacks that made 2017 rosters. Considering the disparity in both talent and political protest between E.J. Manuel, Kellen Clemens and Mark Sanchez — and Kaepernick — it is clear that the former Super Bowl quarterback's absence from the NFL is not based in any legitimate statistical analysis. It is demonstrably clear that he is being kept out of the league for his political views and the way in which his symbolic knee manifested such views.
Kaepernick's politics, while his own, sparked a movement that politicized a team and a league and even eventually caught the attention of the president. His protests drew such attention because they shattered the collective chimera surrounding American sports, one in which people from diverse socioeconomic backgrounds and folks from both sides of the political aisle work together in pursuit of a similar and common goal, despite the stratification of the external world.
In Europe, there are no such utopic visions of sports as apolitical oases from the complicated, stratified and unsettling desert that is the reality of contemporary culture. Thanks to Kaepernick — and in spite of Goodell's recent statements — it is becoming increasingly clear that no such utopia has existed in the United States either. While the past political activism of athletes including Arthur Ashe and Muhammad Ali has become idealized and sanitized after-the-fact, enabling a utopic rewriting of history, Kaepernick's contemporary protest enables no such revision.
However, in the current climate, American teams, unlike their European counterparts, are not likely to come to fully embody racial or political identities anytime soon. Instead, their decisions are now analyzed through such a lens; following the shattering of the supposed apolitical nature of American sports, signing Kaepernick would require a team to cosign and at least implicitly endorse his pro-black and purportedly anti-American protest — a decision which, apparently, no team is willing to make.
As different as American and European sporting cultures may be, neither side of the Atlantic can remain free from racialization and politicization. American and European sports have long been politicized and racialized, with the issues of the real world seeping into athletics. While Europe has long been aware of this dynamic, it took Kaepernick to dispel the uniquely American fantasy of sports as apolitical. It took Kaepernick to expose our sporting culture as not so different from the rest of the world.
Charles Dunst is a member of the Class of 2018 at Hamilton College, where he serves as Editor in Chief of The Spectator, Hamilton's student newspaper. His writing has appeared in The Hill, The Huffington Post, and The Forward, among other publications.
FOR FREE to continue reading
✔️ Unlock the full content of International Business Times UK for free
offer available for a limited time only
✔️ Easily manage your Newsletters subscriptions and save your favourite articles
✔️ No payment method required
Already have an account?
Log in
© Copyright IBTimes 2023. All rights reserved.