College Admissions Scandal Update: Felicity Huffman's Community Service Begins After Porsche Outing
On Oct. 25, "Desperate Housewives" actress Felicity Huffman was released early from prison after serving 11 days for her involvement in the college admissions scandal. As part of her sentencing for paying Rick Singer $15,000 to change her daughter's SAT scores, she was also ordered to complete 250 hours of community service. Now, that additional component of her punishment has started.
According to Radar Online, new photos emerged on Nov. 3 that show the "Transamerica" actress was seen at the location where she will seemingly fulfill her community service obligations. She was seen leaving a California "teen rehab center" and it is believed that she will be working with young women who are either at-risk youth or who have been sex-trafficked.
During her recent appearance, she was seen leaving the facility in a black sweater and carrying what looked like a baking tray.
That is not the only place she was seen after being released from prison. As stated by People, both Huffman and her husband William H. Macy were seen driving around Los Angeles in a Porsche on Nov. 1.
The Emmy Award-winning actress was not the only well-known figure caught up in the admissions scam. "Fuller House" star Lori Loughlin and her husband Mossimo Giannulli have also faced charges due to the fact that they have been accused of paying Rick Singer $500,000 so that their daughters Olivia Jade and Isabella Rose would be admitted to the University of Southern California.
Last month, they were each hit with an additional charge of conspiracy to commit federal programs bribery, which was tacked onto their previous charges of conspiracy to commit mail fraud and honest services mail fraud and money laundering. At this time, both have pleaded not guilty to all of the aforementioned charges.
However, prosecutors have stated that they are in possession of an email that Giannulli allegedly sent to his accountant, along with an invoice for $200,000, that stated he had to "work the system" so that his daughter could attend the university.
As for how Huffman and her family will move forward after this scandal, Radar reports that The College Board has allowed Huffman and Macy's daughter to retake her SATs following the scandal. Additionally, networks are said to be "scrambling" in order to obtain the actress's first interview after being released.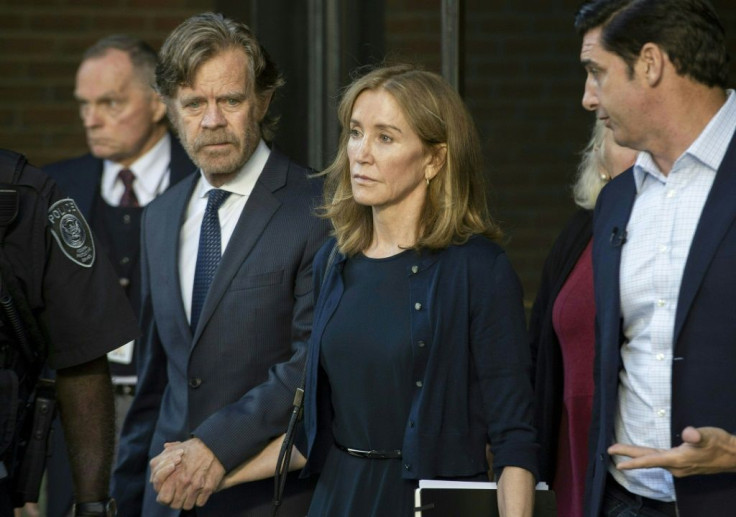 © Copyright IBTimes 2023. All rights reserved.