Is Columbus Circle Bomb Hoax Standoff Terrorism? NYPD Arrests Lone Suspect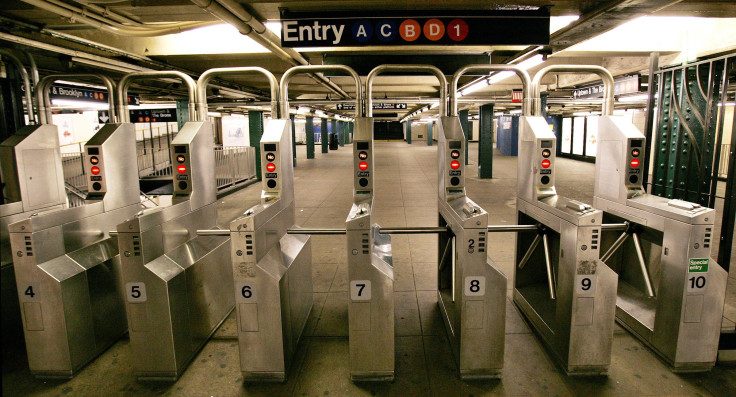 UPDATED: 8:48 a.m. EDT — Police in New York City have determined that the suspect arrested Thursday morning after an hours-long standoff was trying to assemble an explosive device, according to a new report on social media. Hector Meneses, who was taken into custody around 8 a.m., had various equipment in his SUV that could be used to make a bomb, according to a reporter from local news outlet WCBS 880.
While the device that Meneses threw into a police van early Thursday morning was nothing more than a candle and some wires, it appeared at first to be a bomb, and the officer inside the vehicle reacted as if it were one. The bomb squad ultimately determined there was no threat of an explosion, but an hours-long standoff ensued until police took Meneses into custody and eventually found the questionable equipment that the NYPD reportedly determined "Didn't even get close to an improvised device."
It was immediately unclear what charges Meneses would face, but according to Article 490 of New York Penal Law, making a terroristic threat is a Class D felony. Other aspects of the law very well could apply to Meneses, as well.
Original story:
The New York Police Department arrested one man Thursday morning after a lone suspect threw what at first appeared to be a bomb in a marked police vehicle before what turned into an hours-long standoff starting early Thursday morning in the Columbus Circle neighborhood of Manhattan, according to local law enforcement.
There was no immediate indication that the purported attack by Hector Meneses was terrorism, but the NYPD deployed personnel as if it was a terror attack, the New York Daily News reported. Menese was removed from the scene via stretcher, but it was immediately unclear if he sustained any injuries during the ordeal.
"Currently, Emergency Service and Bomb Squad personnel are on the scene along with hostage negotiators who are attempting to engage with the suspect," NYPD Chief of Department James O'Neill said at the time.
The entire episode started at around midnight Thursday near tourist attraction Times Square when Meneses, driving an SUV, allegedly tossed what turned out to be a candle with electrical wires wrapped in a foil-like material into an NYPD van. The officer inside, who thought it was a bomb, drove a few blocks away to where there were less people before he threw what he thought was a bomb on the street and called his superiors while the bomb squad responded.
The bomb squad later determined there was no threat shortly after 1 a.m., but soon afterward Meneses was spotted driving the SUV, prompting police to try to apprehend him, sparking the epic standoff.
Meneses, 52, was clad in what appeared to be body armor and helmet while holding law enforcement at bay for about six hours as he sat in the SUV near 57th Street and Eight Avenue.
During the time, officials took measure to protect the public by closing the busy Columbus Circle subway station during the heart of morning rush hour that houses five busy train lines. Police asked people to avoid the area during the investigation.
The situation ended peacefully, the NYPD noted.
© Copyright IBTimes 2023. All rights reserved.