Comcast Merger A Threat To Innovation, NYC Mayor Bill De Blasio Warns FCC Chairman Tom Wheeler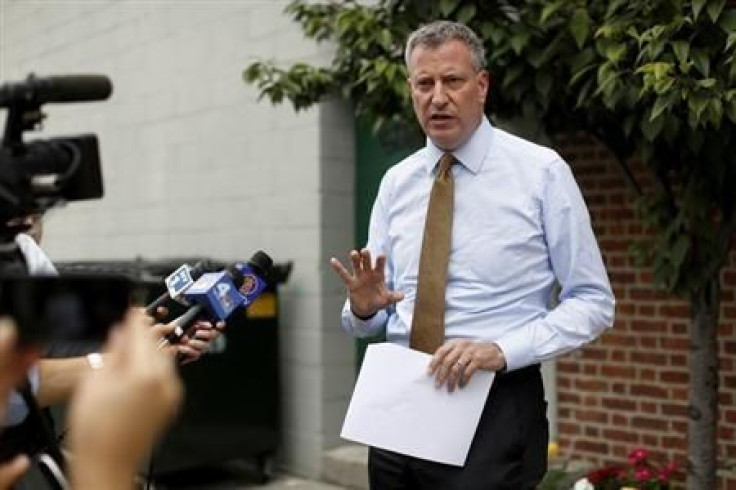 This summer Comcast Corp. boasted that more than 50 American mayors support its proposed $45 billion takeover of Time Warner Cable Inc., but the mayor of the country's largest city is noticeably absent from that list.
In a letter to the Federal Communications Commission, New York Mayor Bill de Blasio voiced serious concerns about the proposed merger, citing anxiety from the city's vital tech, media and advertising industries. Representatives from those industries, the mayor wrote, are concerned that they will be put at an unfair disadvantage should the Philadelphia cable giant be allowed to grow even larger.
Specifically, de Blasio voiced concerns about the merger's impact on New York's burgeoning tech sector, which he said now comprises about 7,000 companies. Those companies rely on quality, affordable high-speed broadband service, the mayor pointed out, and industry leaders worry that the merger will lead to rate increases and a reduced incentive to address customer concerns during service interruptions.
"This is alarming given both Comcast's and Time Warner Cable's already poor customer satisfaction ratings," de Blasio wrote.
The letter was addressed to FCC Chairman Tom Wheeler and dated Oct. 28. In it, De Blasio further warned that the merger would give Comcast disproportionate influence over cable advertising, thereby making it more difficult -- and expensive -- for New York-area businesses to secure local advertising opportunities.
"The merger has even broader implications for what New Yorkers see and hear," de Blasio wrote. "The transaction threatens not only to give Comcast unprecedented influence over broadband, but also to vastly expand the company's influence over cable advertising."
The mayor also voiced concerns about the merger's impact on Net neutrality, the principle that all broadband traffic should be treated equally. Critics of the merger are concerned about a larger Comcast's ability to charge content companies for Internet "fast lanes."
In raising concerns about the merger, de Blasio is breaking with mayors of other large U.S. cities. In particular, Mayor Michael Nutter of Philadelphia, Comcast's hometown, has pledged his unambiguous support. Ditto for Mayor Rahm Emanuel of Chicago. (Political campaigns and committees controlled by Emanuel have received more than $100,000 in contributions from Comcast and its employees, as International Business Times reported in September.)
The merger, if approved by regulators, would combine the country's No. 1 and No. 2 cable companies into a colossus that would control more than one third of the country's pay-TV market. De Blasio's approval is seen as crucial given New York's prominence as a global city, hub of the U.S. media and home to Time Warner Cable's headquarters. The mayor did not outright say he opposes the merger, but urged the FCC to weigh carefully the litany of concerns he has raised.
Read the complete letter here.
Got a news tip? Email Christopher Zara here. Follow him on Twitter @christopherzara.
© Copyright IBTimes 2023. All rights reserved.
FOLLOW MORE IBT NEWS ON THE BELOW CHANNELS