'The Comedians' Billy Crystal And Josh Gad Mock Their Public Personas In New FX Series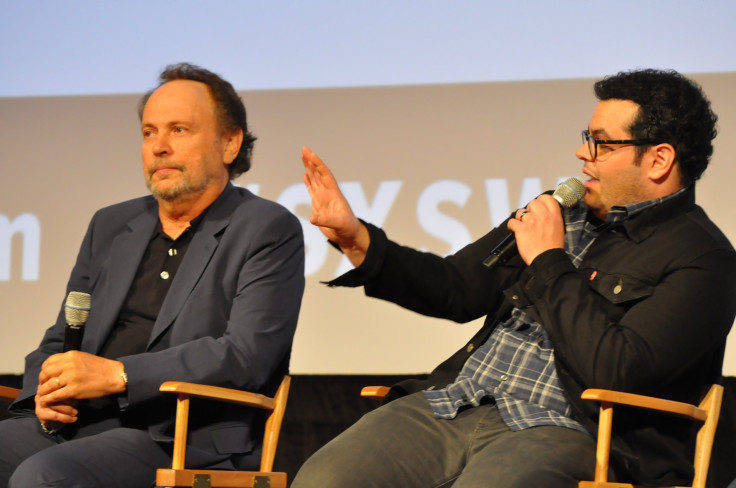 At the South by Southwest premiere of FX's new series "The Comedians," its stars naturally strolled up to the stage with jokes at hand for the post-screening Q&A. At the sound of applause, Josh Gad wished his co-star Billy Crystal a happy birthday. Without missing a beat, Gad exclaimed "82 today!" The spry 67-year-old comedian next to him winced before the pair launched into discussing their new show.
"The Comedians" is a documentary-style comedy in the vein of "The Office" and "Parks and Recreation." Its premise is that the filmmakers are capturing moments of a new variety sketch show starring Gad and Crystal. The production barely survives its finale, when cameras take audiences behind the chaotic "30 Rock"-esque scenes of its hectic productions and possible early cancellation due to its stars' antics.
But the real star of the show is its concept of mocking Crystal and Gad's public personas. They don't change their names or act terribly out of their perceived character in order to poke fun at their careers and comedy styles. Crystal, as the elder statesman, looks down on Gad's comedy for being too vulgar, while Gad struggles to deal with his co-star's reluctance to try anything new. It's a comedic culture clash between two generations.
Crystal recounted his involvement with the show. "I wasn't doing anything at the time, and this Swedish company sent me a show called 'The Comedians.' No disrespect to Sweden, I didn't think of them as the comedy universe. It's usually [Ingmar] Bergman playing chess with Mr. Death. Yeah, it gets dark at noon and then they drink.
"The premise was so great -- this veteran comedian and this younger guy teaming together to do this show. Five minutes in, I said 'I gotta do this.' "
"What's amazing for me, having seen all the episodes, this is just the tip of the iceberg," Gad said referring to the premise laid out in the pilot episode. "This gets so unbelievably uncomfortable and funny. I made my parents watch two episodes, and they gave me this look of 'I don't know you anymore.' And that made me so happy."
"You're playing with these expectations and projections that people place on you especially when you're Billy Crystal. I think that's what makes this performance so inspired," Gad said, pausing before his next line. "We have all grown up watching him. A lot of people have died. Grandchildren have grown up with him. It's amazing to be able to get to play within the confines of what people think of you," he said as Crystal rolled his eyes again.
Then Gad toned it down. "That's been rewarding," he said, "and getting to work with a legend I grew up loving -- that's incredible."
"What you see onscreen could not be farther from our relationship," assured Gad to the SXSW crowd. "Some of the funniest parts of the show are the uncomfortable silences, not the punch lines," added Crystal. Gad observed, "It's layers upon layers of heightened reality. Like Larry Charles, who plays the director in the show, is the director of the show. FX is the network."
Gad hints that not everything on "The Comedians" is all laughs. "As the season progresses, it became very challenging, some of the dialogue we had to say to each other, because it can be perceived as hurtful. It becomes more than just a comedy. In the tradition of FX's other great comedy, 'Louie,' it will follow that trajectory of sometimes making you feel uncomfortable at where you're not supposed to laugh but you're supposed to see these two characters hurting or growing.
"We would do the scene and then give each other a hug. Those days were a little difficult," confessed Gad. "You don't have the protection of another name. You are Josh Gad saying weird, sick s--- to Billy Crystal."
"And America's watching," quipped Crystal.
Crystal later teased the upcoming guests on "The Comedians." "Mel Brooks does an appearance, and he's brilliant, gives me advice. He tells me not to have a guest star, never have a guest star. And 'I'm going to help you by not doing your show.' " Rob Reiner, Jimmy Kimmel, Will Sasso and Sugar Ray Leonard also were mentioned. "They all make sense, and they're all terrific. They all come within the tones of what we set up."
"The Comedians" premieres April 9 at 10 p.m. EDT on FX.
© Copyright IBTimes 2023. All rights reserved.