'Ex Machina' Stars Oscar Isaac and Domhnall Gleeson Talk Robots, Sci-Fi Storytelling And 'Star Wars'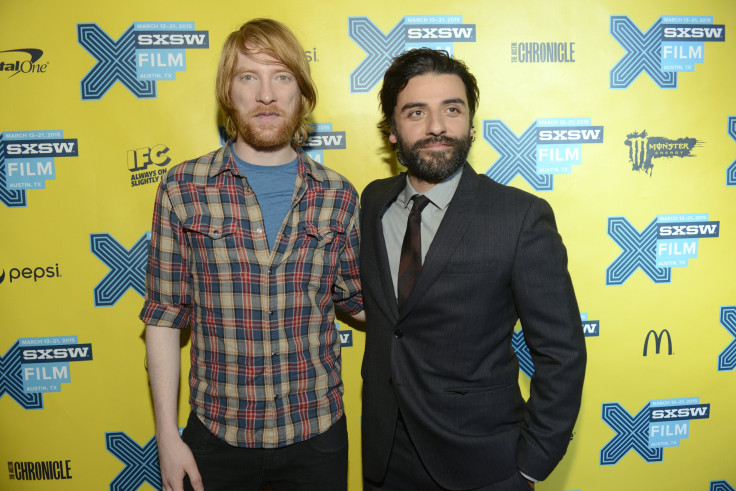 Months ahead of the arrival of "Star Wars: Episode VII" on Dec. 16, stars Oscar Isaac ("Drive," "Inside Llewyn Daivs") and Domhnall Gleeson ("Frank") will appear in a radically different science fiction movie, "Ex Machina." This pared down tale of suspense from first time feature director Alex Garland (screenwriter for "28 Days Later," "Dredd") pits the two leading actors against each other in a claustrophobically Kubrickian conundrum.
In the sleek sci-fi thriller, a tech employee (Gleeson) is selected via lottery to partake in the experiment of a lifetime. Joining the reclusive rich Steve Job-like genius Nathan (Isaac) in his secluded home and laboratory, Caleb is enlisted to test out Nathan's new A.I. prototype with a Turing Test to gauge its humanity. The inquisitive A.I. named Ava (Alicia Vikander) charms Caleb immediately, but alerts him to the dangers of the test and of Nathan. "Ex Machina" devolves into a stylish tale of deceit and existential terror between its three protagonists.
At the film's premiere at South by Southwest, Oscar Isaac and Domhnall Gleeson dished about their "Ex Machina" characters' development. Isaac admitted it took some time before the filmmakers settled on the unsettling look his character Nathan dons in the film. "We played with a lot of different looks for him. At one point, we even had this huge wig," laughed Isaac on the red carpet. "We finally settled on this look, which has a little bit of Kubrick in it with the bald head and long beard."
On the opposite end, Gleeson admitted during a Q & A that he was dismayed over his character's passive persona. "I watch it now, and I'm just frustrated. I watch him [Caleb] and I get annoyed because I'm not doing anything!" Gleeson jokingly scolded of his character. "He's bullying you, do something! I just sat there annoyed with myself."
Since the film's action is largely cerebral, Isaac had much more worry about when portraying Nathan. "It's about what's not being said, people presenting things as not who they are. That is a lot of fun [as a performer], layering quite a few levels." He rattled off the different personalities Nathan exhibits in the movie: "Who he wants to present to Caleb. Who he wants to present to Ava. Who he really is, and who he can't help but be. It's cool when the action set piece of the movie is two people torturing each other with their brains. That's rare."
"There are huge ideas in there, and [director Garland] kept it dramatically straightforward," gushed Isaac. "I think that's what floored us when we read it," he said, motioning to Gleeson. "There's huge ideas about consciousness, experience and sexuality, and yet once those big diatribes come out, it's all in service of pushing the story forward dramatically."
Gleeson chimed in, "I would also say Alex's other films that he didn't direct [but wrote] like '28 Days Later' and 'Sunshine' in particular are totally different, but similar in terms of science fiction and that big idea, but it's just a great story. I think all that anyone really wants is a great story and if big ideas get through that because he planted them, that's what so hard to do. I think Alex is the best at that."
As for "Star Wars," Isaac paid compliments to his meticulous director: "It was an incredible set. J.J. Abrams is such a fun, positive guy. It was really amazing to see these things actually created. It was real and tactile, he's not dependent on CGI. As an actor, that was really fun to be in that world."
"Ex Machina" opens in theaters April 10.
© Copyright IBTimes 2023. All rights reserved.