Lizzie Velasquez Movie Premieres At SXSW; 'A Brave Heart' Shows Struggle To Overcome Bullying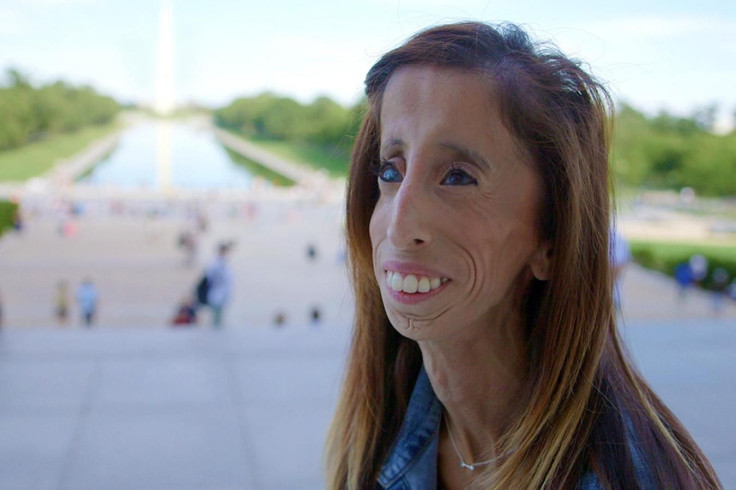 When Elizabeth "Lizzie" Velasquez was first born in Austin, Texas, her parents were unsure of what prevented their baby from gaining weight. As Velasquez grew, health problems persisted, but nothing was as frightening as going to school with an undiagnosed syndrome that caused many children to pick on her. Velasquez grew into her personality, and by high school, she had made many friends and lived a normal teen life -- that is, until her senior year.
That was when a friend revealed that someone had posted a video of Velasquez on YouTube with the title of "World's Ugliest Woman." Lizzie went through the gamut of emotions after reading the comments that wished her death and shame. She reported the video and received yet more threats from the original poster.
Instead of taking the cyberbullying and hateful comments in stride, however, Velasquez decided to get active by creating her own videos about a variety of topics, including makeup tips, words of inspiration or just daily video updates. After a YouTube video of her powerful talk at a regional TEDx went viral -- the current view count is over 7 million -- Velasquez became immediately in demand around the world and soon embarked on an international speaking tour. It was then that Velasquez caught the eye of director Sara Bordo, who pitched the idea of turning Velasquez's story into a documentary.
Now active in anti-bullying campaigns and pushing for stronger federal legislation against bullying, Velasquez has come out on top. Her words of inspiration posted on her YouTube channel have touched people around the world. "A Brave Heart: The Lizzie Velasquez Story" is not only a testament to Velasquez's survival but also to her kindness and genuine desire to help others in her situation.
"People are hungry for a hero," Bordo said. "Her story has to do with survival and getting to the other side of a really, really pervasive issue [of] bullying. Everyone's so used to hearing about stories that yield victims. Lizzie's is the one story that we thought we could help elevate about a hero."
Ahead of her big hometown premiere at South by Southwest, Velasquez admitted watching the film was going to be an emotional experience for her. "I'm going to be crying the entire time. It's unreal," she said about her time at SXSW. "It's like a dream I didn't know I had." Her parents, who had only seen a part of the movie before the big premiere at the historic Paramount Theatre, shared her excitement. "It's amazing. Just to see the [movie] put together is inspiring. To see her accomplish all of this is inspiring," Velasquez's mom Rita said.
In the jump from YouTube vlogging to documentary filming, the Velasquez family said they felt little difference. "They were very good about letting us become comfortable with what we wanted. We were very honest about putting her out there," Rita assured. Lupe, Velasquez's father, said the movie was made with "a lot of love and trust" between the family and filmmakers.
Velasquez expressed she would like viewers to come away with a "message of hope" from "A Brave Heart." "That there's a light at the end of the tunnel of being bullied. Having struggles, but it's going to be OK." Lupe affirms his daughter's commitment to her activism. "She's always believed if she can change the life of one person, she's met all her goals. We're hoping it's a learning opportunity for so many people to help them if they're going through challenges in their life."
When asked who inspires her, Velasquez revealed a personal answer: her fans. "There's people around the world that inspire me. Every day, I'm sent hundreds of emails from strangers I don't know who tell me their struggles. But by the end of the email, they tell me how they've overcome it. That is what keeps me going."
The SXSW Film Festival runs from March 13 to March 21. To keep current on the rest of my coverage, follow me on Twitter @mcastimovies.
© Copyright IBTimes 2023. All rights reserved.