'Hello, My Name Is Doris' Stars Break Down New Comedy From 'Wet Hot American Summer' Director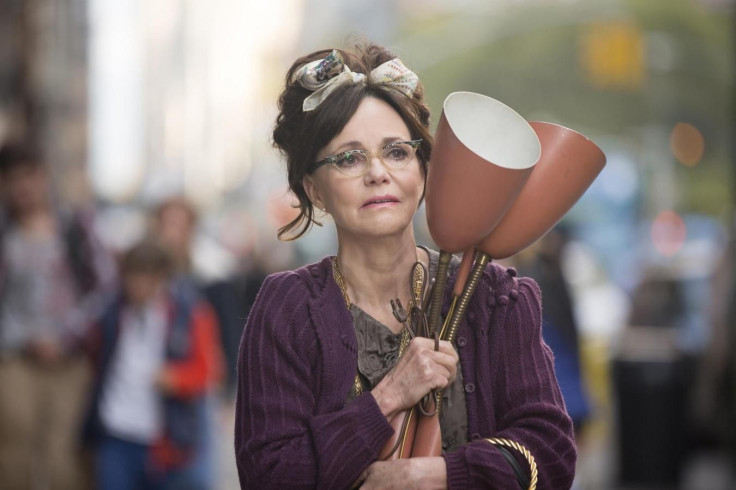 The dark comedy "Hello, My Name Is Doris" is a lot less sunny than its title or lead actress suggests. The always smiling Sally Field of "Gidget" and "The Flying Nun" fame returns to her comedic roots after taking dramatic turns in "Lincoln" and "The Amazing Spider-Man" to a role that's equally as tragic to make light of. Field's delicate take on her oddball hoarder with a crush on a younger co-worker character made "Doris" quite the interesting comedy to watch at the 2015 South by Southwest Film Festival.
Starring Field, Max Greenfield ("New Girl"), Wendi McLendon-Covey ("Bridesmaids") and Beth Behrs ("2 Broke Girls"), "Hello, My Name Is Doris" follows the titular character as she pieces her life together again after the death of her longtime ill mother. When her friends take her to a self-help guru (Peter Gallagher, in hilarious cameo), Doris is inspired to pursue her crush on a younger co-worker (Greenfield) and connect with his wayward hipster generation, often to mixed results.
Director and co-writer Michael Showalter, perhaps best recognized for his cult hit "Wet Hot American Summer," previously made his directorial debut "The Baxter" a decade ago. "Hello, My Name is Doris" finds him back in the director chair after writing the Amy Poehler and Paul Rudd rom-com "They Came Together" and revamping "Wet Hot American Summer" as a new Netflix series. Showalter's lengthy writing experience allows audiences to find humor in Doris' tragedy, softening each woeful situation with a zany follow-up to diffuse the tragedy of Doris' hoarding and unrequited love.
Showalter also challenged his stars to play parts much different than how audiences may have seen them previously, as he did with "Orange is the New Black" star Natasha Lyonne. In "Doris," she plays a radically different character than her off-beat and loud-mouthed Nicky. Instead, Lyonne dons business casual suits with styled hair and is off-put by Doris' strange style and social awkwardness. In sardonic tone, Lyonne shrugged her shoulders at the red carpet premiere when asked about her new character. "I like doing the same thing as much as possible," she joked. "I'm just in the wrong profession. I had such a good time on this movie, and I really liked the part."
On director Showalter, Lyonne continued, "It's incredible. You know it's going to be intense, and he's going to be funnier and better than you are at your job. It's a little bit challenging, but once you get over that hump and make peace with it, it can actually be a pretty good time."
Sally Field, sans her character's headscarf and vintage skirts, agreed with Lyonne on the happy experience of working with Showalter. "It's a very odd little piece. If audiences don't like it, that's all his fault," Field joked while motioning to the director. "He has a very odd look at the world. It's funny, sweet in a way, but not sweet the way you would think it. It's not cynical, but it's also just not straight down the road. It's not like it has all of its toes gripping the ground."
"I adore him, and I'd do anything for him," Field continued. "You don't know what you've learned [from people you've worked with], until years later and you look back. You're down the road somewhere and you realize that there was something in the work you did there that you actually can use now and can understand."
Field's co-star Max Greenfield had more to say about his leading lady, telling the International Business Times that "Hello, My Name Is Doris" is "Sally's movie."
"I think what was really special about it was that I was able to come in and support her as much as I could, and offer up anything I could to support her story in the film and the story of the film," Greenfield explained. "I was excited to take on that responsibility."
On the last day of SXSW, "Doris" walked away with the audience award over headliners like "Ex Machina," "Get Hard," "Steve Jobs: The Man in the Machine" and "Spy." Guess you could say audiences liked Field in "Doris." They really like her.
No formal release date has been announced for "Hello, My Name Is Doris."
© Copyright IBTimes 2023. All rights reserved.