Consumer Sentiment Still Low Despite Lower Gas Prices And Other Inflation Metrics
Despite lower prices at the pump and inflation numbers starting to ease, consumer sentiment is still registering lower numbers as prices still remain at high levels.
Despite reports showing good numbers this past week, including a price drop of 1.4% on Imports, 0.5% decline on producer prices and flat numbers on consumer prices including fuel and food, that fact that inflation levels are still exorbitantly high compared to one year ago still seems to be weighing heavily on American's minds. According to the University of Michigan Survey of Consumers, while benchmark sentiment rose to 55.1, up from 51.5 in July, survey respondents still reported a slump when it comes to current economic condition outlooks. According to CNN, that number slumped to 55.5 from 58.1 in July.
The numbers aren't surprising, as the consumer price index is still up 8.5% from one year ago, while the producer price index has surged 9.8%.
"We're asking people how they feel and asking them to predict the future, [and] we're terrible at predicting the future when we feel bad," Brent Weiss, co-founder of Facet Wealth, a financial planning firm, told CNN. "Consumer sentiment is a reflection of our current situation and not a predictor of the economy or the market's ultimate direction."
The numbers come as consumers start to see inflation ebbing in their day-to-day lives, as average gas prices fell below $4 a gallon again earlier this week. That number had continued to fall, with AAA reporting the average price per gallon to be $3.96 a gallon Saturday. However, 10 states—Alaska, California, Hawaii, Idaho, Nevada, New York, Oregon, Utah, Vermont and Washington—still average between $4.33 and $5.37 a gallon. A year ago, those same states averaged between $3.09-$4.40 a gallon.
Prices for food are also still high, with information from the Bureau of Labor Statistics showing year-over-year increases in nearly every category. Eggs are up 78% from July 2021, while Flour is up almost 45%. Other increases are in the price of coffee (34%), chicken (31%), potatoes (22%), beans (17%), sugar (15%), milk (15%), ham (13%) and ground beef chuck (12%).
The only prices that have seen a year-over-year decline are beef roasts (0.1%), steaks (0.7%) and strawberries (2.1%).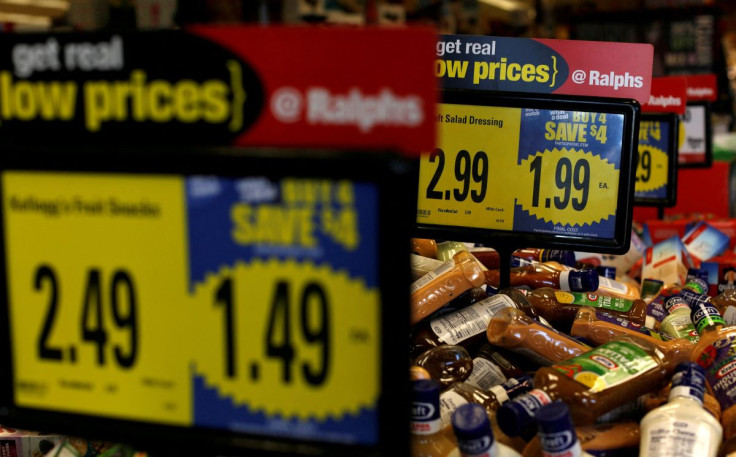 © Copyright IBTimes 2023. All rights reserved.