Coronavirus US Response: Trump Tweets That Cases Down, Despite Evidence To The Contrary
KEY POINTS
President Trump tweetout out that coronavirus numbers were beginning to bottom out, despite health officials saying otherwise
A shortage of tests, states rushing to reopen, and Trump's own public image have all contributed to problems keeping track of the number of cases
Trump has maintained a front of defiance to most guidelines that has been echoed by Vice President Mike Pence
President Donald Trump took to Twitter on Monday to claim that coronavirus numbers were starting to level out, or even drop, in the U.S. The comments were quickly dismissed for their inaccuracy.
"Anybody that claims we're on a downward trajectory nationally is out of touch with reality," Dr. Irwin Redlener, director of the Columbia University National Center for Disaster Preparedness, told NBC News.
As of Monday, the U.S. had 1,369,496 confirmed cases and 80,653 deaths.
On Friday, health officials in Dallas County, Texas, announced nearly 250 new coronavirus cases, as well as 10 deaths, which tied the deadliest day on the county's record. In Illinois, Cook County on Friday had 2,887 new cases, one of its highest total number.
Health officials have repeatedly warned that the U.S. has been behind on testing since the outbreak began and the actual number of confirmed cases and deaths could be much higher.
One reason cited by health officials is the shortage of coronavirus tests that has plagued most states. It began in January, when the Center for Disease Control and diagnostic test makers were the only ones allowed to develop coronavirus tests. However, the Food and Drug Administration was forced to change its policy in February to allow more labs to develop their own coronavirus tests in order to meet the growing demand from states like New York and California, where the outbreak exploded.
Nearly four months on, and the situation largely remains unchanged for some states, including Illinois.
"We're still having difficulty getting supplies and that's been a challenge for us ever since this started," NorthShore University HealthSystem's Dr. Karen Kaul told ABC Chicago-affiliate, WLS. "The vast majority of pathologists and laboratories report that they are having ongoing issues with materials, such as swabs that are really impeding our ability to expand testing to the direction that we'd like we'd like to."
The most common complaint from labs has been difficulty in getting the components needed to conduct tests.
"We don't have enough materials at the local level, where the patients are to do enough testing, and we need more materials in the hands of pathologists, in the laboratories they direct," College of American Pathologists Dr. Patrick Godbey told WLS. "First of all it's swabs to actually take the sample. Next it's what you put that sample in to get it to the laboratory. And third it's the chemicals, the re-agents, used to turn out that result. And there's a shortage of all three."
Another contributing factor has been the push by both Trump and some state officials to reopen, despite ongoing concerns of exposure. This has led to a near-constant push and pull between Trump and health officials as the former says states are reopening too slowly and the latter says states are reopening too quickly.
Florida has become the prime example of this as it enters its second week of reopening under Gov. Ron DeSantis' plan. Nail salons, barbershops, and hair salons reopened Monday, which is a breath of relief for some business owners that have struggled during the pandemic. However, businesses in Miami-Dade and Broward counties were ordered to remain closed as these areas have been hotbeds for coronavirus cases.
The reopening comes as the state nears 41,000 confirmed cases and 1,735 deaths because of the pandemic. It also follows one of the Florida's worst weekends as over 2,200 new cases popped up since Friday.
Other states, like Michigan and North Carolina, that have been slow to reopen or extended their lockdowns have been met with protests by largely right-wing groups demanding the state reopen. These protests have proven to be a hotbed for coronavirus exposure, with many organizers like Audrey Whitlock, who helped put together the Reopen NC protests, testing positive.
The comments by Trump come after a weekend where two White House staffers tested positive for coronavirus. Trump has also put forth an image of defiance to most guidelines and advisories about the pandemic. He recently defied CDC guidelines by not wearing a face mask on a tour of a Honeywell plant in Phoenix.
"You'd think as the President of the United States, you would have the confidence to honor the guidance that you are giving others in the country. Yes, he should have worn a face mask," Nancy Pelosi told MSNBC. "It's really another indication that as we tell everyone to wash their hands, 30 seconds, soap and water, top and bottom, wash your hands, hygiene and sanitation very important in fighting this. Apparently, the president has washed his hands of this."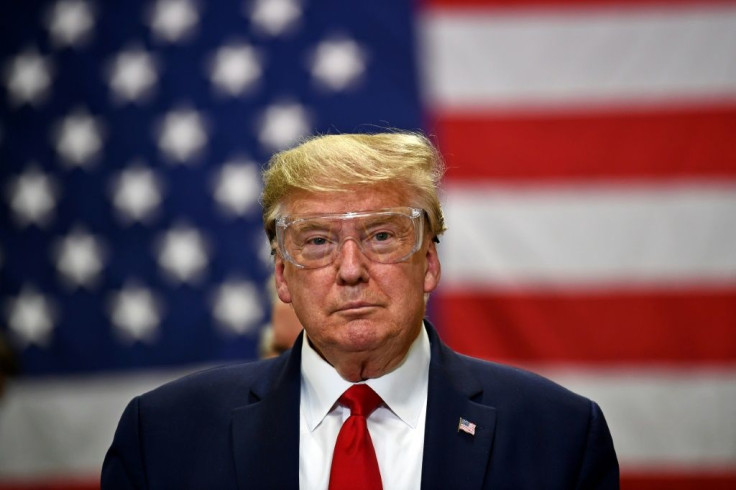 © Copyright IBTimes 2023. All rights reserved.
FOLLOW MORE IBT NEWS ON THE BELOW CHANNELS