Coronavirus US Update: Nurses Protest Alleged Shortage Of Protective Equipment
Kaiser Permanente's Oakland Medical Center saw a group of nurses wearing bandanas and protesting Monday night. They had all but one demand, more PPE to use.
PPE or 'personal protective equipment' rallies carried out by Kaiser Permanente Hospital's nurses in the San Francisco Bay Area is an indication of increasing tensions between healthcare officials and hospital systems due to a shortage of hospital supplies.
A similar group of nurses from Kaiser were spotted rallying in rain at nearby Richmond. The rally was orchestrated Tuesday night while maintaining recommended social distancing.
A group of seven nurses and an anesthetist working at Kaiser Permanente locations in Northern California across five hospitals told NBC News that they are not given access to PPE early enough to treat suspected coronavirus patients. According to internal hospital guidelines from March 18, Kaiser nurses are being given access to N95 respirator masks only when a patient with confirmed COVID-19 is receiving respiratory treatment.
In response to the demands from nurses, a spokesperson said that Kaiser is sticking with Federal health guidelines. He further added that all the Kaiser members were informed via email that they were ensuring adequate access to protective equipment.
According to an internal email seen by NBC News, the California Nurses Association has considered calling for a "safety stop" due to subpar working conditions at some hospitals. A safety stop essentially means calling for individual nurses to legally refuse to provide care. The shortage of PPE is something that nurses across the nation have been experiencing in recent times. Many Nurses have lodged formal complaints, known as "assignment despite the objection," with the state's occupational safety department, as per a document filed on March 19.
"Whoever has N95s, just help us, because we really want to do our job. We want to take care of our patients," said a nurse who works with Kaiser South Sacramento.
The issue highlights a deep crisis for the nurses who continue to be the frontline in the defense against the deadly coronavirus.
"They're putting us in danger. They're putting our families in danger, and they're putting our co-workers in danger," another nurse who worked at Kaiser told NBC News.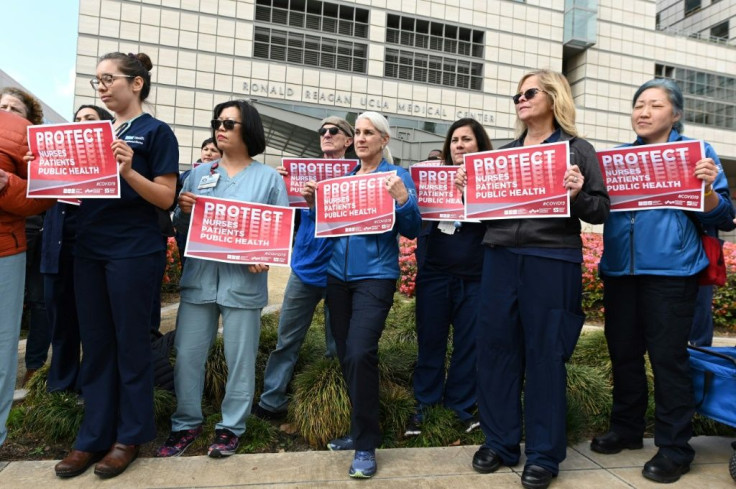 © Copyright IBTimes 2023. All rights reserved.