Could Military Buildup In South China Sea By China Lead To US Response?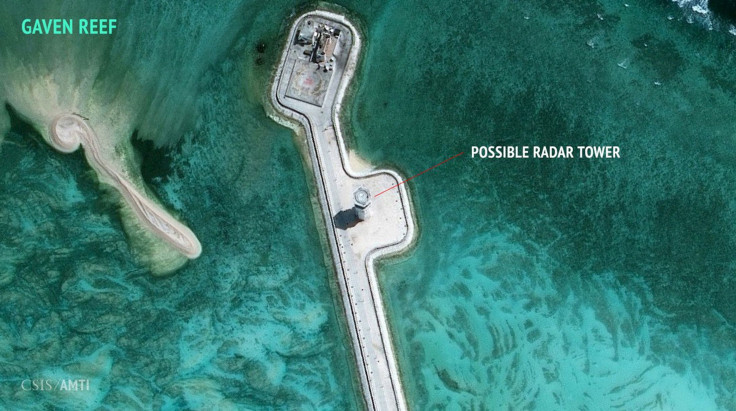 With China rapidly building up its military in the South China Sea, leaders from different branches of the United States military this week said the U.S. may have to respond by reconfiguring ships and forces deployed in the Pacific Ocean, Stars and Stripes reported.
Adm. Harry Harris, commander of the U.S. Pacific Command, said this week operations in the Pacific are changing because China is militarizing a string of man-made islands in the South China Sea. The country is reportedly moving jets, bombers and radars onto the recently built islands, constructed atop submerged coral reefs and other underwater features.
Chief of Naval Operations Adm. John Richardson and Marine Corps Commandant Gen. Robert Neller said Friday they want more than half of a planned 308-warship fleet in the Pacific by 2020. Richardson also said the Chinese buildup may also require the U.S. military to rethink its submarine fleet, saying the 48 attack submarines thought needed to assert its presence in the area may not be enough.
"Short of war, I'm aware of the threat. I'll pay attention to the threat," Harris said this week. "But that is not going to prevent us from flying, sailing or operating wherever international law allows."
China has been staking claim in the South China Sea even though the United States has called for diplomacy, Time reported. China has already reportedly built 10,000-foot runways in the area and deployed anti-aircraft missile batteries to an island there.
The South China Sea is a very lucrative waterway, with at least $5 trillion in commercial goods passing through it every year, leading to tensions between neighboring nations over claims to the territory. While several countries have made artificial islands in the area, China has outpaced them all.
© Copyright IBTimes 2022. All rights reserved.
FOLLOW MORE IBT NEWS ON THE BELOW CHANNELS