Country singer's latest Good Time could be better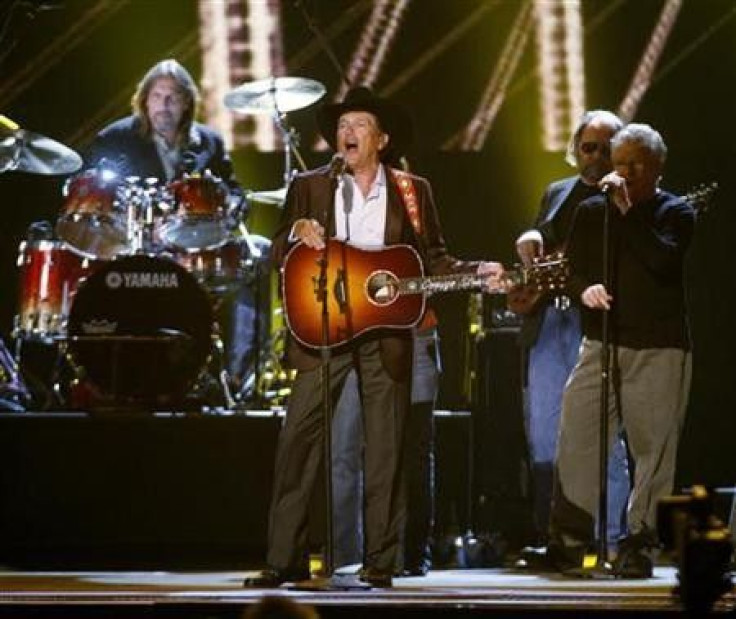 George Strait named his 39th studio album Here for a Good Time, after the hit single that preceded it. But, oddly enough for a collection with that title, it's the bad times that work best.
For much of the new album's length, Strait alternates uppers and downers. While you can hardly blame him for wanting to make good on the title, there's hardly shortage of other artists in country delivering what Music Row encouragingly refers to as up-tempos. Heartbreak is harder to come by, and that's where Strait is at his most necessary nowadays.
After the album kicks off with the carefree Love's Gonna Make It Alright, it's a pleasure to hear Strait and producer Tony Brown shift right into one of the most unabashedly depressing songs they've ever cut, Drinkin' Man. The storytelling ballad takes its addicted narrator from binging at 14 years old through divorce and serves up life-long alcoholism without any serious promise of redemption, which makes it a brave thing indeed in country's current cheerful-or-die climate.
Of course, George Strait is one of the few country artists big enough to do whatever the hell he wants, despondent or not. And what he wants to do, increasingly, is write. He co-penned seven of the 11 songs on Here for a Good Time, which may not sound radical, unless you remember that for his first 37 albums, it was a surprise if he contributed even one self-written original.
Country was the last place where singers and songwriters could maintain separate duties, and being a singer/songwriter was far from artistically mandatory. But more and more singers who previously stayed out of the writers' room are looking to pick up more cred, not to mention publishing royalties, by pitching in on some or all of their fresh material. Alan Jackson has lately been recording only songs that come from his own hand, and even former non-writer Martina McBride is headed that way.
Strait's two primary writing collaborators are Dean Dillon and son Bubba Strait, and they did a terrific job of bringing out the sourness in Drinkin' Man, along with coming up with a possible two-step standard in Shame On Me. But as a whole, the writing here isn't as clever as you expect out of a Strait album, and it's easy to start longing for the not-so-far-off days when the shy singer was covering great writers like Bruce Robison, Bobby Braddock, and Guy Clark instead of forcing himself to be less creatively reticent.
There are no serious clunkers amid the self-generated material, since Strait couldn't have sung all those classics over the years without picking up some lessons. But Here for a Good Time isn't nearly up to the standards of 2006's It Just Comes Natural, his last great album. It comes closest when he's covering Jesse Winchester's moving A Showman's Life, a sad road ballad that reaches a level of simple eloquence the rest of the set is hard-pressed to reach.
Maybe it's time for Strait the singer to tell Strait the songwriter to take five.
But if he's determined to continue this late-career trend of writing his own stuff, we have a request: Even more alcoholism and sorrow, please.
© Copyright Thomson Reuters 2023. All rights reserved.