COVID-19 Surge: Iowa Man Died Of Sepsis After 15-Day Wait For Bed At Larger Hospital
KEY POINTS
Dale Weeks fell ill on the night of Nov. 1 and was diagnosed with sepsis
He stayed at a small hospital because there were no beds available at the big facilities
He died despite undergoing surgery at the University of Iowa Hospitals
The family of an Iowa man, who died of sepsis in late November, has alleged he was deprived of "advanced testing and prompt surgery" because bigger medical facilities couldn't spare him a bed due to the COVID-19 surge.
Retired Iowa school superintendent Dale Weeks' family believes he was an indirect victim of the COVID-19 pandemic, the Des Moines Register reported. Weeks' daughters told the news outlet he might have survived if he'd been admitted immediately to a large medical center.
Weeks died after battling sepsis for a month. The report added Weeks stayed for 15 days at Newton's relatively small hospital because there were no beds available at the big facilities. The larger hospitals in Iowa, already reeling from staff shortage, are currently battling a COVID surge.
"It's infuriating that people who are not vaccinated are clogging it up," Weeks' daughter Jenifer Owenson told the Des Moines Register.
Weeks, who hailed from the town of Seymour, fell ill on the night of Nov. 1. Though he initially considered it the side effect of a flu shot and booster dose of COVID-19 vaccine, he was later diagnosed with sepsis.
He was taken to a hospital in nearby Centerville. "They told my dad and his wife right away they had no beds," Owenson said. She added the staff called around for hours, seeking an open hospital bed.
The closest one they initially found was in Illinois. They later found a spot at the MercyOne hospital in Newton and he was taken there by ambulance.
Though the hospital did the best they could, his infection wouldn't go down. When the family repeatedly asked the hospital if he would be transferred to a more advanced facility, they were told he "was on a list of degrees of severity and his number had not come up."
"He was extremely frustrated. He was like, 'Why can't something be done?" Owenson added.
He was finally shifted to the University of Iowa Hospitals by ambulance on Nov. 17. Doctors there determined on Nov. 25 that he needed surgery. Despite the surgery, he succumbed to the infection on Nov. 28.
Though the hospital did not comment on Weeks' case, they did acknowledge the crowding.
"In addition to an increased number of COVID-19 cases and spread of the delta and omicron variants, hospitals across the country are dealing with traumas and experiencing multiple types of illness," MercyOne spokesperson Marcy Peterson wrote in an email to the Des Moines Register. She noted that unvaccinated people make up a large percentage of hospitalized COVID-19 patients.
This comes as reports say hospitals in eastern Iowa are filling up. Dr. Monica Peterson, an Emergency Room Physician at Waverly Health Center, told KWWL that "the use of our staff and our supplies are limited because we're short-staffed as everywhere else."
According to Iowa state figures, a total of 613, 566 people have tested positive till Friday. As many as 9,630 people tested positive last week. While 724 were in hospital as of Friday, 160 are in ICU. Over 85% of the total people in ICU are not fully-vaccinated. Till Monday, the U.S. has recorded 53,222,424 COVID-19 cases and 837,854 deaths.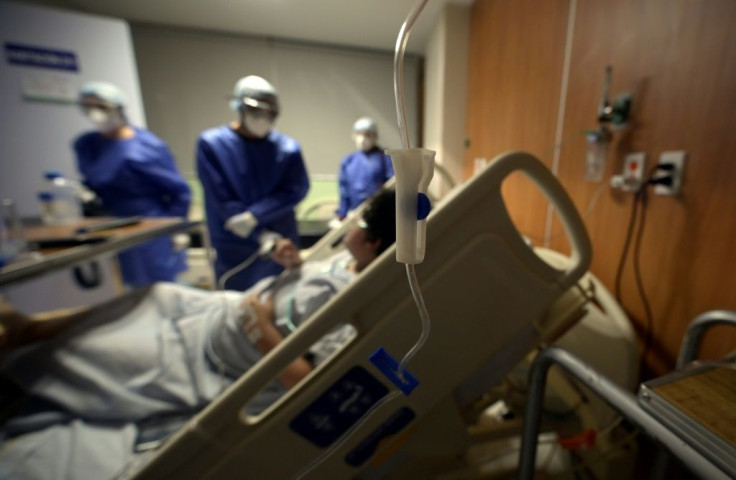 © Copyright IBTimes 2023. All rights reserved.