Cristina Ferrare Compares Mark Steines' 'Home And Family' Firing To Her Own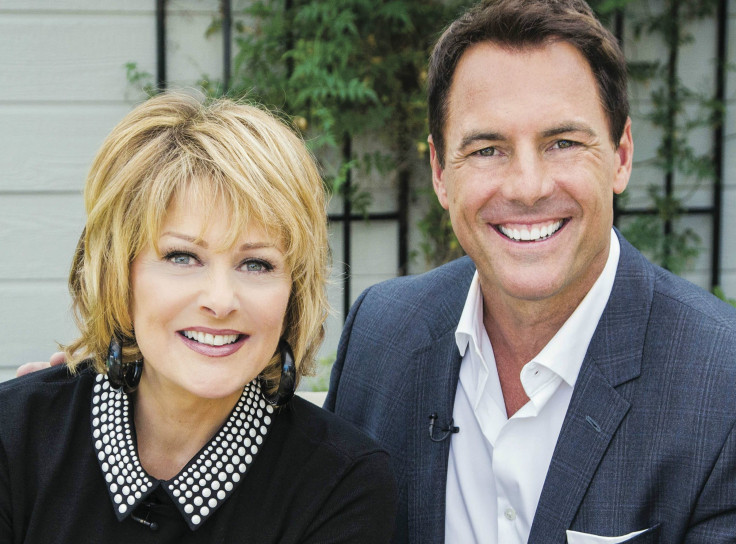 Cristina Ferrare, who hosted Hallmark Channel's "Home & Family" from 2012 until she was let go in 2016, recently felt a sense of déjà vu when her former co-host on the series, Mark Steines, was fired at the end of May.
Ferrare joined as Steines' co-host six years ago, after his original partner, Paige Davis, decided to leave. A few years later, Hallmark decided to go in a different direction and let Ferrare go, without giving much of an explanation to viewers or giving her a chance to say goodbye. Once she was gone, Debbie Matenopoulos was promoted from being a lifestyle expert on the show to a full-fledged co-host with Steines.
Now that Steines, too, has been fired from "Home & Family" with no notice or chance to announce his leave to fans after six years on the show, Ferrare decided to open up about what really happened during her firing.
"Two years this week I was fired from 'Home and Family,'" Ferrare began a Facebook post on Friday. "I went to work on a Friday got home and told not to come in on Monday. I was asked to sit tight and just say I was on vacation. I was confused and didn't understand what was going on."
The Hallmark alum said she was "completely blindsided and devastated BEYOND words." She went on to reveal that she was replaced with only the explanation that she "was too old and the powers [that] be at Hallmark wanted to take the show in another direction."
Steines' representative told Deadline that he was given relatively the same reason as to why he was being fired. "The network's given explanation for making the change was 'creative reasons,'" the rep said.
As for Ferrare, she wondered, "What could they possibly mean, 'Another direction?'"
Ferrare was 66 when she was let go from the network's lifestyle show. Matenopoulos was 41 when she replaced her.
"The firing of Mark Steines a few weeks ago brought back the feeling of betrayal, deep hurt and confusion over being let go by the way it was handled," Ferrare continued. "They did the exact same thing to him and I am sorry he is going through that. I'm not worried about Mark, he is talented, good at what he does and he will move on and do other things. He always lands on his feet."
Steines, 54, made his first post-Hallmark TV appearance as a guest co-anchor on an episode of "Extra," last week. There have not yet been any future projects of his announced. As for Ferrare, she now runs her lifestyle blog and is working on a new cookbook that's set to be released later this year.
Though she's moving on in her career, Ferrare felt it was important to share her story. She was "proud as heck" to be a part of Hallmark Channel, which is why she's disappointed she never got to have "closure." Now, two years later, Ferrare's finally trying to get it.
"Two hours live every day is a daunting task for everyone," she wrote. "I devoted with pleasure and love 4-1/2 years of my life and Mark has had 6. We didn't have a chance to say good bye and pay respects to our audience who supported the show and us for all that time. We had no closure and neither did the audience."
The author continued: "Mark got the same curt, generic, 'thank you for your service and we wish you well with your next endeavor' as I did. Ouch!"
The former "Home & Family" host explained that being fired "profoundly impacted" her, but she's "not angry, or resentful or confused any longer." Still, when she heard about Steines getting the boot, too, "negative feelings" started to rise to the surface. All she wants people to take away from her experience is that firing someone should be done "with humanity."
International Business Times has reached out to Crown Media, the parent company of Hallmark Channel, for comment.
© Copyright IBTimes 2023. All rights reserved.