Crocodiles Bite Florida Man After He Stripped Off, Jumped Into Enclosure
A man who stripped off and jumped into a pond filled with crocodiles in a Florida alligator farm was attacked by the predators. Surveillance video showed the man, sporting only his boxers, breaking into a new exhibit.
The intruder arrived at the St. Augustine Alligator Farm Zoological Park Monday and damaged property at the snack bar before "inexplicably" entering the recently-opened Nile Crocodile enclosure, called "Oasis on the Nile."
St. Augustine staff members learnt about the incident after they decided to watch surveillance footage after spotting a floating Croc shoe and discarded clothes in the facility's crocodile pit Tuesday morning.
The man, who police identified as the suspect, sustained significant injuries to his feet and legs — believed to be crocodile bites. The suspect has been identified as Brandon Keith Hatfield.
"The suspect climbed atop a structure displaying Egyptian artwork, Gaboon vipers, and jumped into the pool with the crocodiles," according to a press release from the gator farm. "At one point, the crocodiles attacked the individual, causing wounds to his leg."
The intruder was arrested, though its not yet clear what charges he could face. He remained in Flager Hospital, where he was recovering from his injuries.
In addition to flinging himself into the crocodile exhibit, police said Hatfield, 23, allegedly "damaged numerous exhibits and statues around the complex causing an excess of $5,000 in damage."
"Watch behind him, there's a croc trying to attack him," Jay Ruditis, who handles the security videos for the park told News 4 Jax describing the footage. "Now it's dragging him. He will get on the shore. It's got his foot right now. It has a good hold on his leg. It's kind of pulling him in. The croc will flip him, a little death roll in a moment. The croc still has him, so what he does is tries to kick it with his foot."
No crocodiles were injured in the bizarre stunt and damage to the property is still being assessed.
Alligator Farm Director John Brueggen said he was keeping the injured man in his thoughts and emphasized "the zoo is extremely concerned about visitor safety and security," but that "protection against the lunacy and erratic nighttime trespassers in nearly impossible."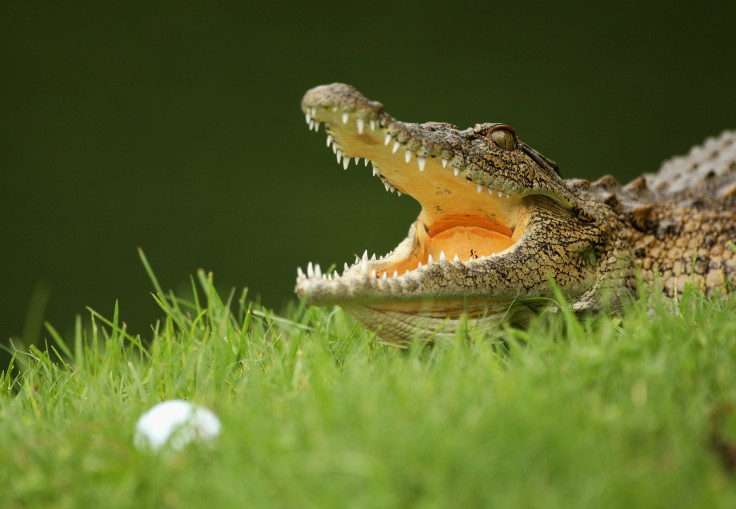 © Copyright IBTimes 2023. All rights reserved.