Cruising With Miss USA Contestants: A Bumpy Ride With Beauties
The girls had only been in New York City for a few days and, for four of them, it was the first time. Yet here they were, striking a pose tens of millions of hardened New Yorkers would recognize from their own daily hustle: hanging on to a metal pole with one hand, packed elbow to elbow, trying not to step on their neighbor as the steel-and-aluminum carriage they were in swayed violently to and fro.
Such was the scene Tuesday afternoon, as the 51 beauties of the Miss USA pageant balanced themselves in high heels through a bumpy cruise of the Hudson river aboard a CitySightseeing New York Cruises trawler. The sightseeing trip -- of the West side of Manhattan and, as the tour guide kept reminding Miss New Jersey, the eastern shore of her home state -- was equal parts publicity junket and charity event: People were invited to make a $100 donation to the Breast Cancer Research Foundation for the privilege of hanging out in a boat full of beauty queens.
And it was only one of the few events the Miss USA candidates had packed into the day's insane schedule. Everyone had been woken at 4 a.m. and bussed to glitzy Rockefeller Center for a guest appearance on The Today Show before being taken to an industrial section behind the train tracks in Long Island City, Queens, to volunteer an hour packing produce bags for food rescue organization City Harvest.
We get by on caffeine, said Miss North Dakota, Jaci Stofferahn, her blue eyes a much brighter shade than that of the stormy sky outside. Lots and lots of caffeine.
Following a red carpet, a staged publicity shot on the ship's aft staircase, and a quick buffet -- beauty queens, contrary to popular stereotype, do eat -- the young ladies of Miss USA mingled with their fans, talked to the media, and posed for a fusillade of photographers.
On a brisk afternoon with rains that were making quick work of undoing careful hairstyling -- and wind-heartened waves adding to the challenge of balancing on stilletos -- most just seemed on a mission to stay upright, keep smiling and have some fun. An on-deck photo shoot where groups of contestants took turns posing in front of the Statue of Liberty was run at breakneck pace by nervous handlers, who must have been having nightmares of sashes floating on the murky Hudson.
Not that the contestants weren't pros at managing their own publicity. Miss Texas, flirting with a fan, sneaked back to the boat's stern for some solo shots of her and Lady Liberty after others had cleared out. Miss Maryland, Nana Meriwether, tried to be modest about her curriculum vitae. But her accomplishments sounded impressive enough to make the woman she lists as a role model, Angelina Jolie, heartily blush: All-American college and later professional volleyball player, co-founder of a non-profit in South Africa, five-time pageant contestant, med school applicant.
If there is any justice in the world, a reporter quipped within an earshot. She should win this thing.
Elsewhere, the girls let down their hair -- figuratively, for the most part but literally in one case. Miss Kansas, Gentry Miller, talked about how New York is so much larger than where I'm from in Kansas and explained the finer mechanics of how crownholders are supposed to wave to a crowd. Miss Arkansas, Kelsey Dow, gushed about meeting Donald Trump and answered a softball question about what makes her unique by noting her eyes were not perfectly symmetrical. Miss Oklahoma, Lauren Lundeen, similarly noted a unique feature about herself: she can touch her nose with her tongue.
By the end of the short tour, as they were being told of the Miracle on the Hudson that happened more or less where they were now floating, some seemed to be looking for a second wind in what was turning out to be a long, long day - Miss Michigan's eyes kept closing as she sipped from a coffee cup, Miss Montana sulked in a corner by herself.
And then they were off, spirited away to some show somewhere downtown, a publicist said.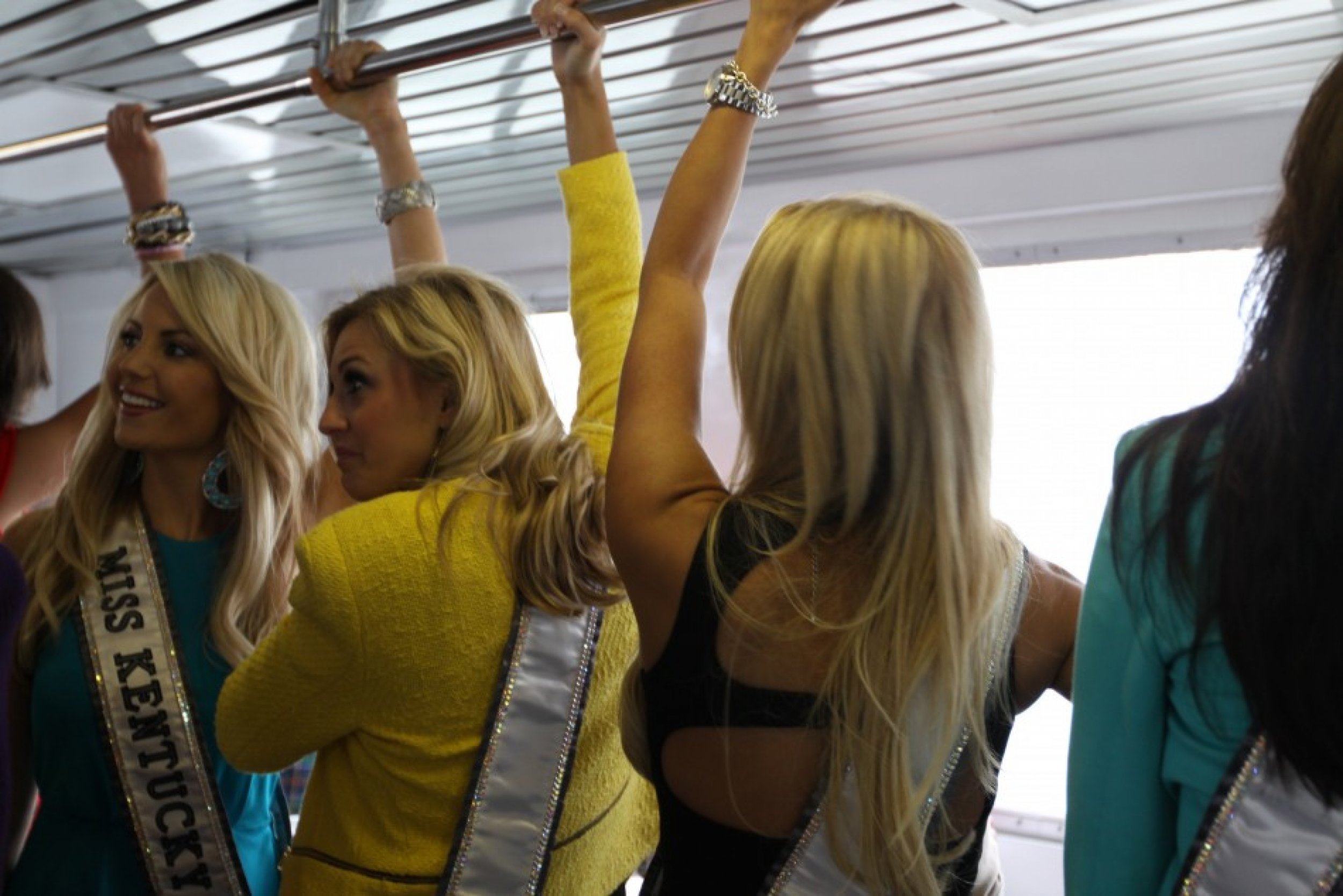 © Copyright IBTimes 2023. All rights reserved.