Cupertino Greed: Apple Paid Top Officers Very Well
CEO Cook Got A Raise, But Board Against Human Rights Panel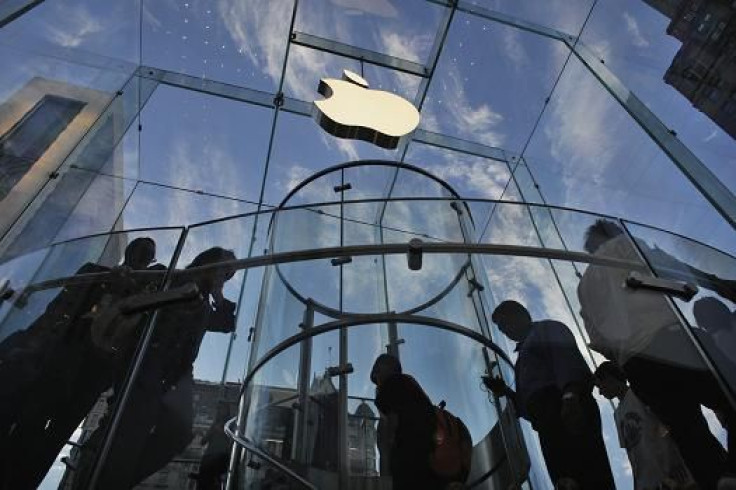 Apple Inc. (NASDAQ:AAPL), which reported record annual income for the year ended Sept. 29, paid its top officers extremely well in 2012, with stock awards calculated to pay them even better over time.
The company also urged shareholders to reject a shareholder bid to establish a human rights committee to deal with ongoing labor problems.
CEO Tim Cook was awarded $4.1 million, including $1.8 million in salary plus another $2.8 million in incentive compensation, the Cupertino, Calif., electronics company disclosed in a filing with the U.S. Securities and Exchange Commission.
That was a boost from the $900,000 in salary Cook, 52, was handed when he succeeded Steve Jobs as CEO in August 2011. Cook, though, was awarded shares and restricted stock units valued at $378 million, which vest through 2021.
Apple reported 2012 net income jumped to $41.7 billion, or $44.15 a share, from $29.5 billion, or $27.68 a share a year earlier, as revenue rose to $156.5 billion from $108 billion. Annual revenue was the largest ever for a technology company.
Apple's compensation committee chaired by Andrea Jung, former CEO of Avon Products (NYSE:AVP), former U.S. Vice President Al Gore and Millard Drexler, CEO of private J. Crew Group, didn't award Cook restricted stock units because he declined them, the proxy said.
Other Apple executives got raises, too.
CFO Peter Oppenheimer, 50, saw his base salary jump to $805,000 from $700,000 a year earlier. But he received stock awards exceeding $69 million, compared with none in 2011, along with $1.6 million in incentives and $16,100 more in contributions to an IRA plan plus insurance.
Robert Mansfield, 52, senior vice president for technologies, who plans to retire next year, got a salary of $805,000 plus stock units valued at $83.1 million, as well as other compensation for a total of $85.5 million.
Bruce Sewall, 54, senior vice president and general counsel, was also given a salary boost to $805,000 from $700,000 last year, along with $66.57 million in shares, a $1.6 million incentive bonus and other compensation for a total of $69.9 million.
Finally, Jeffrey Williams, 49, senior vice president for operations, also was paid $805,000 in salary, with $66.26 million in shares, a $1.6 million incentive bonus and other compensation for a total of $68.69 million.
The compensation committee wrote that it had been advised by a paid consultant, F. W. Cook, that Apple executives weren't paid at the same amount appropriate for other members of the company's peer group.
It also wrote that after judging an officer's performance, it can increase but not reduce total compensation.
The proxy for Apple's Feb. 27, 2013, annual meeting also disclosed that only two outside investors own more than 5 percent of the company.
They are Fidelity Investments, the mutual funds complex based in Boston, and BlackRock (NYSE:BLK), the New York investment holding company. Fidelity owns nearly 5.5 percent while BlackRock owns 5.2 percent.
The proxy doesn't indicate what the estate of Jobs owns because it's below the 5 percent threshold to report to the SEC.
However, concern about the treatment of workers at Apple contractors in China has resulted in a shareholder resolution demanding a board committee on human rights. Shareholder John Harrington, of Napa, Calif., seeks periodic reports on worker conditions to shareholders.
Apple's board unanimously recommended against it, though, noting that it took steps over the past year to have the Fair Labor Association inspect its overseas plants.
Apple shares rose $2.06 to $515.06 in Thursday trading, about 26 percent below their record high of $705.07 set on Sept. 21.
© Copyright IBTimes 2023. All rights reserved.