Dalai Lama Attended Star Studded Los Angeles Luncheon Including Eva Longoria, Amber Heard And Jim Carrey; Reveals Contents Of His Bag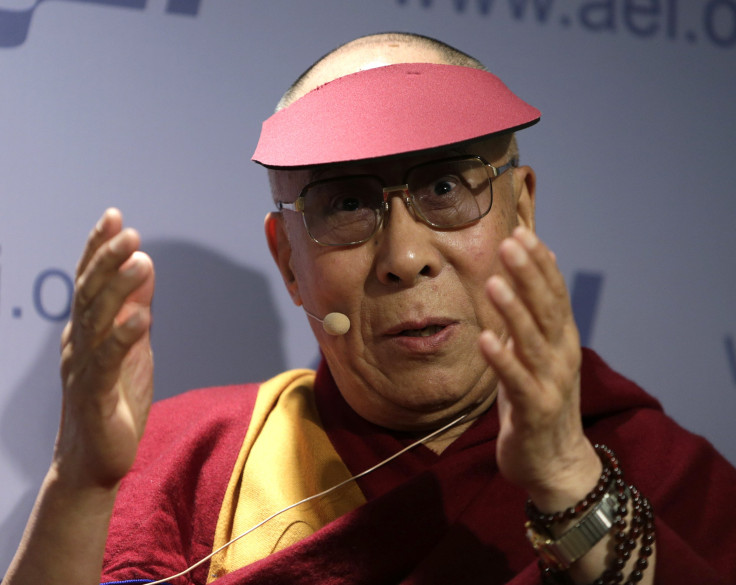 The Dalai Lama attended a star-studded luncheon at the California Science Center hosted by the Lourdes Foundation on Wednesday.
The Tibetan leader, dressed in traditional saffron robes and matching visor, reportedly offered his words of wisdom on various topics including materialism, faith, gay relationships and a woman's place in the Buddhist clergy.
Sharon Stone, Larry King, Anna Kendrick, Lupita Nyong'o, Amber Heard, Eva Longoria, Naomi Watts, Jeremy Renner, Jim Carrey, Nikki Reed, Joshua Jackson, Malin Akerman, Christina Hendricks, Rosario Dawson, Sandra Oh, Amber Valletta, Joanna Krupa and Lisa Vanderpump were among the crowd of several hundreds who gathered at the event to meet with and listen to the Nobel laureate.
Stone reportedly introduced the Dalai Lama saying: "We have such incredible gratitude for all the goodness that you do," and called him "a man for all seasons."
King reportedly introduced television personality Ann Curry who interviewed the Dalai Lama at the event, which started with David Foster and Eric Benet leading the crowd in a sing-along version of "What the World Needs Now Is Love," composed by Burt Bacharach.
According to reports, the Dalai Lama also agreed to the wish of an audience member who wanted to learn the contents of his bag.
He revealed that it contained two mini Toblerones, a toothbrush, a thermometer, two pairs of glasses and a wrapped sculpture of the Buddha dating back to the eleventh century. The Dalai Lama denied Stone's wish to see them.
"I feel younger than I am, feeling young doesn't affect your real age," the Dalai Lama, who is 78-years-old, reportedly said when asked about age.
Celebrities took to Twitter to reveal their excitement after meeting the Dalai Lama. Here are some of the tweets:
British restaurateur and actress Lisa Vanderpump wrote: "A lunch with @DalaiLama today who said " Debate is good for progression but when the dog was too big I ran!"
Radio host Larry King wrote: "Taped a great interview w/ his Holiness the @DalaiLama today - he's truly a remarkable man - airs 3/10 on #LKN."
Actress Eva Longoria wrote: "I'm still reflecting on the words of the @DalaiLama today...the world needs more #Compassion."
Actor Jim Carrey wrote: "Got to playfight with the Dalai Lama today. What a lucky love filled life I have. What a sweet soul he is."
Polish American model Joanna Krupa wrote: "Wish everyone had the same views as the Dalai Lama. Our world would b filled w kindness and compassion not hate and jealousy."
Some memorable quotes from the Dalai Lama during his Los Angeles luncheon, reported by The Hollywood Reporter, are as follows:
On the merits of confrontation: "Buddha himself expressed it: 'All my monks and scholars should not accept my teaching out of devotion but out of tireless investigation."
On the responsibilities of religious leaders: "If I try to manipulate my followers, I can easily manipulate. ... Nonsense. That's exploitation."
On ego: "For the practice of genuine compassion you need a sense of strong self."
On the nature of the mind: "The Endeavor looks like a solid entity, but its functioning depends on many, many small screws. The mind is like that."
On the responsibility of women in society: "Females should take a more active role regarding the promotion of human compassion."
© Copyright IBTimes 2023. All rights reserved.
FOLLOW MORE IBT NEWS ON THE BELOW CHANNELS