'Dallas' Season 3 Spoilers: Will John Ross And Pamela Survive? Predictions For Every Ewing Couple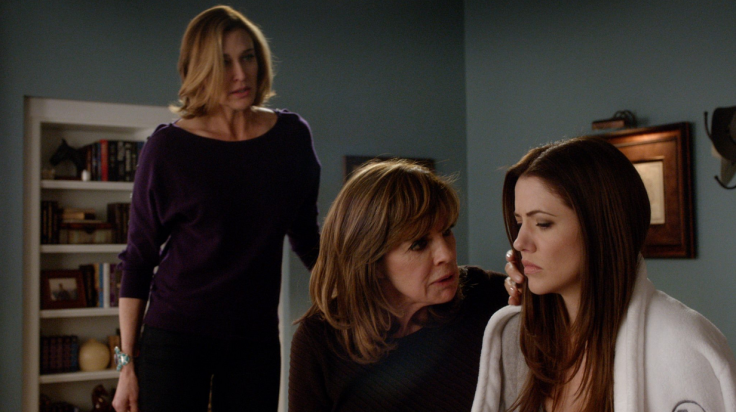 ­­­The fire may be out in Southfork, but things are not cooling down in "Dallas." Season 3 of the TNT drama returned Monday with the mid-season premiere, and the Ewing family had to deal with the fallout from the Southfork blaze, Pamela's overdose and Sue Ellen's alcoholic binge.
The premiere episode saw many of the Ewing family at odds with each other and tensions rising in many of their relationships. Some of the scandalous couples seem on the verge of a breakup, while others are coming together. With the writers promising babies in the fourth season, which couples will survive the tide?
John Ross and Pamela
No scene in the premiere had more bite than when John Ross was finally able to visit Pamela. She confessed to him that her overdose was not a suicide attempt, but rather a stunt so that he could never sleep with Emma again without thinking of her near-death emergency. John Ross vowed to not give up on the relationship, but, for the time being, Pamela turned him down cold. "Dallas" executive producer Cynthia Cidre told Entertainment Weekly that the relationship is "very, very rocky and [Pamela] will have none of it. She wants revenge." Things don't look great for the show's star couple, but there is reason to have hope. The synopses for the later episodes promise a truce between the couple.
Verdict: Things might not get better for a long while, but Pamela's desire for vengeance means she's still struggling with a lot of feelings for John Ross. With a truce looming in the future, the two might just barely survive if John Ross can prove his devotion.
Bobby and Anne
Fed up with Anne's lies, Bobby kicked her out of the house at the end of the premiere, her kiss with Harris the final straw. The couple is on shaky ground, and it will get more complicated when Melinda Clarke guest-stars later in the season as Tracey McKay, an ex-girlfriend of Bobby's. Will a possible fling between the two be the nail in the coffin for Bobby and Anne? Not so fast. Cidre told TV Line that this couple has some staying power, revealing, "They're going to be on a rocky road for a while, which will turn out well… eventually. I think they love each other, and I really do mean for them to be good together."
Verdict: You heard her! Bobby and Anne might have some twists and turns to navigate, but they are here to stay.
Christopher and Heather
Christopher has expressed his desire to marry Heather, and no two characters seemed happier at the premiere episode's end. However, Cidre says Heather will soon be pushed out to make room for the Christopher and Elena show. "Elena was on a different track this season with Nicholas, so I needed something for Christopher to be happy about," Cidre told TV Line, "There are a few more episodes with Heather, so you can still enjoy that couple."
Verdict: Enjoy it while it lasts. Christopher will set his sights back on Elena as soon as Nicholas is out of the picture.
Elena and Nicholas
Speaking of Nicholas, he was one of the few absent from the hospital, busy dealing with Drew Ramos and the cartel. He and Elena seemed quite happy at the beginning of the episode, but after the revelation that he sent the video to Pamela, Elena will probably not be sticking around long.
Verdict: As Elena discovers more of the dirt on Nicholas, the relationship will sour (plus, she has to free herself up for Christopher!), but Nicholas's contraceptive sabotage opens the door for a more complicated relationship in the future.
"Dallas" airs Monday nights at 9 p.m. on TNT. Which couples do you think will survive Season 3? Tweet your thoughts to @Ja9GarofaloTV.
© Copyright IBTimes 2023. All rights reserved.