'Dance Moms' Season 5, Episode 24 Spoilers: Maddie Ziegler Still In Disbelief Over Sister Mackenzie's Win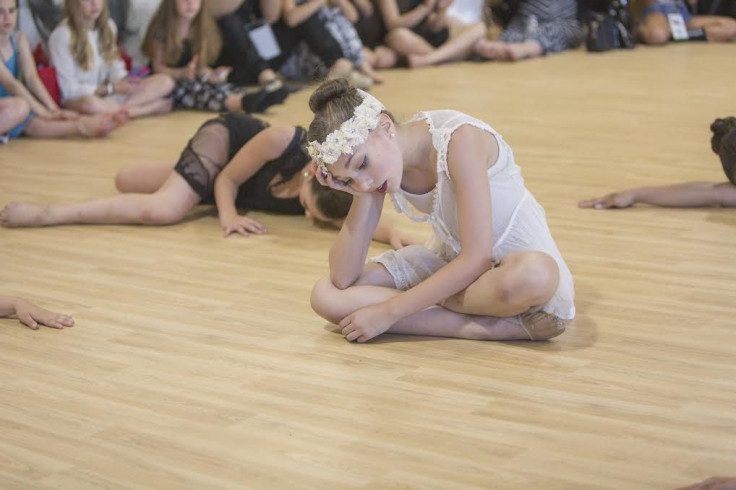 Maddie Ziegler caused some drama on last Tuesday's episode of "Dance Moms," after she appeared to slam her sister Mackenzie Ziegler for beating her in a solo division competition. And it appears she's not done sharing her feelings on her younger sibling's massive defeat just yet. A promo for Season 5, episode 24 reveals Maddie is still in disbelief over Mackenzie's win.
"I cannot believe that Mackenzie beat me!" Maddie, 12, says in the trailer for the forthcoming installment, titled "West Coast Strikes Back." Later in the teaser, Maddie responds with a glare when coach Abby Lee Miller reveals that Mackenzie, then 10, is at the top of the weekly pyramid. The rest of the team reacts by appearing to applaud Mackenzie's achievement.
Viewers will remember that Maddie and Mackenzie competed in the same solo age division in episode 23, titled "Maddie vs. Mackenzie." Despite their mother, Melissa Gisoni, singing Maddie's praises for her tap routine, Mackenzie managed to take home first place for her jazz/acro dance "Sink or Swim."
While Mackenzie's may be elated over beating her sister, her happiness will be on the line in episode 24. With the sting of Mackenzie's latest win still on her mind, Abby will reportedly test Mackenzie's confidence by giving her a "big opportunity."
"The [Abby Lee Dance Company's] biggest West Coast rival, [Murrieta Dance Project], is back, and Abby wants to put her best foot forward at competition," Lifetime's synopsis teases. "Will she be able to handle it?"
MDP has become the ALDC's newest rival since arriving on the West Coast. Viewers will remember the ALDC beat the Los Angeles team in Season 5, episode 15, with their open category group dance "The Rose Garden." In the promo for episode 24, MDP's coach Erin Babbs makes it clear they're coming back for a win.
"It blows my mind that we lost last time," Erin says.
"All is fair in love and war … and dance competitions," Abby retorts.
Watch the promo video for "Dance Moms" Season 5, episode 24 here:
[Spoilers ahead!]
Was Mackenzie able to bring her team to victory? Unfortunately for the young ALDC star, one "Dance Moms" spoiler site is reporting that the ALDC was beat by MDP at Fierce National Dance Competition in Los Angeles on April 11.
According to the site, MDP's group dance, "Monsters Under the Bed," took home first place overall. The ALDC's group number, titled "Voices in My Head," reportedly placed second overall.
"Dance Moms" airs Tuesdays at 9 p.m. EDT on Lifetime.
© Copyright IBTimes 2023. All rights reserved.