'Dance Moms' Season 6 Recap: Maddie Ziegler Helps Continue Abby Lee Miller's Legacy In Episode 17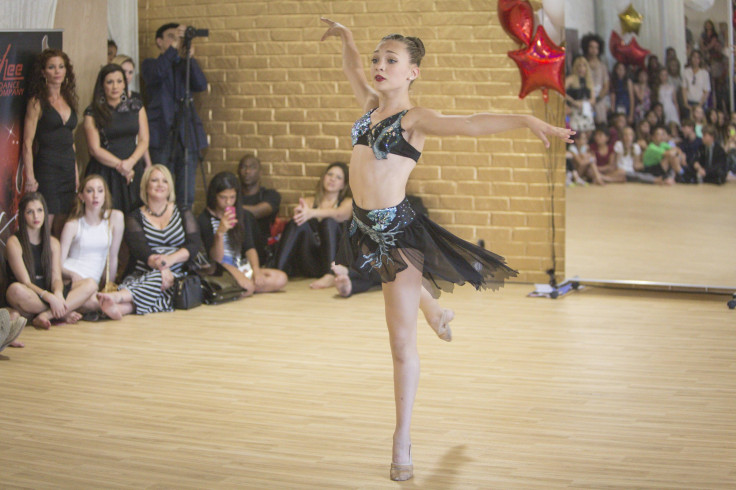 The Ziegler family is on their way out. Maddie Ziegler performed her second to last competition with the ALDC on Tuesday's Season 6 installment of "Dance Moms" in an effort to continue coach Abby Lee Miller's legacy, but it may not have turned out the way she anticipated.
Episode 17 of the Lifetime series, "Mini Madness," starts with Abby granting her soon-to-be former student a solo for the weekly competition. She tells the 13-year-old she will competing a musical theater routine titled "The Entertainer."
In an effort to keep her legacy going long after Maddie and her sister Mackenzie Ziegler leave the elite junior team, she also gives Maddie's speculated replacement, Brynn Rumfallo, a solo. The dance, a lyrical titled "Broken Dancer," closely resembles a past solo of Maddie's. Abby admits the solo is similar, but says she couldn't have her star dancer compete an identical dance and ultimately wants Brynn, 12, to learn how to act and feels competing the number will help her do so.
Maddie's mom, Melissa Gisoni, says she's nervous her eldest daughter won't win because musical theater numbers tend to be "simple choreography." Brynn's mom Ashlee says Maddie's solo is "beyond boring" and feels the competition will be her daughter's chance to shine.
During solo rehearsals, Abby tells Maddie she needs to begin preparing for her exit from the team. "If I want Brynn to succeed like you have succeeded then it's time for you to come and pass this torch along," Abby says, making sure to tell her star pupil no will never ever replace her. "You've been successful with this sad, pathetic, melancholy face for so long, the Maddie face. She's not going to be you. She's not going to come close to being you, but we have to start somewhere."
Backstage at the competition the moms accuse Abby of trying to "recreate Maddie" with Brynn's solo costume. Ashlee says her daughter is started to feel "defeated" by the other moms and Brynn needs to show up Maddie in order to quiet their comments.
"In order for Brynn to make sure this dance makes her a star she needs to go in and be better than Maddie," Ashlee tells the cameras. "She can't just be the same. She's got to have better technique and she's got to have better acting. I know that Brynn is going to be the next star of the team."
Ahead of Brynn's solo performance, Mackenzie tells her teammate to beat her sister and Brynn responds with a big smile. When it comes time for awards, Brynn wins third-place in the junior division and Maddie comes in fourth-place in the teen division. As for the elite junior team's group number, it didn't fare any better. Their contemporary piece, "The Atlantic," also placed third. Thankfully for Abby, she has more than just her original girls up her sleeves. Her mini team, which invited a newcomer in episode 17, took home a big win with first-place for "That's What My Mama Said."
Do you think Brynn is the next Maddie? Will the mini team be the future of ALDC? Sound off in the comments section below! "Dance Moms" airs Tuesdays at 9 p.m. EDT on Lifetime.
© Copyright IBTimes 2023. All rights reserved.