'Dance Moms' Star Abby Lee Miller No Longer Thinks 'Everyone's Replaceable'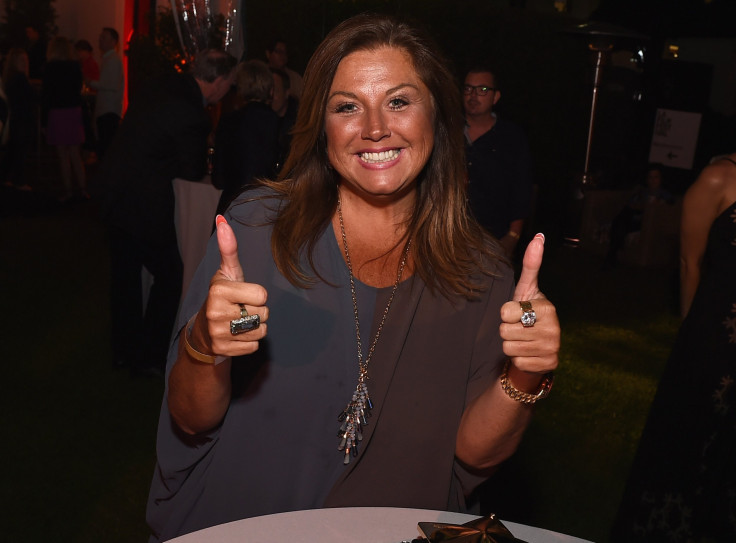 "Dance Moms" coach Abby Lee Miller was famous for telling her students to save their tears for their pillow and reminding them that "everyone's replaceable," but it looks like she's taking back one of her famous quotes.
Abby's West Coast studio, Abby Lee Dance Company, sent out an email blast recently touting a new line of T-shirts available on the studio's online store. The clothing item reveals that Abby, who is currently serving time in prison and reportedly isn't doing too well behind bars, has possibly changed her tune. The new tee includes the phrase, "Everyone's not replaceable."
"New T-shirt new motto new season. Don't be left out," the email states. "Order yours today before they are gone."
The T-shirt, which is in honor of Season 7 of the show currently airing on Lifetime, is available in mint green and lavender purple. The item is available in youth and adult sizes and retails for $29.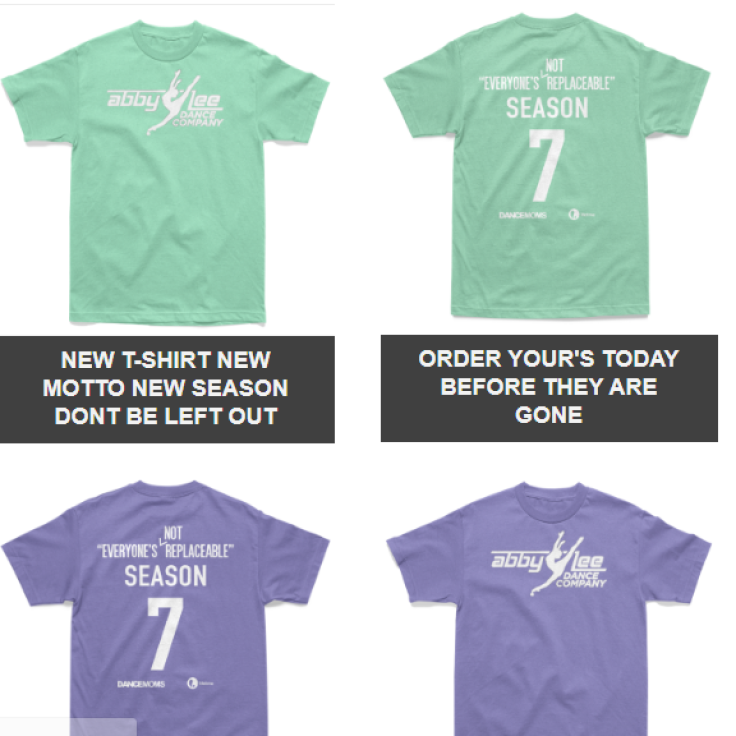 With Abby currently serving a one year sentence for bankruptcy fraud, her online store is also offering a limited edition tee in honor of her incarceration. The store's "Free Abby Lee" orange and black top is only available in adult sizes. Fans can get one for $30.
Abby first coined the term "everyone's replaceable" on Season 1 of Lifetime's "Dance Moms." Over the course of the dance competition show's seven seasons, Abby consistently used the phrase when teaching her ALDC students, much to their mothers' disapproval. While the phrase and the show live on, Abby is no longer a part of the program.
Abby's official parting of ways with the show came about after several weeks after of her being missing competitions during Season 7. The episodes showed Abby choosing to vacation and attend fan meet and greets overseas ahead of her prison sentencing instead of teaching her students. During her disappearance, celebrity choreographer Laurieann Gibson filled in her spot only to be booted from the show when Abby returned in episode 21.
In the installment, Abby announced she made a comeback to the show because she was "under duress." As a result, several of the moms and their daughters left the studio in favor of a more involved teacher.
On Tuesday night's episode 22 fans will watch as Abby supports her remaining three students at the weekly competition while her ex pupil's sit out the event. Abby will also reportedly appear in the episodes 23 and 24, which were taped in Upland, California, on March 26, before she officially departs the show.
On March 27, Abby announced on Instagram that she was leaving "Dance Moms."
"I will no longer take part in Dance Moms. For the past six years/seven seasons I have asked, begged and even demanded creative credit for all the ideas, award winning routines, theme and costuming – to no avail," she wrote. Abby continued her statement by saying she loved working with the children on the show but had enough of the show's producers.
"I just have a problem with being manipulated, disrespected and used – day in and day out by mean who never took a dance lesson in their lives and treat women like dirt," she said.
Abby was soon after replaced by "Dancing With the Stars" professional Cheryl Burke, though its unclear if the show will come back for Season 8.
Coincidentally enough, the first episode of "Dance Moms" that will air as part of Season 7 without Abby at the helm will be titled "Everyone's Replaceable … Even Abby."
Fans can catch up with "Dance Moms" Tuesdays at 9 p.m. EDT on Lifetime.
© Copyright IBTimes 2022. All rights reserved.
FOLLOW MORE IBT NEWS ON THE BELOW CHANNELS