'Dance Moms' Star Chloe Lukasiak Celebrates Milestone With Boyfriend Ricky Garcia; Slams Online Bullies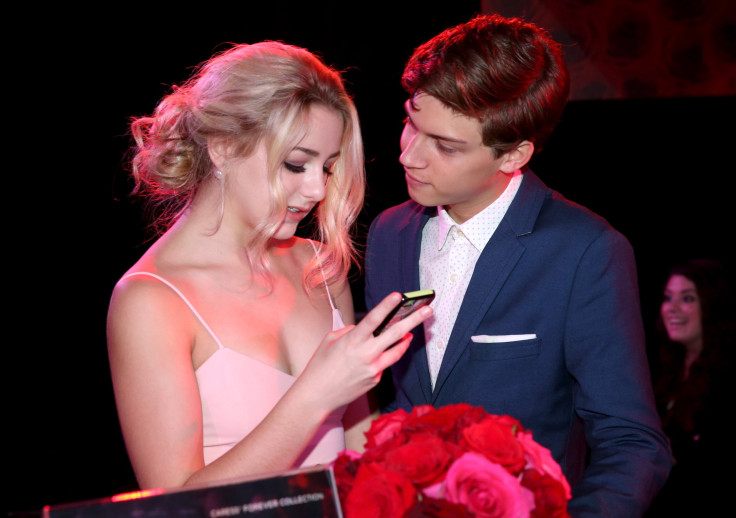 Young love. Chloe Lukasiak has had quite a busy month, but that didn't stop the former "Dance Moms" star from taking a few minutes to share a special message with her fans about her boyfriend, actor/singer Ricky Garcia, Wednesday.
The 14-year-old dancer made a post on Twitter and Instagram about Ricky, 16, in honor of their four-month dating anniversary. Her message include a close-up shot of her and the "Best Friends Whenever" star smiling.
Since the couple wasn't together for their relationship milestone, Ricky shared a sweet photo to commemorate their day. "I'm not in Vancouver [right now] cause I just left but a selfie for 4 months #wereweird #yas," Ricky captioned a shot of him and Chloe.
While Chloe's anniversary appeared to be a joyful experience, the dancer followed up her anniversary post later that same day with an anti-bullying message. While it's unclear what caused Chloe to share the post, what is clear is she's not a fan of "haters." The dancer alluded to the phrase being an acronym for "having anger towards everyone reaching success" on Instagram. "Just remember…." she captioned the post.
Chloe recently opened up about her experiences with bullying prior to her Sept. 15 eye surgery. The physical side effects of her condition, silent sinus system, had caused her some grief prior to going under the knife, as Chloe previously revealed in a YouTube video. Prior to her procedure, Chloe said she received several negative remarks about her appearance.
"While we were waiting, people starting commented on my eye, saying, 'Oh, she has a lazy eye. She's ugly,'" Chloe said. "It's just hard when people are saying things and they don't really know what's going on."
Christi and Ricky announced their relationship to their fans in July. Earlier this month they revealed in a YouTube video, posted below, they first crossed paths at the Radio Disney Music Awards on April 25. They were introduced through their acting coach Lori Lively, who accompanied Chloe to the awards ceremony.
Watch Chloe and Ricky discuss their relationship below:
Besides her flourishing romance with Ricky, Chloe has quite a few things to look forward to in the coming months. During her Oct. 13 appearance on "The Doctors," she teased she has a line coming out with two major retailers. In her recent YouTube video, posted Wednesday, Chloe revealed she's also working on a secret project in Vancouver. "I can't say what yet," she said. "But eventually you'll find out!"
© Copyright IBTimes 2023. All rights reserved.