'Dancing With The Stars' 2015 Spoilers: Derek Hough And Nastia Liukin Respond To Dating Rumors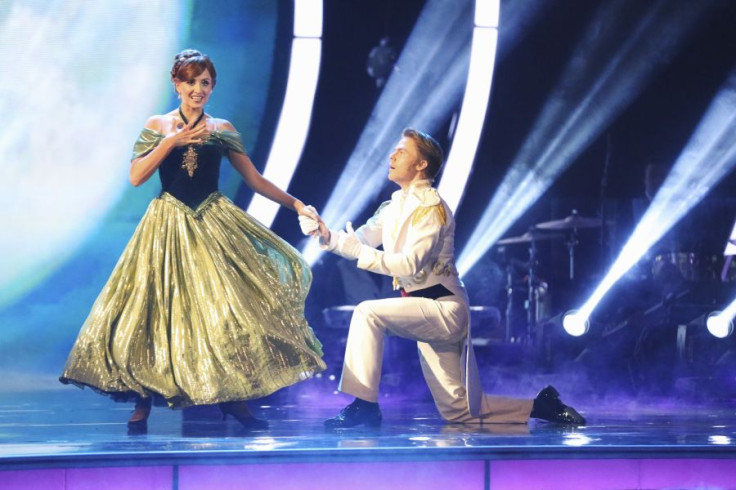 Looks like this love story is just a fairy tale. "Dancing With the Stars" partners Derek Hough and Nastia Liukin might have shown some serious chemistry during their jazzy "Disney Night" performance to the "Frozen" single "Love Is an Open Door," but according to the duo, that's as far as their romantic relationship will go.
"I'm actually in a long-distance relationship," Liukin, the Olympic gold medalist, revealed to E! News, breaking the hearts of Team Houghkin shippers everywhere. "He lives in Boston and he comes out to L.A. every few weeks when he can."
So how does the busy athlete make time for romance with such a hectic schedule? (Liukin revealed on "Good Morning America" that she flies back and forth between New York and Los Angeles every week to compete on Season 20 of "DWTS" and attend classes at NYU.) According to the limber lady, her father is the one who gave her advice on how to handle her chaotic lifestyle.
"My dad actually taught me when I was 15 or 16 [that] you'll make time for whatever and whoever is important to you," she revealed. "Even before I met [my boyfriend], I was like, there's absolutely no way -- I have no time to date! But when you find someone that you love you make time for them."
And Liukin isn't the only one in a relationship! Her ballroom sidekick also is taken -- well, at least according to gossip magazines. "I think I was dating my assistant last week. We were pictured together," Hough quipped to E! News, adding that he's said to be involved with anyone who he is photographed with.
According to Hough's TV Guide blog, the platonic twosome will take on the tango during Week 6 of the 2015 competition.
"We pretty much have the whole thing down and need to refine everything," he said. "Nastia is a quick learner and now that we're getting halfway through the season, I want to increase the difficulty in the routines, but it's tough to modulate since we're not together on the weekends."
Do you think these busy buds have a chance at winning the Season 20 Mirrorball Trophy? Sound off in the comments section below and don't forget to tune in to Week 6 of "Dancing With the Stars" on Monday, April 20, at 8 p.m. EDT on ABC.
© Copyright IBTimes 2023. All rights reserved.