'Dark Knight Rises' Prologue: Read Transcript to Understand Bane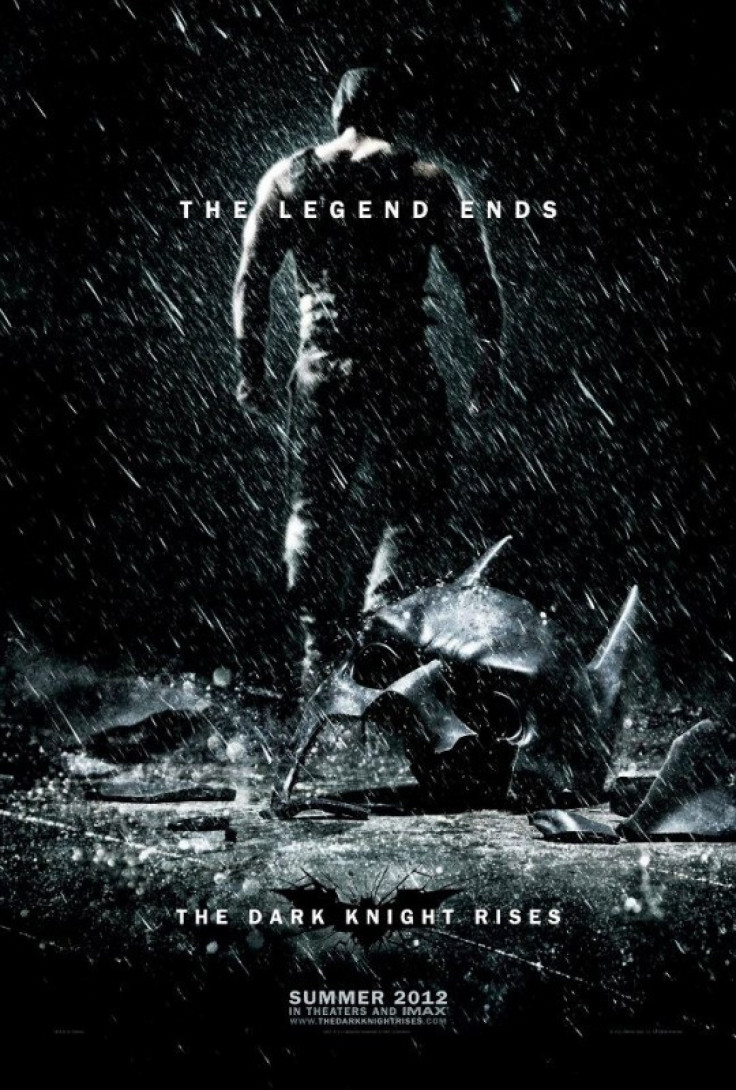 By now, you've probably gotten to see the leaked six-minute prologue to Christopher Nolan's much-anticipated end to the Batman film trilogy The Dark Knight Rises.
You know that Bane, played by Tom Hardy, is the main villain of the film, and as the latest promotion poster teases, Batman might be meeting his end thanks to the brute. The poster, entitled The Legend Ends, features a back shot of Bane, portrayed by Tom Hardy. Batman's shattered mask is pictured in the foreground, as if the caped crusader has finally been taken down.
With Bane, the physicality is the thing, Nolan told the LA Times. He's a classic movie monster in a way, with a terrific brain.
Both Nolan and Hardy have made it known that Bane will be a completely different type of villain than Heath Ledger's Joker in the previous installment.
He's brutal, brutal, Hardy told Empire Magazine. He's expedient delivery of brutality.He's a big dude who's incredibly clinical, in the fact that he has a result-based and orientated fighting style. The result is clear... It's nasty... It's anything he can get away with.
In the prologue, Bane is hijacking a military plane, but some viewers expressed that they couldn't understand what the villain was saying. He was mumbling in a deep tone in indistinguishable words.
Fear not, though. While the visual prologue has been leaked, a transcript of the prologue has been leaked as well. So, if you want to get some clarity as to Bane's words, read a copy of the transcript below via The Blemish:
Jim Gordon: I knew Harvey Dent. I was his friend. And it will be a very long time before some one inspires us like he did. I believed in Harvey Dent. . . . .
[Plane outside in the middle of nowhere]
CIA: Dr. Pavel, I'm with the CIA.
Militia: He wasn't alone.
CIA: You don't get to bring friends.
Dr. Pavel: They're not my friends.
Militia: Don't worry, I'll vouch for them.
CIA: And why would I want them?
Militia: They were trying to grab your prize. They work for the mercenary. The masked man..
CIA: Bane??! ...... Get them on board, I'll call it in
[INSIDE PLANE]
CIA: The flight plan I just filed with the agency list me, my men, Dr. Pavel here. But only one of you!
[PLANE DOOR OPENS]
CIA: First one to talk gets to stay on the aircraft!!!
CIA: Who paid you to grab Dr. Pavel? [No answer, gun fire past head out open door] He didn't fly so well! [Pulls guy back in to plane] Who wants to try next? Tell me about Bane!! Why does he wear the mask!?! A lot of loyalty for a hired gun!!
BANE: [Still has black hood on] Perhaps he's wondering why someone would shoot a man before throwing him out of a plane.
CIA: At least you can talk. Who are you?
BANE: It doesn't matter who we are, what matters is our plan.
[CIA SLOWLY TAKES OFF HOOD]
BANE: No one cared who I was until I put on the mask.
CIA: If I pull that off would you die.
BANE: It would be extreamly painful....
CIA: You're a big guy!
BANE: For you!
CIA: Was getting caught part of your plan?
BANE: Of course..... Dr. Pavel refused our offer in favor of yours, we had to find out what he told you about us.
Dr. Pavel: Nothing! I said nothing!!!
CIA: Well congratulations! You got yourself caught!
CIA Operative: Sir!
CIA: Now whats the next STEP in your master plane?!
BANE: Crashing this plane!........With no survivors!
[FIGHTING ON PLANE, OUTSIDE MERCENARIES ARE SHOOTING IN TO THE CABIN, BANE PUNCH'S CIA IN THE FACE AND KNOCKS HIM OUT. HOOK SMALL PLANE UP TO THE CARGO PLANE AND BEGIN TO PULL IT VERTICAL. BLOW THE TAIL OFF OF THE NOW VERTICAL PLANE. TWO MERCENARIES COME IN WITH A BODY BAG, OPEN BODY BAG AND PULL OUT BLOOD TRANSFUSION TUBING AND BANE GRABS DR. PAVEL AND HOLDS HIM WITH ONE ARM WHILE HE INSERTS THE NEEDLE IN HIS ARM. BLOOD FLOWS IN TO THE BODY IN THE BODY BAG WHILE A MAN PUMPS THE DEAD MANS HEART AND PAVEL IS STRUGGLING. BANE HOOKS THE DR UP TO A HARNESS, ONE OF THE MEN THAT WAS BROUGHT ON THE PLANE WITH BANE BEGINS TO HOOK UP TO ANOTHER HARNESS.]
BANE: NO (Puts his arm on man's shoulder) They expect one of us in the wreckage brother!
FOLLOWER: We started a fire?
BANE: The fire rises!
[DR. PAVEL IS SCREAMING]
BANE: Calm down Doctor. Now's not the time for fear. That comes later!!!
[BANE PRESSES DOWN ON A TRIGGER SWITCH AND THE PLANE FALLS FROM AROUND THEM AND THEY ARE BEING PULLED BY THE CARGO PLANE.]
The prologue (which can be seen here) was leaked Wednesday, taken down Thursday and recently put back up on the Internet. If you want to get the theater experience of the prologue, though, go but your ticket to see Mission Impossible: Ghost Protocol at select IMAX locations, which can be found here.
The Dark Knight Rises will be released on July 20, 2012 and will star Christian Bale, Liam Neeson, Anne Hathaway, Joseph Gordon-Levitt and Marion Cotillard.
FOR FREE to continue reading
✔️ Unlock the full content of International Business Times UK for free
offer available for a limited time only
✔️ Easily manage your Newsletters subscriptions and save your favourite articles
✔️ No payment method required
Already have an account? Log in
© Copyright IBTimes 2023. All rights reserved.