Daryl Hannah Arrested Again: Activism, or an Act?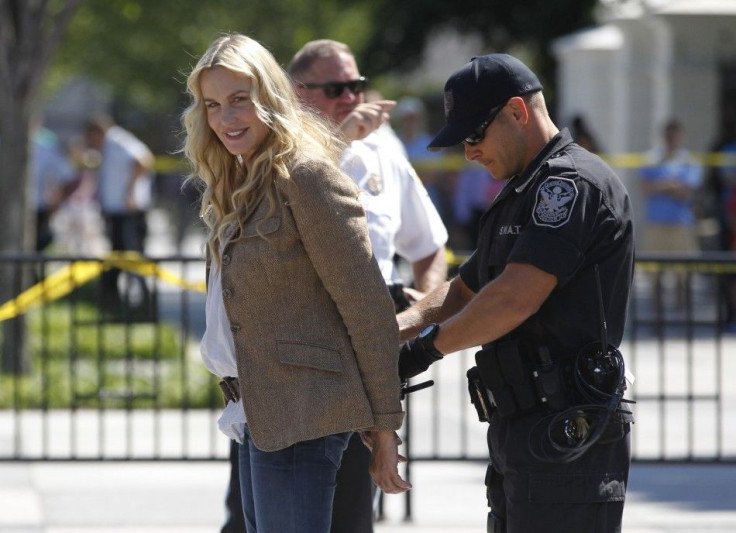 Actress Daryl Hannah made a Splash at the White House on Tuesday when she was arrested during a sit-in protesting the building of the Keystone XL pipeline, a planned oil pipeline that will stretch from the U.S. Gulf Coast to Canada.
Hannah, who is outspoken in her commitment to freeing the U.S. from dependence on fossil fuels, was arrested after she refused to comply with orders from the U.S. Park Police to move away from the front of the White House, where the demonstration took place.
Sometimes it's necessary to sacrifice your freedom for a greater freedom, Hannah told reporters in Lafayette Park before her arrest. And we want to be free from the horrible death and destruction that fossil fuels cause, and have a clean energy future.
The actress was camera-ready in hair and makeup when she was handcuffed (she accessorized with a peace symbol necklace), and smiled to an applauding crowd as the police escorted her away.
Tuesday was not Hannah's first activism-related arrest.
In 2006, Hannah was among several protestors who had to be forcibly removed from a tree by law enforcement. The demonstrators arrested were resisting the construction of a warehouse in a community garden in Los Angeles.
I'm very confident this is the morally right thing to do, to take a principled stand in solidarity with the farmers, Hannah told The Associated Press by cell phone before a fire truck raised officers into the tree to evict her. Hannah was released after spending a few hours at the Century Regional Detention Center.
Hanna was arrested again in 2009, during a demonstration protesting mountaintop removal in West Virginia. She and the others arrested were charged with misdemeanor offenses of obstruction and impeding traffic, Huffington Post reported.
This is something that concerns all Americans, not just people who live in the affected regions, you know, because coal mining is just - is a dirty business, Hannah responded when asked by Democracy Now why she cared so much about mountaintop removal in Virginia when she lives on the West Coast. It affects us all. And so, I think it's important for all of us to speak up and speak out when things are done in a way that can affect everyone's health.
Tuesday's arrest was an expected par for the course for Hannah, who co-wrote a HuffPost blog piece with Philip Radford on Aug. 29 explaining the urgency of the pipeline protest:
This week, President Obama will find hundreds more people in front of the White House -- us included -- willing to go to jail for peacefully protesting the President's short-sighted decision to approve the Keystone XL pipeline. President Obama's decision on this enormous fossil fuel project will not be a quiet deal with oil industry lobbyists; it will be witnessed by millions of voters who had hoped that President Obama would have the vision to get America off of oil with a moonshot program for oil-free cars by the next decade... President Obama's commitment...will be tested by his decision on the Keystone XL tar sands pipeline.
Hannah rose to A-list stardom as a misplaced Mermaid opposite Tom Hanks in the 1984 film Splash, after a memorable but slightly lower profile role in Blade Runner two years prior. She enjoyed a resurgence of popularity after Quentin Tarantino cast her as a one-eyed assassin in Kill Bill.
© Copyright IBTimes 2022. All rights reserved.
FOLLOW MORE IBT NEWS ON THE BELOW CHANNELS