Trump Sheriff David Clarke Detains Man Over Dallas Cowboys, Green Bay Packers Football Rivalry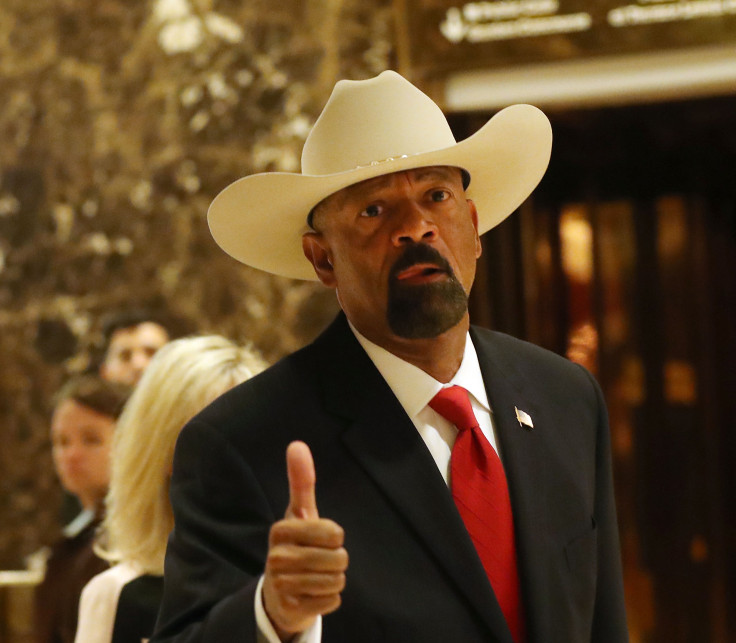 A Milwaukee man claimed he was detained by Milwaukee County Sheriff David Clarke for shaking his head at the lawman over his choice in sports paraphernalia, the Associated Press reported Thursday. Dan Black, 24, said he ran into Clarke, an outspoken conservative whose controversial tactics have made headlines before, while boarding a flight from Dallas to Milwaukee Sunday, the same day the football teams of both cities were set to play against one another.
Black reportedly noticed Clarke was donning gear associated with the Dallas Cowboys rather than his home state's Green Bay Packers and asked him if he was the sheriff of Milwaukee. Clarke, who was not wearing his trademark cowboy hat, said he was. Black shook his head and walked away.
Clarke asked Black if he had a problem. Black again shook his head, indicating he did not. When the flight landed, however, Clarke's deputies detained Black and interrogated him for about 15 minutes before allowing him to leave. Black filed a complaint through the Milwaukee County Sheriff's Office website.
"He's a Milwaukee official flying back to Milwaukee on the big game day wearing Cowboys gear, I'm surprised I'm the only one who noticed or said anything to him," Black said in an interview Wedneday with WISN 12, a local ABC affiliated media outlet.
"I have opinions about how he's abandoning his county to go on the campaign trail, but I didn't say anything like that, I could have, but I didn't because I didn't want to get thrown off the plane," he added, referring to Clarke's enthusiastic support of President-elect Donald Trump.
Clarke appeared to dispute Black's narrative, saying in a Facebook post that he summoned his deputies in self-defense and that he reserved "the reasonable right to pre-empt a possible assault."
"Next time he or anyone pulls this stunt on a plane they may get knocked out," Clarke wrote.
The Milwaukee sheriff often expresses his support for being tough on crime and has come out against activist organizations including Black Lives Matter, which he has referred to as "revolutionary Marxist forces" and an "enemy" to the U.S. much like the Islamic State group, also known as ISIS. He was reportedly a top-runner for Department of Homeland Security in the Trump administration.
© Copyright IBTimes 2023. All rights reserved.
FOLLOW MORE IBT NEWS ON THE BELOW CHANNELS