David Duchovny And Gillian Anderson Are Ready For Another 'X-Files' Film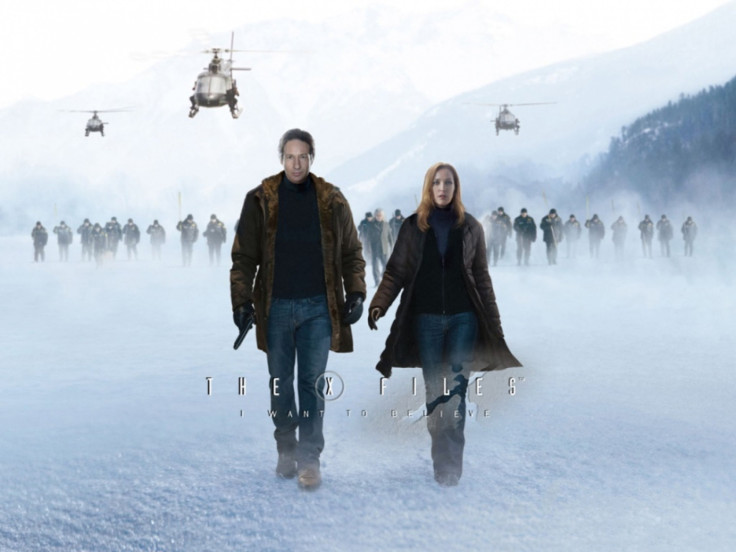 New episodes of "The X-Files" have not been on television for more than a decade, but stars David Duchovny and Gillian Anderson said they would love to make another film continuing the classic sci-fi detective series.
The two "X-Files" leads participated in a Reddit question-and-answer session Saturday to promote their appearance at the New York Comic Con's 20th-anniversary "X-Files" panel that day. While answering questions from fans, Duchovny let it slip that "X-Files" creator Chris Carter is hard at work on a script for another "X-Files" movie -- and that both he and Anderson are on board.
"I think Chris [Carter] is working on a script," Duchovny said. "Chris is shooting a pilot right now, so he might not be working on a script, but he claims to be working on a script, and if he does do that and Fox wants to make it ... Gillian will do it, I will do it, so start your writing campaign now. Seriously. We'd all love to do it. The ball is in Fox's hands. And not Fox Mulder, Fox the studio."
Duchovny also said he wants to make sure they film the next "X-Files" movie soon, while Barack Obama is still U.S. president: "We want to see Obama's picture in the office. We gotta hurry. We don't want to leave it off at the X-Bush. Or we'd love Hillary up there. Hillary and Mitch Pileggi as the attorney general."
"The X-Files" premiered in 1993 and ran for nine seasons, spawning two feature-length films, 1998's "The X-Files" and 2008's "The X-Files: I Want to Believe." For a while, there were rumors a third "X-Files" film would deal with the 2012 Mayan apocalypse, but more than halfway through 2013, there's still no official word on the proposed apocalyptic film. It's unclear whether the script Duchovny mentioned would deal with the end of the world.
In the same Reddit IAmA session, Anderson and Duchovny also discussed whether they truly believe in aliens. Just like their characters, Anderson's answer was direct and to the point, while Duchovny's answer was a bit more out there.
"It wouldn't surprise me. It's just the fact of it. The universe is bigger than big," Anderson wrote.
Duchovny's theory was a bit weirder. "Odds are we are not alone. There used to be in the Middle Ages, you've heard the phrase 'the ship of fools' where they would take crazy people and put them on a boat?" he wrote. "So if you were on the high seas, you might run into a ship of fools on the high seas. My theory is, because everybody who gets 'abducted' says they are anally probed and their teeth are drilled, that some alien civilization has taken all of their dentists and proctologists and sent their ship into the outer reaches of the universe and so when they abduct us, that's what they know what to do. What do you think of my theory?"
It's an interesting theory, but we hope the third "X-Files" film stays very far away from alien proctologists.
© Copyright IBTimes 2022. All rights reserved.
FOLLOW MORE IBT NEWS ON THE BELOW CHANNELS