David Duke's Donald Trump Endorsement Never Happened, Former KKK Grand Wizard Says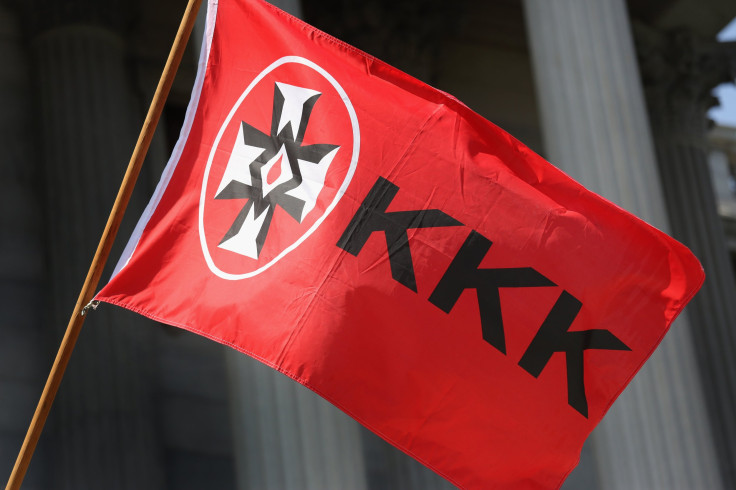 Donald Trump never got an official endorsement from white supremacist groups or from David Duke, the former Ku Klux Klan grand wizard said Wednesday. But the front-running Republican presidential candidate has his support, in part because of his hardline stance on immigration, Duke said in a phone interview with International Business Times.
Trump was condemned over the weekend by Democrats and many Republicans for seeming to stumble over disavowing Duke and other so-called white activists who have been supporting him. Trump's eldest son, Donald Jr., has given an interview with white nationalist radio host James Edwards, who once wrote that slavery was the best thing to happen to African-Americans, Politico reported Wednesday. Amid the fears of association with racists, Trump captured victories in seven of the 11 primaries and caucuses held on Super Tuesday and is poised for more victories in coming contests.
Duke, who says he left the KKK nearly 40 years ago, has held elected office as a Republican in his home state of Louisiana and hosts a radio show in which he regularly expresses "pro-white European" and anti-Semitic viewpoints. The 65-year-old said he doesn't believe his support for Trump hurts or helps the billionaire real estate mogul. In the IBT interview, Duke expressed frustration over how his history with the KKK was being used in the media to discredit Trump.
Duke said he would not oppose a Cuban presidential candidate, such as Sens. Ted Cruz of Texas and Marco Rubio of Florida, just because of their Hispanic heritage. They'd only need a "pro-European" stance on immigration, he said.
International Business Times: If you know that publicly stating your support for Donald Trump could hurt Trump's chances of becoming the next commander-in-chief, why not stay quiet about it? Don't you want him to win?
David Duke: Of course I want people to win! But am I going to totally invalidate my right to freedom of speech, because a bunch of biased media might use it in this way?
IBT: Isn't that a bit naive to assume that people can overlook your past leadership in a hate group when they are weighing Trump as a presidential candidate?
Duke: I'm not a white supremacist. I have a long history of condemning white supremacism. I have long history of condemning any kind of violence – and I haven't been even involved in any Klan organizations for almost 40 years. So, this whole discussion of the Klan and white supremacism is a bogus discussion. It's a lie. It's not appropriate – not for Donald Trump and not for me.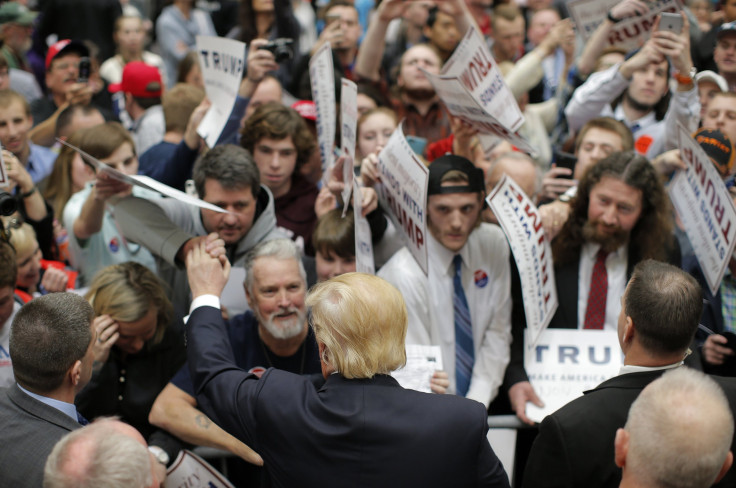 IBT: So, where did people get the idea that you actually endorsed Trump?
Duke: I didn't go to the media for this. I have a major talk show. I have a huge following. But I have not been engaged in self-censorship. I made it really clear [on the radio] that I did not endorse Donald Trump, that I have many differences with him, and that Donald Trump is not endorsing me. But I'm going to let my followers know my political opinions in this very important race for president. I think it's a very un-American thing if a person self-censors himself or does not talk about things.
IBT: Is there any case to be made that Trump is reviving groups like the KKK or emboldening white supremacists with his anti-immigrant rhetoric? You've previously stated that Trump as a candidate is speaking about the issues in a way that you haven't heard in a long time.
Duke: Trump is not [reviving the KKK]. He didn't do anything. The only people who have done this is the media. All they are doing is bringing people to fireworks. They're the ones that are rehabilitating the Klan.
Active Hate Groups in 2014 by State | Graphiq
IBT: But how would you explain the sightings of so-called white supremacist and KKK members at Trump rallies? There have even been reports of a young African-American female protester being violently shoved by white attendees at a recent Trump rally.
Duke: Let's just get one thing straight – this blanket label "white supremacist" is bogus. I don't even know anybody that calls themselves white supremacists. I know white people who want to preserve their heritage, their country and their rights. I'm sure that a lot of people who are concerned about the fact that policies being promoted are against European-Americans. The Black Lives Matter people are literally openly Communists, but when have you heard the media [labeling] them as such?
Young Black woman repeatedly assaulted at a Donald Trump rally

UPDATE (5am): We have now determined that many of the men assaulting this young girl, a teenager, are open white supremacists who have been clearly idenfitied members of hate groups and Neo-Nazi organizations. I have an article coming out on them shortly. Full story @: http://nydn.us/1T7vFgh-----Excuse my language, but I am fucking furious. Blood boiling. This is in Louisville at an official Donald Trump rally. This young peaceful Black woman, reportedly a teenager, is shoved and pushed and repeatedly assaulted by grown white men at a Donald J. Trump rally. Police looked on as this happened. White women, like they did with Little Rock 9 and others, screamed in her face with hate in their eyes. Men cussed her out and yelled right in her face as they pushed her to and fro and repeatedly put their hands on her.

Posted by Shaun King on Tuesday, March 1, 2016
IBT: You've heard that white activists have paid for robocalls expressing their support for Trump, in which they say they don't want a Cuban-American as their president. Why shouldn't a Cuban-American be president, if he or she holds many of the same conservative values that a white activist holds?
Duke: I have no problem with Cubans becoming president. I admire many Cubans, and many of them support European values. But not Cubans who are secretly, actually for open borders that will transform this country and destroy the European-American people and heritage, because of the immigration. I oppose them for that reason. I don't even have a problem with Obama being president, if he would support the values of the overwhelming majority of the people.
Donald Trump Presidential Candidate Profile | InsideGov
© Copyright IBTimes 2022. All rights reserved.
FOLLOW MORE IBT NEWS ON THE BELOW CHANNELS