David Harbour On His Makeup Routine For 'Hellboy' Versus 'Stranger Things'
David Harbour had to change up his pre-filming routine to take on the iconic title role in Lionsgate's "Hellboy." Following the studio's slate presentation at CinemaCon in Las Vegas last week, the actor revealed backstage at CinemaCon's Big Screen Achievement Awards the differences between prepping for the sci-fi film and his hit Netflix series "Stranger Things."
Harbour said the main contrast between the two projects came down to makeup, with his"Stranger Things" character Chief Hopper taking just moments to complete. "Hopper is an alcoholic and a mess so I usually show up in the makeup chair and they're like, 'Ok, you look like crap, get on out on here.' It usually takes like three minutes," Harbour told press, including International Business Times.
Things were much different for the 43-year-old actor on set of "Hellboy." In the film, Harbour portrays the self-described "half-demon superhero" which required him up to spend up to three hours in the makeup chair each day for a total of 150 hours during production. "For me, in general, it doesn't take a long time to make this look like Hopper. So that was a real adjustment," he said.
While filming days usually started at 3 a.m. for Harbour thanks to his extensive makeup routine, he said the process was nothing compared to what female actresses go through.
"In this business, it's very funny, women in general, actresses, can sometimes [spend] two or three hours in the chair so it was not that unusual when I told my female actress friends that I was showing up three hours early. They were like, 'whatever!'" he said.
In order to pull off Hellboy's unique look, the film's makeup team printed out a new mask for him to wear each day. He also sported yellow eyes, special teeth, ears, and hair to look the part. According to Harbour, the only part of him that is actually shown in film is his left hand. "You'll see a lot of good left hand acting. That's what I'm most proud of," he quipped.
While his "Hellboy" look may be different from his normal appearance, Harbour said he grew to love seeing himself as the character.
"It was really freaky and trippy and wierd to see myself for the first time. It was the best Halloween costume ever. But then as the process went on I started to really fetishize it. I started to really get into it. I'd miss it. I would like at myself in the mirror in my hotel room and be like 'ugh' and then I'd go put on the makeup and look at Hellboy's face and be like, 'Oh yeah.' So I started to love it."
When "Hellboy" premieres on April 12, fans of Mike Mignola's graphic novels can expect to see a more "horror-based" and "darker" version of the tale, something which Harbour called "daunting" to take on.
"It is such an honor to be asked to portray something so iconic," he said. "I take it very seriously. I worked very hard on it."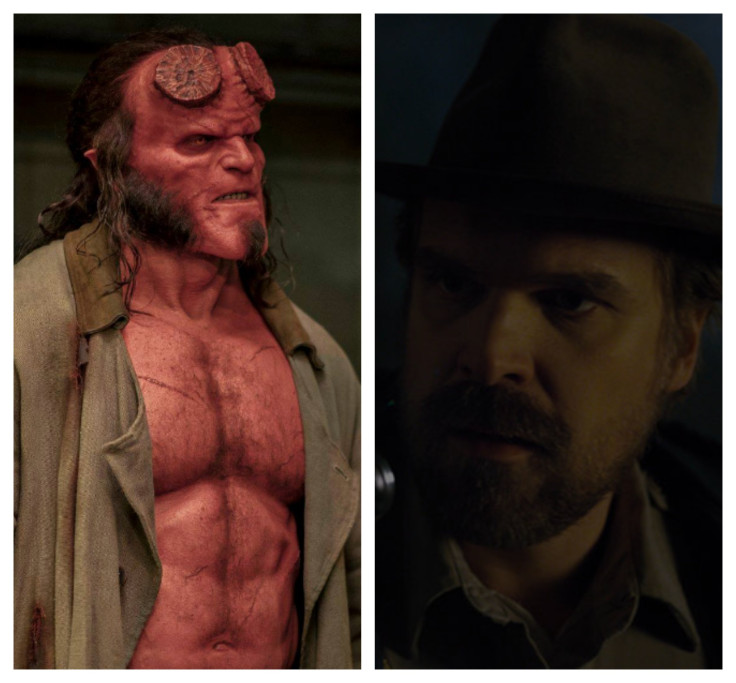 © Copyright IBTimes 2023. All rights reserved.
FOLLOW MORE IBT NEWS ON THE BELOW CHANNELS