'Days Of Our Lives' Spoilers: Bonnie And Victor's Wedding Is Interrupted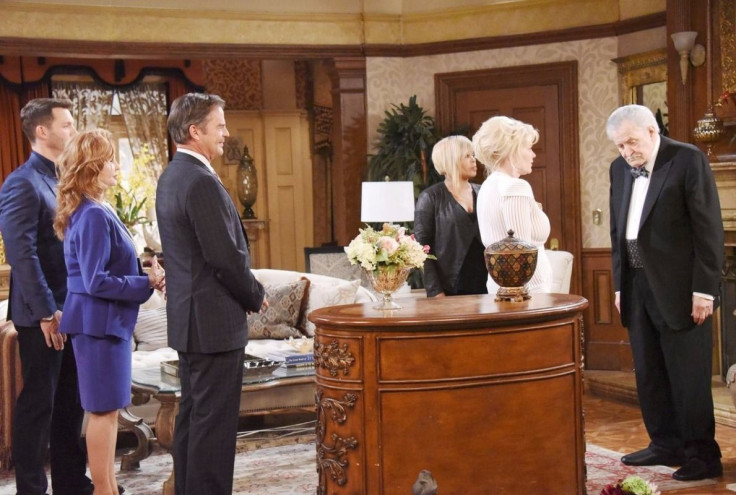 She thought she was going to finally get the revenge she sought on Maggie by stealing her husband and marrying him herself, but Bonnie will find her plan stopped in its tracks on the Monday, Oct. 23 episode of "Days of Our Lives," after both her foe and Justin crash her wedding to Victor.
Bonnie (Judi Evans) has been masquerading as Adrienne (also Evans) for a while on the NBC soap, while the real Adrienne has been sitting in prison in her place. Initially as part of a crazy plot with Hattie (Deidre Hall) and Angelica (Morgan Fairchild), Bonnie has since become a lone plotter. She managed to dump Lucas (Bryan Dattilo) and reunite with Justin (Wally Kurth), only to dump him as well for Victor (John Aniston), in the hopes that marrying Victor would not only get her access to his extensive wealth, but find a way to pay Maggie (Suzanne Rogers) back for stealing Mickey from her so many years prior. After blackmailing Victor by threatening to reveal that he had put a hit out on Deimos (Vincent Irizarry), Bonnie seemed to finally be getting what she wanted.
However, now, as she awaits for Sheila (Tionne "T-Boz" Watkins) to finish performing the ceremony that will legally bind her to Victor, it appears Bonnie's plans are being derailed. Not only has Sheila been fumbling with the ceremony, but she has also accidentally called Bonnie by her real name, when Victor is supposed to believe he is marrying Adrienne. Now, Maggie and Justin have also barged in and halted things as well, and Bonnie could see herself suddenly out of luck.
After her brazen attempt to get Victor to marry her and divorce Maggie, they all became suspicious of what was really going on, and it likely didn't take Victor very long to figure out who she really was, and what she was really after. Now, after Maggie and Justin crash the ceremony, he will likely point out to Bonnie that he not only knows the truth about who she is, but that he was only playing along with her plan—and never would have actually gone through with marrying her.
Bonnie will be stunned that she's been found out, and will also realize that her plans have officially gone up in smoke, and she will not only not be able to marry Victor, but she likely will no longer be a free woman either. As she and Sheila, who has helped her continue fooling everyone, try to escape, they could instead both find themselves in handcuffs once more—and headed back to jail.
The only thing that is still going to be an issue is figuring out what exactly happened to the real Adrienne, as she has yet to be found at Statesville. Though it's clear she was taken somewhere to no longer be a threat for Bonnie, no one has yet figured out where she was stashed. But, finally, someone may begin to figure it out, and she could soon be freed and reunited with her loved ones once more.
"Days of Our Lives" airs weekdays on NBC.
© Copyright IBTimes 2023. All rights reserved.