'Days Of Our Lives' Spoilers: Chad Argues On Abigail's Behalf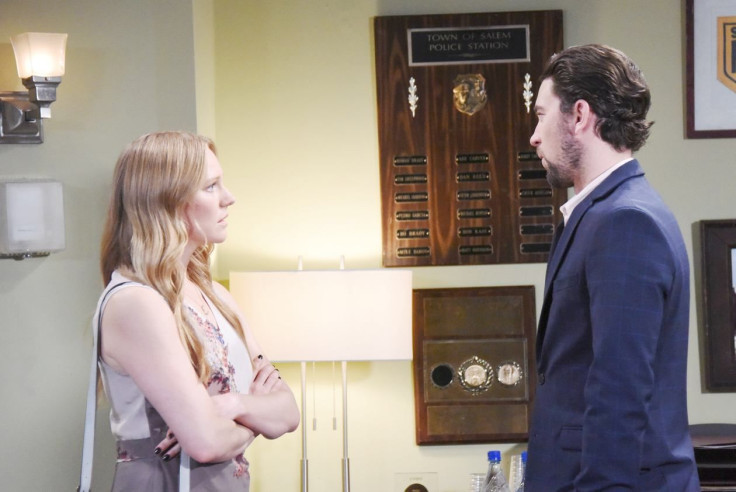 She's finally back and regained control over her alter personalities, but now, Abigail is being forced to face the things she did that led to her major personality split in the first place. Still, her husband, Chad, will try to do everything within his power to fix things for her on the Wednesday, May 23 episode of "Days of Our Lives."
Abigail (Marci Miller) suffered from Dissociative Identity Disorder after killing Andre (Thaao Penghlis) in self-defense on the NBC soap. While her alters, Gabby and Dr. Laura were running around Salem, they also unloaded a whole new set of problems for her as well. Now that she's finally overcome them though, by finally admitting to what happened the night Andre died, she has to face the possibility of what it will mean for her life going forward.
Gabi (Camila Banus) went to prison for the crime after being set up to take the fall by "Gabby" and Stefan (Tyler Christopher), and while Abigail wasn't necessarily mentally stable post the murder, she knows she was when it happened, which means she is unwilling to claim insanity. However, Chad (Billy Flynn) is determined to do whatever he can to get Abigail a plea deal so she doesn't have to go to prison for the crime, though it will require convincing Melinda Trask (Laura Kai Chen) to accept it. However, Trask was overzealous in getting Gabi's conviction, and may not be so willing to give Abigail an easy time of it as a result.
Part of what helped her sink Gabi during the trial was Abigail's (but really Dr. Laura) testimony that Gabi had confessed to killing Andre, and the DA may not feel so kind to her former star witness, no matter what she was suffering from at the time. In addition, she may need to repair her reputation after sending the wrong person to jail, which could also keep her from accepting any plea deals.
Still, Chad will try anything if it can keep his wife out of a prison cell and with him and their son. He also needs to keep as many of his allies around him as he can, because Stefan wants revenge for his losing "Gabby," and Kate (Lauren Koslow) could also be headed behind bars if she's tried and found guilty for Vivian's (Louise Sorel) own recent alleged murder.
"Days of Our Lives" airs weekdays on NBC.
© Copyright IBTimes 2023. All rights reserved.